San Francisco is no stranger to banh mi, the traditional French-Vietnamese sandwich featuring a baguette, grilled meat and crunchy, pickled veggies. What started as a Saigon import-turned-insidery-secret about a decade ago has now become a fixture in financial district cubicles. Like pho and udon before it, banh mi has become the next "it" lunch item of the yuppie happy-hour crowd, squealing, "Ooh, let's get banh mi!"
And San Francisco does it well. Just look at Saigon Sandwich Shop, hailed as "fresh, cheap, and astonishingly delicious," and possibly even "the best banh mi in America" according to the New York Times. And just Tuesday, SF Weekly released a battle-of-the-banh-mi story about two popular new spots.
But lately, we've been noticing banh mi creep up elsewhere — and we're not talking about the food truck on the corner. It was only a matter of time before the California cuisine powers-that-be took on the next adaptation of SF street food: gourmet banh mi.
Restaurants like The Tipsy Pig have started offering dressed-up versions of the authentic Vietnamese sandwich, featuring ingredients like wild roasted salmon, herb salad and goose liver pate, mixing Southeast Asian flavors with a decidedly Marina twist. And our neighbors at Urban Picnic had us at "Sriracha aioli." Extra brownie points for their vegan-friendly lemongrass tempeh and five-spice seitan banh mi.
In SOMA, Spice Kit is run by "Asian guys who are French-trained doing Asian food," specializing in banh mi. The restaurant's founder, Will Pacio, spent years at French Laundry and New York's Per Se, and the chef, Fred Tang, worked at the Ritz Carlton Dining Room, focusing on French cooking. These backgrounds are visible in their succulent banh mi, slathered with creamy pate and grilled pork belly.
Across town at Bun Mee, banh mi runs the ship with fusion versions of the classic. Ingredients like caramel aioli, lotus root relish and sardines dance across the menu for exciting new takes on the traditional. Gourmands can top things off with an order of sweet potato fries and a housemade coconut cookie sandwich. And rumor has it, busy execs can soon order their sandos to be delivered to the office via a cherry red Vespa.
Call it sacrilege, call it genius...we're calling Bun Mee.
Check out some of our favorite versions of gourmet banh mi in the slideshow below: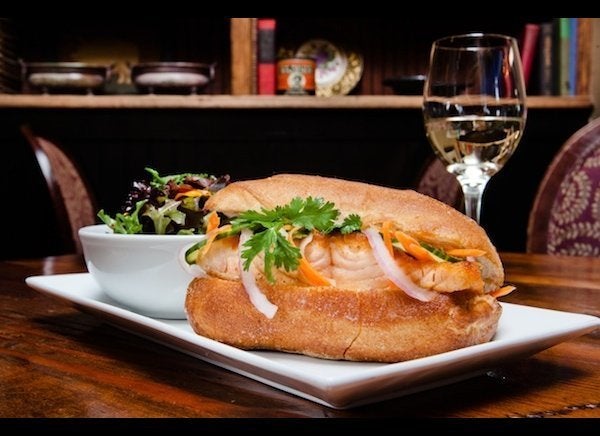 Related
Popular in the Community