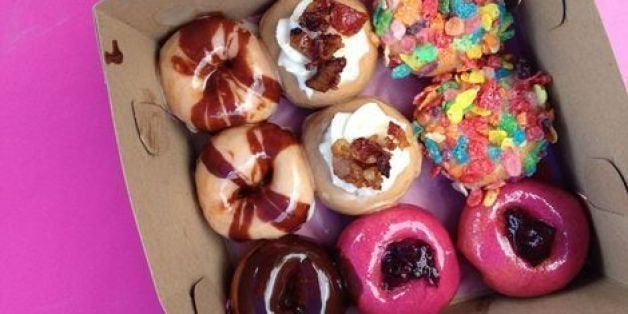 Growing up I had a deep, profound love for doughnuts. Often, on weekends, my dad would pull a box of the variety pack Entenmann's doughnuts out and while he enjoyed his coffee and paper I'd have my way with the chocolate frosted, powdered, and plain doughnuts. This weekend morning routine remained until I was midway through high school and a gourmet German bakery moved into the neighborhood. I remember my father taking me to the bakery and the riot of sugary possibilities being placed in brown paper sacks. This was when I realized the greatness of schnecken (think German cinnamon buns) and flaky puff pastries filled with fruit or chocolate. Digging into these treats made me rethink the whole plain fried dough with a hole breakfast treat.
It was years later while living in Los Angeles, California I picked up a doughnut, and our relationship was renewed. Entenmann's was in the past, replaced by Krispy Kreme's original glazed doughnut. When I eventually moved from the west coast to Maine I went for several years without a good doughnut. Then, a couple years ago, The Holy Donut opened and their potato-based doughnuts became my go-to treat.
It's hard to go wrong with one of their Dark Chocolate Sea Salt doughnuts, but say you want something a little more unique and maybe smaller so you can try a few different topping combinations. Perhaps a doughnut with maple bourbon drizzled on top of maple pastry cream and a little bacon? Well then, all you have to do is go to Urban Sugar Mobile Café in Portland, Maine.
Tucked into a converted Good Humor ice cream truck, the husband and wife team of Valeri and Kevin Sandes serve up sweet and savory varieties of hot and fresh bite-sized doughnuts and coffee.
The Sandes met in and moved together from South Carolina to Maine in 2011. In their early thirties, they came to Maine as folks often do - for the climate and landscape. Two years later they took their love of street food and skills, acquired from growing up in commercial kitchens, and joined Portland's expanding food truck community.

Start-up costs for a food truck are generally far lower than those for a restaurant. Valeri Sandes estimates the average food truck operator spends between $60k-$100k plus or minus depending on the quality and concept. Overhead can generally be expected to be far less as well, with the owner(s) taking on not just the cooking and serving, but shopping and marketing. Letting customers know where they are parked and building a fan (customer) base takes Valeri an hour a day between strategizing and implementing messages on Facebook and Twitter.
Valeri took some extra time out to connect on donuts, running a food truck and living her dreams.
How did you choose donuts? How did you decide what donuts to make?
I grew up on these little bite-sized donuts at the race tracks (motorsport tracks in SoCal) my dad brought me to every weekend for his 1/4 midget racing addiction. They were just the traditional sugar donuts but I was instantly hooked from the first melt in my mouth bite. I was a donut lover from that point on, cakes, yeasties, round or square I don't care...I love 'em all! I decided to go with the cake variety for the truck because that is what made the most sense logistically with the self imposed space restriction of the vehicle. The toppings are nothing more than a display of ingredients and flavors I've grown up to love. The donuts are a true expression of myself, my passion. If they make me smile I'm betting they will make our visitors smile as well.
I've heard it can be difficult to get a food truck up and running, especially in a relatively new environment. Has that been your experience?
It's not really that difficult in terms of rules and regulation to be permitted and open for business. I wouldn't say it's any different than a brick and mortar (everything is relative of course).
How competitive is the food truck environment in Portland?
As far as competitive environments go, when we pulled the trigger to do this, we knew what we were getting into. Sure, there is some competition between the trucks themselves but the real competition is in the market as a whole. As you know, Portland is tagged as the city behind San Francisco with the most restaurants per capita so not only is it a new market to food trucks but it also highly competitive to begin with. This fact however is a dream come true for visitors and residents alike. Competition is the driving force that propels us forward. I embrace it.
Are you living your dream?
Without question, this is a dream come true for me! The food service industry is filled with passionate people. I think everyone of us at one point in time or another dreams of opening their very on shop. It's a labour of love I can not live without.
Related