Check out the chart below to see how much money Rauner spent in some of the state's biggest markets. That spending made the 2014 gubernatorial election the most expensive in state history.
Rauner spent $17.7 million on TV ads from April 2014 through Election Day. Incumbent Gov. Pat Quinn spent $8.8 million on television advertising in the third quarter, election records show. Quinn's fourth quarter expense report shows $9.8 million in media spending but does not include itemized spending with individual TV stations or other media outlets. Quinn's $9.8 million in media purchases in the fourth quarter, which included the critical final five weeks before Election Day, were done mainly through two firms, 270 Strategies of Chicago and Democratic media consultant Joe Slade White and Co. of Orchard Park, N.Y.
Total media spending -- including TV, radio, digital and other expenses listed by the campaigns as "media buys" -- from April through year's end (the period after the March 18 primaries) totaled $22.7 million for Rauner and $20.7 million for Quinn. During the first quarter of 2014, when Rauner was engaged in a bitterly contested four-way primary election, the campaign listed $5.8 million in advertising expenses. Almost all of that total went to Target Enterprises, a media buying firm based in Los Angeles.
For comparison, Quinn spent a total of $6.1 million -- on all campaign costs, not just media -- during his victorious 2010 primary and general elections.
Rauner's self-funding of his 2014 campaign -- he had put $27.5 million into his own campaign by Election Day -- meant that campaign contribution limits did not apply to any candidate in the the race. Thus, big donors on both sides poured money into the campaigns. That allowed Quinn to nearly match Rauner on media spending after the primary. (Though in total campaign spending from April forward, Rauner outspent Quinn $50.2 million to $29.5 million.)
Here is the breakdown of how much money Rauner spent at 15 different stations throughout Illinois.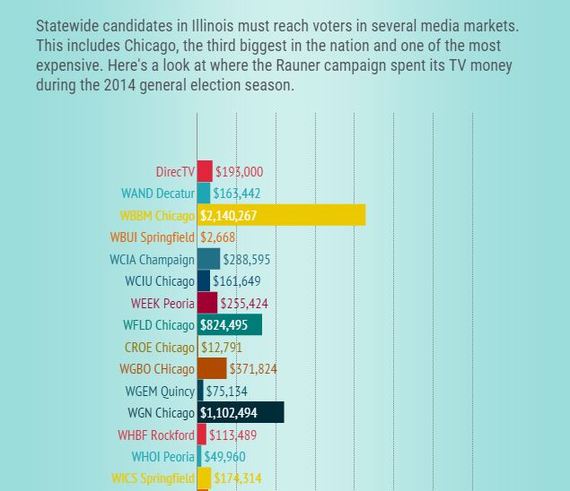 Sign up for our daily email to stay up to date with Illinois politics.
Popular in the Community