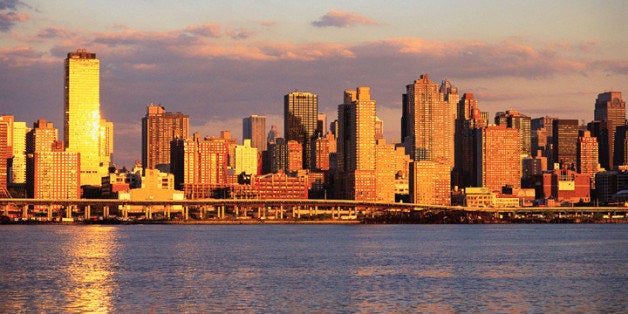 New York Gov. Andrew Cuomo ended his first term by banning fracking--capping off an outstanding year with a nationally important environmental achievement. The state also put the kibosh on a utility's plan to construct a costly, energy-intensive desalination plant on the Hudson River, launched the visionary Reforming the Energy Vision (REV) proceeding to retool the state's energy grid for the 21st century, and dedicated $20 million for farmland protection.
As Gov. Cuomo begins his second term, these four items should top his environmental agenda:
Forge a comprehensive PCB cleanup: When General Electric completes its federally mandated PCB cleanup of the Hudson River this year, it will leave behind a job two-thirds complete. Federal and state agencies serving as stewards of the river's health (known as Natural Resource Trustees) have declared that toxic PCBs remaining in the Hudson--America's largest Superfund site--will prevent its recovery for decades. The trustees have pinpointed 136 additional acres of contamination whose removal would significantly address this problem. GE is legally responsible for restoring the river's health, but it steadfastly opposes the additional dredging of areas identified by the trustees, as well as sections of the Champlain Canal where PCB contamination prevents the state Canal Corporation from dredging to make it navigable to deep-draft cargo ships.
Gov. Cuomo is the only leader with the clout to forge a comprehensive settlement of GE's Natural Resource liabilities and the canal's cleanup. He should bring to bear all necessary measures--including litigation--to persuade GE to step up to its responsibility. Doing so would save state taxpayers from footing the bill to clean up GE's leftover mess and hasten ambitious plans for a clean river and economic development all along it.
Safeguard the Hudson River from crude oil disasters: The annual amount of volatile crude oil transported through the Hudson Valley via barges, ships and unsafe railcars has grown from negligible amounts to billions of gallons, threatening the region's environmental health and public safety. Gov. Cuomo's leadership is crucial in preventing disasters from explosions and spills and in preparing communities to handle catastrophes. In addition to continuing to demand the safest railcars as the federal government completes its regulations, the governor should introduce legislation raising the cap on the state's spill response fund from $25 million to $1 billion--the minimum for cleaning up a serious Hudson River spill. He also should direct his environmental commissioner to conduct a full environmental review of permits seeking to allow heavy crude processing facilities at the Port of Albany and to reopen permits that allowed the increase of crude through this "virtual pipeline," now that the full risks they entail are known.
Terminate the Energy Highway: The state Public Service Commission's implementation of a plan aimed at lowering electric rates in New York City and its surrounding Metropolitan Area has raised the threat of unsightly new transmission lines through the Hudson Valley's iconic scenic beauty and productive farmland with potentially devastating impacts on property values and the economy. The PSC wants ratepayers to assume 90 percent of the lines' $1 billion construction cost and 80 percent of cost overruns, while utility developers are seeking a 12-percent return. Data compiled from the electric grid operator calls into question the need for the lines, considering other transmission and generating projects expected to come online. Gov. Cuomo should terminate the Energy Highway and allow all parties to concentrate on his promising REV initiative.
Capitalize a "Resilient New York Trust Fund": Thanks to legal settlements with banks and insurance companies, New York State has received a $4.5-billion windfall. Scenic Hudson and our environmental partners urge the governor to dedicate half of this money to establishing a permanent Resilient New York Trust Fund. It could provide grants and loans that support the governor's efforts to improve communities' long-term resilience in the face of expected climate change. Urgently needed investments--critical for sustaining economic development--could include protection and improvement of public water supply and wastewater systems, buyouts of flood-damaged coastal and riverine properties, conservation of productive farmland, and creating corridors of protected lands for species migration.
Gov. Cuomo has taken important and courageous steps to protect New York's irreplaceable natural resources and its citizens, placing him in the forefront of environmental leaders nationwide. By following through on these four actions, he can further cement his environmental legacy--and assure a healthy, prosperous future for all New Yorkers.
Calling all HuffPost superfans!
Sign up for membership to become a founding member and help shape HuffPost's next chapter