The governor of Missouri became embroiled in a sex scandal this week, one involving an extramarital affair and claims of blackmail.
Missouri Gov. Eric Greitens (R) and his wife Sheena admitted in a joint statement on Wednesday that he engaged in an affair before he was elected to office. The statement followed an explosive local news report that alleged the governor had threatened to blackmail the woman involved in the affair.
In a recording obtained by KMOV News 4, a woman said she had a consensual sexual encounter with Greitens in 2015, and that he took a photograph of her while she was naked, blindfolded and bound. She claimed Greitens threatened her, saying that if she spoke about the affair, "there would be pictures of [her] everywhere."
The details were provided to the St. Louis CBS affiliate by the woman's ex-husband. His now ex-wife didn't know he was recording their phone conversation. The names of the woman and her ex-husband were not released in News 4′s report.
"He took a picture of my wife naked as blackmail," the ex-husband told News 4. "There is no worse person." 
Earlier in the day, Greitens and his wife released their own statement, one that admitted the affair, but did not address the alleged blackmail threat:
"A few years ago, before Eric was elected Governor, there was a time when he was unfaithful in our marriage. This was a deeply personal mistake. Eric took responsibility, and we dealt with this together honestly and privately. While we never would have wished for this pain in our marriage, or the pain that this has caused others, with God's mercy Sheena has forgiven and we have emerged stronger. He understand that there will be some people who cannot forgive, but for those who can find it in your heart, Eric asks for your forgiveness, and we are grateful for your love, your compassion, and your prayers."
Greitens campaigned as a family man when he ran for governor in 2016. New York Times political reporter Alex Burns described Greitens as a Republican presidential hopeful:
Prior to the sex scandal, Greitens' tenure in office was marked by repeated clashes with Democrats and Republicans in the state legislature. The St. Louis-Post Dispatch editorial board reported last month that senior Missouri Republicans were "growing tired" of the governor and openly challenging him.
One Missouri lawmaker spoke to U.S. News & World Report senior political writer David Cantanese about the tension: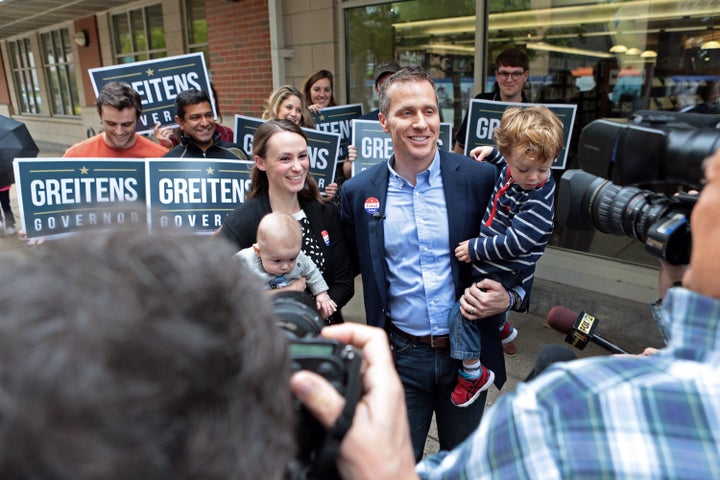 Calling all HuffPost superfans!
Sign up for membership to become a founding member and help shape HuffPost's next chapter