During a Monday appearance on HuffPost Live, Rhode Island Gov. Lincoln Chafee (D) discussed one of the most stoner-sounding ideas for putting marijuana tax revenues to good use in his state.
"Somebody was saying to me about the bad weather we've been having back home and all the potholes, we should have the revenue go to infrastructure -- pot for potholes. Fix up our roads and bridges and fill our potholes, it's a bad winter up there," Chafee said.
Rhode Island decriminalized marijuana in 2013, making possession of less than an ounce of pot punishable only by a $150 fine. Currently, 16 states have done away criminal penalties for possession of small amounts of marijuana.
"Let's take it step by step on full legalization of marijuana, though; we want to see how it's working in Colorado," Chafee added. "Certainly, the revenue is enticing for all governors."
Voters in Colorado and Washington state legalized marijuana for recreational use back in 2012, but the first legal sales of the drug didn't begin in Colorado until Jan. 1, 2014, and dispensaries have since generated a tremendous amount of revenue for the state. In the first week alone, less than 40 Colorado pot shops took in more than $5 million in sales, with approximately $1.2 million of that going to state coffers.
So much revenue has been generated in the first two months that Colorado Gov. John Hickenlooper (D) announced last week that the state's total pot sales for the next fiscal year are now expected to reach about $610 million -- that's up more than $200 million from the cannabis industry's earlier annual estimates.
"Colorado is taking in more tax money on legal marijuana sales than anyone predicted, and it's no surprise that leaders elsewhere in the country are enticed by the potential windfall for their own states," said Tom Angell, chairman of Marijuana Majority, to The Huffington Post. "But while it is true that legalization can help cash-strapped states dig their way out of fiscal crises, money isn't the only reason to end prohibition. Bringing the marijuana trade aboveground will improve public safety and reduce crime and violence by taking this product out of the hands of gangs and drug cartels."
When asked if the next steps toward "pot for potholes" might occur under his watch, Chafee said: "We'll see what comes out of the legislature. We're just still putting in the medical marijuana component and we'll certainly see what happening in Colorado."
"The ability to tax and put that revenue to beneficial means, whatever that might be -- infrastructure, education -- is tempting for governors," Chafee said.
Chafee isn't the first lawmaker to consider the "pot for potholes" idea. Last year, Michigan state Rep. Mike Callton (R) called on state lawmakers to legalize and tax marijuana so that the revenues could be used for road repairs.
Before You Go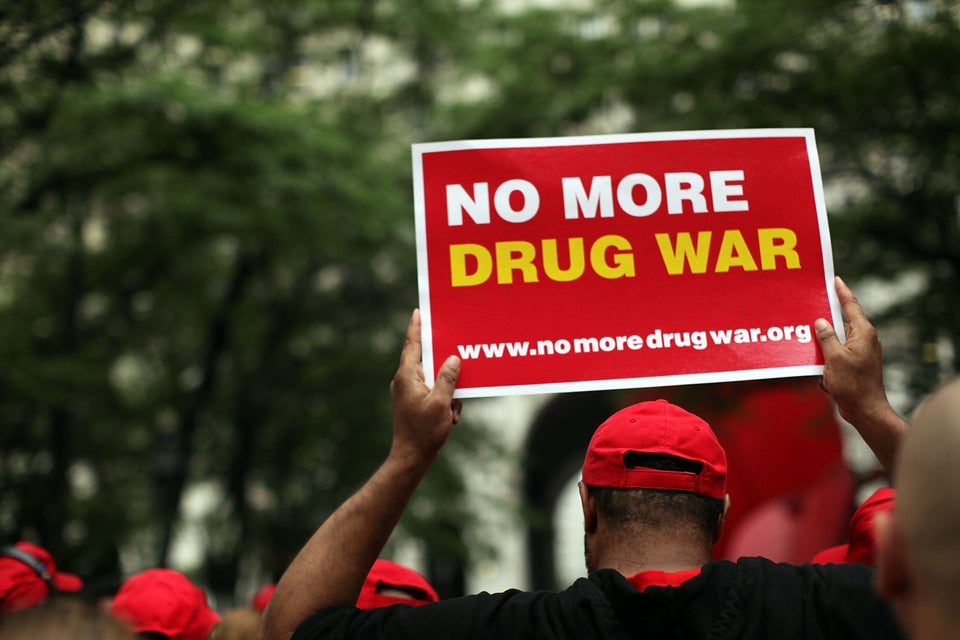 27 Reasons Why The U.S. Shouldn't Lead The War On Drugs
Popular in the Community