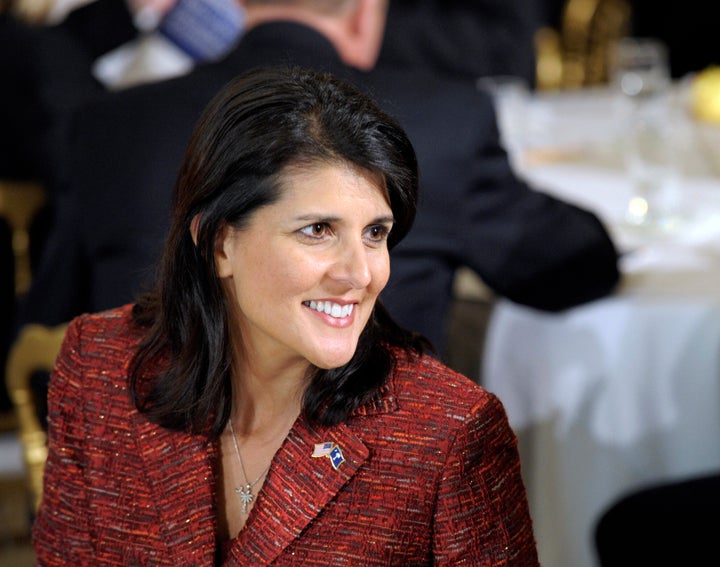 South Carolina Gov. Nikki Haley's (R) campaign will repay the state thousands of dollars for using a state-funded security detail during fundraising trips, state and campaign officials said Monday.
The exact amount to be reimbursed hasn't been released, but The Charleston Post and Courier reports that the South Carolina State Law Enforcement Division spent at least $16,000 providing security to Haley during fundraising events through December 2011, not including agents' pay. The campaign will repay the money after June 30, the end of the fiscal year.
The use of state resources for a political campaign is prohibited by state law. Government watchdogs and Democrats have said Haley should have reimbursed the money sooner. Marisa Crawford, a Haley campaign aide, said the decision was made because it was easier to repay the money all at once.
10 more election stories from beyond the presidential field:
Scott Brown Campaign Slams Elizabeth Warren On Tax Question [Boston Herald]
Brunner Donates To Own Campaign, Leads Missouri GOP Primary Field In Funds, [Kansas City Star]
GOP Candidate For Washington Governor: 'I'm Not Scott Walker' [Politico]
New Jersey U.S. Congressman Under Fire For Campaign Expenses Turns To High-Powered Law Firm [New Jersey Star-Ledger]
Berman, Sherman Raise Millions For Los Angeles Democratic Primary [Los Angeles Times]
Popular in the Community