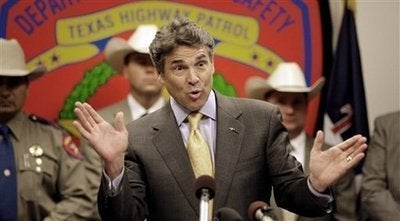 On
August 18, while at a press conference on health care flanked by the Texas
Public Policy Foundation, Gov. Rick Perry (R-TX) was asked about the health
care town hall meetings across the country.
Perry responded, "Here's the real issue: Americans are scared. I think
for the first time in most of our citizens' lives, they're really scared about
the future. And you know what? They
ought to be scared."
While many Americans oppose the health care overhaul proposed by
President Barack Obama and Congressional Democrats, the greatest fear that most
Americans have is losing control of their own health care decisions from government
intervention.
But there's a glaring problem with Gov. Perry's recent criticism. On February 2, 2007, he issued an executive
order requiring that all Texas schoolgirls receive a questionable vaccine,
Gardasil, to prevent a sexually transmitted disease known as HPV. The effort would have cost $60 million for
the state's 170,000 eligible girls.
Doesn't that sound like expensive government intervention into a
patient's health care?
"From the governor's perspective, it didn't take a
whole lot of convincing," Perry's Press Secretary Robert Black said at the
time.
But
it's much worse than simple hypocrisy.
Gov.
Perry knew his effort could not pass both houses of the Texas Legislature so he
sidestepped them altogether in issuing an Executive Order. At the time, his
spokeswoman, Krista Moody, boasted that the Governor had never rescinded an
Executive Order.
Asked about the order, State Senator and Chairwoman of the Senate
Health and Human Services Committee Jane Nelson (R-Lewisville) said, "The public has a right to testify on this issue, and the
Legislature has a constitutional duty to be involved in this decision."
Lieutenant Governor David Dewhurst (R-TX) said, "I don't think government should ever presume to know
better than the parents."
Opposition from conservatives and parents' rights groups was both
swift and fierce. Many believed such a
requirement interfered with family decisions regarding health care and
implicitly condoned premarital sex.
Under the order, the vaccine would be required for all girls entering
sixth grade in public schools (ages 11-12).
How did Gov. Perry come to decide that this specific vaccine,
Gardasil, made by Merck, was so important that he must issue a statewide
vaccine under Executive Order?
According to the Associated Press, Merck doubled their lobbying
budget in Texas specifically for this effort and funded Perry allies. At the time, Merck employed three lobbyists
in Texas, one of which was Mike Toomey, who was Perry's Chief of Staff from 2002-2004. Additionally, Merck invested in Women in
Government, an advocacy group of female legislators. That organization's State Director was Dianna
White Delisi, the mother in law to another former Perry Chief of Staff, Deirdre
Delisi.
"Follow the money. It leads to Merck," said
Cathie Adams, president of the conservative Texas Eagle Forum.
In fact, it appeared to lead directly to Merck. The Associated
Press reported that on October 16, 2006, four
months before the executive order was issued, Deirdre Delisi, then Perry's
Chief of Staff, and four members of the Governor's staff met for an "HPV
Vaccine for Children Briefing" on the same day that Merck contributed to the
Governor's reelection campaign. Indeed,
other documents obtained by the AP showed that Perry's office had already been
meeting with Merck lobbyists as early as mid-August of that year on the
vaccine.
Of course, Black, Perry's Press Secretary,
said that the Oct. 16 meeting and campaign contribution occurring on the same
day was a coincidence. At the time,
Black said, "There was no discussion of any kind of mandates." But Perry issued a mandate little more than
two months later.
On April 26, 2007 both houses of
the Texas Legislature sent a veto-proof bill, requiring two-thirds majorities,
to the Governor rescinding his mandate.
Gov. Perry had suffered a severe political rebuke.
This month, the Journal of the American Medical Association
published a study on Gardasil that concluded "the net benefit
of the HPV vaccine is uncertain" and that to date more than 12,000 adverse
events had been filed with the government by patients, doctors, and Merck.
In England, The Times of
London reported that a British mother whose daughter was
partially paralyzed after receiving cervical cancer vaccine in the U.K. has
been threatened with removal of her child if she continues to link the disease
with the vaccination. Surely partial
paralysis in a child is an unacceptable risk for this vaccine.
The evidence appears to suggest that Governor Perry interjected
the government in private health decisions by rushing through a sweeping
mandate for an unproven vaccine because his political allies had contributed to
his campaign and lobbied his office.
As the health care debate rolls on, it's important to not just
watch what Gov. Rick Perry's says, but what he does. Or at least what he tried to do. History has a way of repeating itself.
Matt Mackowiak is an Austin
and Washington, D.C.-based GOP political and communications consultant and
founder of Potomac Strategy Group, LLC, and was Press Secretary to U.S. Senator
Kay Bailey Hutchison from 2007-2009.
Popular in the Community