ST. PETERSBURG -- Gov. Rick Scott has challenged state colleges to provide bachelor's degree programs that don't cost more than $10,000, and although the proposal drew both praise and scorn, the head of the first school to take the bait thinks he can make it work.
Scott announced the plan to address rising college costs and student debt today at St. Petersburg College, where its president, Bill Law, said he would target the school's Technology Management and Development program for the first $10,000 degree.
"We're working through the parts. We don't know exactly how it's all going to work yet," Law said. "We think we can make this work."
Typically, a student pays just more $13,000 for a bachelor's degree from a state college. The figure rises to $18,000 for students who spend two years at a state college and then two more at a state university, and $24,000 for a full four-year run at a state university.
Scott's proposal isn't aimed at the 12-school university system, which includes the University of South Florida. And it won't affect Hillsborough Community College, which does not provide four-year degrees.
But others in the 28-school state college system are being asked to focus on affordability. After the stop at St. Petersburg, Scott visited Valencia College in Orlando, where he announced that the host school and five additional colleges were on board.
"Today, I'm issuing a challenge to our state colleges to help them improve the value of higher education for Florida families by improving affordability and results," Scott said at St. Petersburg College. "I'm issuing a challenge ... to find innovative ways to offer a bachelor's degree at a cost of just $10,000 to Florida families that will provide graduates with a great opportunity for employment."
The governor said lowering the cost of higher education would not affect quality.
"Every business has to figure out how to make itself more efficient," he said. "They've got to use technology, they've got to use the Internet, things like that. We can do the same thing with our state colleges."
Scott's proposal echoes that of Republican Gov. Rick Perry of Texas, who issued the same challenge to his state's colleges last year.
Most members of the state Board of Education, which oversees state colleges, expressed support for the plan. But in a blistering letter to Scott, board vice chair Roberto Martinez called it "a very bad idea."
"The '$10,000 Bachelor's Degree' is not a serious policy," Martinez wrote. "It will be perceived as a gimmick pretending to be a policy used as a sound bite."
Martinez, former chairman of the board of trustees of Miami Dade College, said he was sympathetic to Scott's concerns over affordability and student debt, but creating "a cheap four-year degree will undermine the quality and value of the education, hurting our students' chances to compete successfully in our 21st Century economy."
The Florida Democratic Party, meanwhile, called the proposal "another half-baked scheme."
But representatives of the Florida Chamber, Associated Industries of Florida, and the National Federation of Independent Businesses all lauded Scott's proposal.
"Graduating with a large student loan debt deters some young people from going on to college, even though statistics show the value of a degree in lifetime earning potential," said state Board of Education chairman Gary Chartrand. "The governor's $10,000 degree challenge is going to make it even more affordable for students in our state."
Although his major universities will not be affected, state university system Chancellor Frank Brogan said, "Florida students are fortunate to have a full range of educational opportunities that can fit their individual goals, and we support any effort to keep higher education accessible."
Scott has focused on education as he positions himself for a re-election run in 2014. He called the state's 2012-13 budget "an education budget" when he signed it in the spring, boasting of adding $1 billion to K-12 spending. But the figure didn't make up for the five prior years of education cuts, including $1.3 billion in 2011, and the current budget trimmed university spending by $300 million.
St. Petersburg College President Law said it would take a combination of strategies to meet the price tag. Students would have to maximize the credits they can earn through dual high school/college enrollment; it would involve online learning; and it would have to involve programs where students were "very purposeful" -- not dropping out or wandering unfocused through higher education, he said.
Students might be organized into cohorts, or groups that would take the same classes on a set schedule and benefit from working and studying together. Nursing programs use that model effectively, he said.
With the tremendous demand for information technology talent, Law said, the school's technology management program was a natural starting point. But he expected the idea to spread; he suggested law enforcement and public safety programs might be a good fit for a lower-cost bachelor's degree.
But the school is in the earliest stages of planning, Law said. "We stand ready to make this work," he told the governor at the dais. "Do not ask me how all the details will come together." ___
(c)2012 the Tampa Tribune (Tampa, Fla.)
Distributed by MCT Information Services
Support HuffPost
The Stakes Have Never Been Higher
Related
Before You Go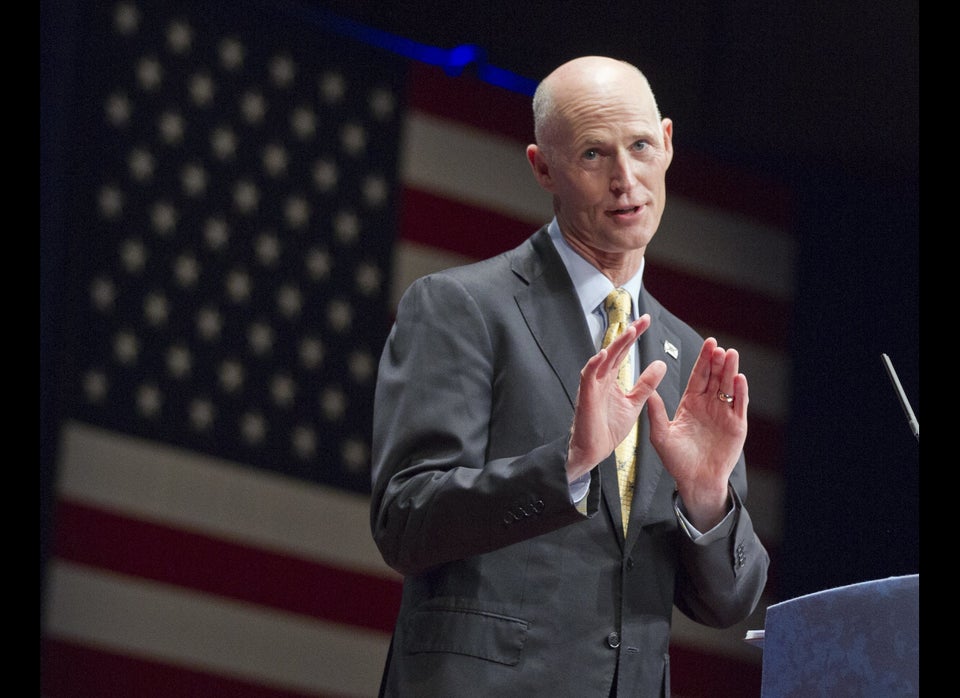 Rick Scott Controversies
Popular in the Community