If you've ever gotten an email from a government agency in the United States, the odds are good that GovDelivery sent it.
This private tech company isn't trying to clog up your inbox with newsletters or ads telling you to buy the latest gadget. Instead, GovDelivery wants to connect you to important services or programs offered by your city, state or federal government -- from renewing your driver's license to shopping for health insurance. Governments around the globe know they need simple, easy ways to connect with constituents via new technologies and are partnering with GovDelivery to do so.
The company hit a big milestone on Tuesday: 100 million people worldwide now subscribe to electronic updates from the 1,000 or so services that use GovDelivery.
"When people see that government can work and remind you to pay your tax as easily as Amazon reminds you to buy a book, it changes how they think,"GovDelivery CEO Scott Burns told The Huffington Post this week. "We talk a lot about 'we-government,' but I'm more focused on me-government, making that work one person at a time, then scaling it to 100 million."
What does that look like in practice? The picture below is a screenshot of an email I received in April 2014 from the District of Columbia Department of Motor Vehicles, clarifying some confusion about when hundreds of thousands of D.C. residents, myself included, would need to go get a new driver's license. That was news I could use: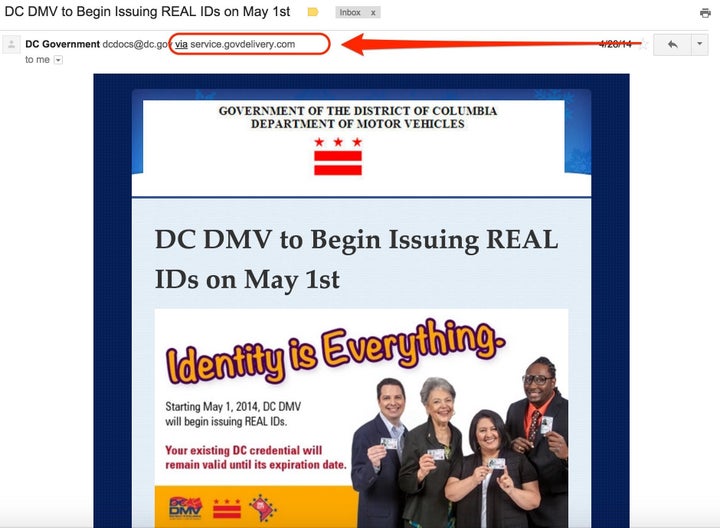 Burns told HuffPost that his firm is the "number one source of referral traffic to many government websites." GovDelivery sends a whopping 700 million emails every month on behalf of its clients and has expanded to offer updates via text and social media. So far this year, GovDelivery has sent more than 6.3 billion emails and 174 million text messages, according to company figures.
But Burns emphasized the need for governments to focus less on the raw number of messages delivered and more on how these updates impact services and the people who use them. Those outcomes range from increasing pet adoptions and revenues from hunting and fishing licenses to people getting flu shots or health insurance. (The U.S. Center for Medicare and Medicaid Services, which operates Healthcare.gov, is one of GovDelivery's customers.)
"I've never been excited about a new social media site or webpage," Burns said.
"It's the service that I care about. To have an impact on citizens and government's ability to serve public, you need to build connections and stop focusing on functionality," he added. "How can we make sure government reaching as many people as possible, in the ways that matter most, in the times that matter most?"

This graphic, which displays a time lapse of over 50,000 new subscribers joining GovDelivery's network around the world over the course of 24 hours, shows the company's increasingly global reach.
Founded in 2001, the company is backed by Actua, a publicly traded investment firm that specializes in cloud computing. In recent years, GovDelivery has quietly expanded through three key acquisitions: Govloop, or "Facebook for Feds," in September 2009; NuCivic, an open-source, cloud-based platform, in December 2014; and Textizen, a civic tech startup that built software for citizen engagement, in July 2015.
Moving forward, Burns hopes to cut through the noise of modern media to help regular people tap even more into what's happening in their government.
"I think we're on the cusp of a real, measurable transformation of citizen experience," he said.