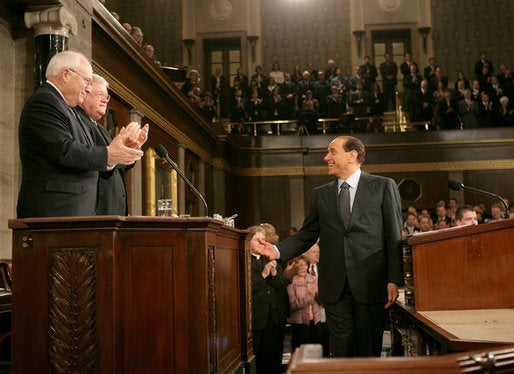 COPENHAGEN — Several parallels have been drawn between the rise and character of Donald J. Trump, the U.S. president-elect, and Silvio Berlusconi, the three time Italian prime minister. Both have a business background in real estate and television. Both have employed a populist language, flirting with racism and misogyny and have appealed to the population's reactionary impulses. They cast themselves as the anti-establishment outsiders, advocate an anti-immigrant agenda at home and a cynical realpolitik abroad — including an admiration for Vladimir Putin.
The parallels are inadequate to the extent that Italy is not a global superpower and Berlusconi never handled nuclear codes. Even so, as Berlusconi himself admitted in the aftermath of the U.S. election, there are striking "analogies" between his two decade-long political experience (Berlusconi was first elected prime minister in 1994) and Trump's rise, which should read as a cautionary tale for Americans in the months to come.
Much like in the U.S. over the past 18 months, the most glaring consequence of the Berlusconi tenure was not so much in the economic, political or even constitutional sphere. It was in the extent to which decay permeated the social and moral fabric of the country. The words, the actions and the fate of one single man consumed the public debate. The stigma associated with voting for Berlusconi made polling virtually irrelevant. And admitting to supporting him tore friendships and families apart, including mine.
Catalyzing some of the electorate's least acceptable instincts, as both Berlusconi and Trump did ― among other things, Berlusconi said that tax evasion, a crime for which he was ultimately convicted, is logical ― meant that a vote is not only a political or ideological choice, but also a character trait and even an act of faith. Berlusconi operated in the pre-Twitter era. But much like Trump, he mastered post-truth tactics, deliberately juxtaposing wildly contradicting policy positions, creating media cycles that often resembled a parallel reality.
But Berlusconi was ultimately ousted in 2011 not on account of his antics, but because he proved inept in steering Italy out of Europe's debt crisis. He was replaced by a pro-EU technocrat, Mario Monti, self-described as "the most German among Italian economists." Monti brought a measure of decorum, as well as an appreciation of bureaucratic autonomy, to which, according to political scientist Daniel Carpenter, "politicians and organized interests defer even though they would prefer that other actions (or no action at all) be taken."
It is in these processes and practices of governing that reside the most useful lessons for America. After years of political decay, Italians discovered that an impartial, albeit unelected, civil service was not only an undervalued cornerstone of good governance, but also a measure of last resort for salvaging a country's values and interests. Regrettably for Italy, the sources of that autonomy and legitimacy have been sucked up by the EU's overwhelming and increasingly embattled technocracy, which was associated with punishing austerity measures.
The United States has itself had a venerable tradition of bureaucratic autonomy. An establishment in politics, business and media protected this institution so that, as George Packer wrote, they "could hold the center together." Yet, these institutions have deteriorated under the weight of growing political interference and polarization.
Despite the fact that Berlusconi has at last given up on a future in Italian politics, his legacy lives on and is ubiquitous. It amounts to what, for lack of a better term, can be called the mainstreaming of populism. Positions and rhetoric once considered unacceptable are now at the center of the political lexicon and of the policy repertoire. All political forces need to brandish an anti-systemic, anti-political streak in order to be legitimated in the eyes of an increasingly disillusioned electorate.
No anti-Berlusconi candidate actually emerged as a long-term alternative; his most accomplished successor, the center-left reform-minded Matteo Renzi, can at best be described as post-Berlusconi, and Berlusconi himself indicated he is his true political heir. (In yet another parallel to Trump, Berlusconi's eldest daughter, an accomplished businesswoman, was long anointed as her designated political successor, but she categorically ruled that out.)
Ultimately, the phrase "conflict of interests" came to crystallize the longer term damage that Berlusconi inflicted to Italian liberal democracy. That referred quite literally to the prime minister's business interests encroaching on his public role. But the phrase also assumed more metaphysical connotations, akin to what 16th century Florentine philosopher Francesco Guicciardini called Il particulare. When the private, the "particular" becomes the only reference point of public order and civic life, the foundations of democracy are in serious jeopardy.
REAL LIFE. REAL NEWS. REAL VOICES.
Help us tell more of the stories that matter from voices that too often remain unheard.
BEFORE YOU GO
PHOTO GALLERY
Trump Voters In West Virginia