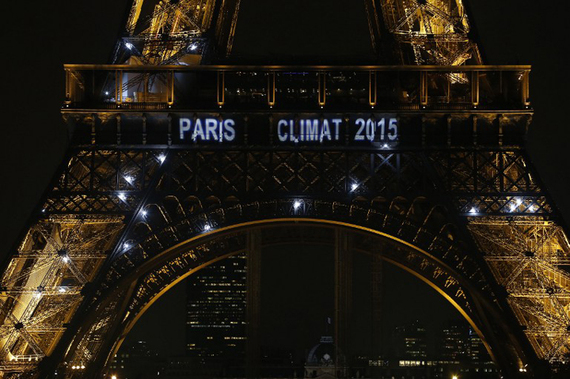 It's the first week of the 2015 UN Climate Change Conference (COP21). A defiant and resilient Paris, France - still under security lockdown following the horrific November 13 terrorist attacks - is proceeding as planned and hosting the leaders of 150 nations, along with 40,000 participants from 195 countries, to discuss solutions for global climate change.
This is an exciting time in climate collaboration: U.N. Secretary General Ban-Ki Moon told leaders: "A political moment like this may not come again. We have never faced such a test. But neither have we encountered such great opportunity."
True enough. The momentum for a good agreement among countries is unprecedented. Canadian Prime Minister Justin Trudeau today promised $300 million a year for research and development on clean energy technology (pooling resources with Microsoft Founder Bill Gates, US President Barack Obama and French President Francois Hollande).
However, all the discussion about a possible agreement among states overlooks a much bigger opportunity that is not on the table for discussion. To turn back the tide on climate change a new approach is needed that goes beyond national governments and engages all facets of society. To be sure countries are critical, as we need laws to price carbon and achieve reduction targets. But the overall battle can only be won if businesses, local and regional governments, power providers, transportation systems, corporations, other institutions and billions of citizens get involved. We need to mobilize of the resources of humanity, not dissimilar in scope to the two great world wars, but this time we will all be fighting for the same cause.
It's normal to assume that States are key to solving global problems. In the aftermath of World War II, state-based institutions for global cooperation were created, beginning at Bretton Woods with the International Monetary Fund, the World Bank and followed by the United Nations, the G8, the World Trade Organization, and more. But these organizations, while necessary, are proving insufficient on many fronts.
That's because much has changed since these institutions were conceived. First, the Internet now enables participants of all sizes, down to individuals, to communicate, contribute resources, and coordinate action globally. We don't have to work through government. Second, because of their size and growing eagerness to be forces for good, businesses want to play an important role in global cooperative efforts. Third, there is now a powerful global civil society that didn't exist at Bretton Woods. Tens of millions of people active in NGOs, foundations and other organizations are making a difference, advocating, creating policy, scrutinizing, conducting research, designing standards and waking up national governments everywhere. Without them COP21 would have no change of success.
The Climate Governance Network could be created along the same lines as the informal Internet Governance Network. The Internet, unquestionably the most important piece of the planet's human infrastructure, is curated, orchestrated and otherwise governed by an ad hoc collection of individuals, civil society organizations and corporations. It has the support of government, but no government, country, corporation or state-based institution controls it.
Participants of all sizes, down to individual citizens, communicate, contribute resources, and coordinate action. The Internet Engineering Task Force comprises volunteers who create the standards. ICAAN governs the distribution of domain names. The World Wide Web Foundation creates WEB standards and advocates for an open Internet. The Internet Governance Forum develops policies for countries to adopt. The Internet Society plays an important coordination role.
Extraordinarily, it works, and has become one of the most effective governance systems in the world. It has achieved legitimacy, inclusiveness and consensus-oriented decision making.
When it comes to the climate, citizens and groups are already using the Internet to create various networks for scientists, watchdogs, advocates, policy experts, and delivery experts to reduce CO emissions. Networks like the Urban Climate Change Research Network, the Climate Reality Project, Climate-KIC, C 40 megacity majors, and the National Oceanic and Atmospheric Administration's Digital Coast network have advanced the science and the art of making climate change an international priority.
Some corporations understand what is required. Paul Polman, the CEO of Unilever says "every business in every corner of the world needs to build carbon reduction and sustainability into the corporate DNA if we are to avoid a global catastrophe." But all too often, as Naomi Klein's new book, This Changes Everything, reveals, corporate pledges of strong action often turn out hollow. Companies need to understand that business cannot succeed in a world that's failing.
This week's COP21 should create a coordinating body for the Climate Governance Network. The body would seek to increase collaboration among the hundreds of networks worldwide. It would help curate and mobilize the public and stakeholders everywhere to take the steps required to dramatically reduce greenhouse gas emissions. This would be accomplished through greater coordination among networks regionally and functionally, improved technology platforms, supporting advocacy for policies and regulations to reduce CO, mobilization of local actions, strengthening leadership capability and governance, and increasing awareness of financial resources, best practices, and innovations to reduce CO emissions.
The most successful outcome from this year's conference in Paris should be that participants understand that the issue of the climate is too important to be left just to the world's politicians.
Calling all HuffPost superfans!
Sign up for membership to become a founding member and help shape HuffPost's next chapter