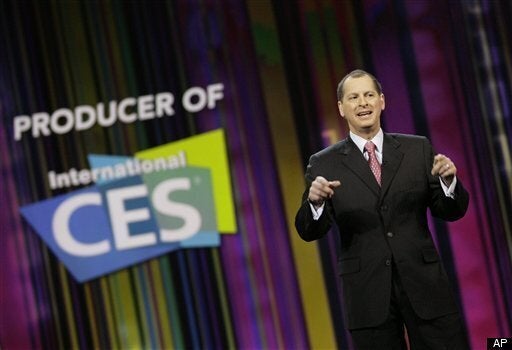 It's easy to be cynical about industry, government and innovation, but it was impossible to be pessimistic in Las Vegas last week at International CES.
Innovation took center stage and wowed the world last week with more than 140,000 innovators participating in the world's largest tech gathering.
As the person heading the association producing CES, I had a front row seat to judge the state of innovation. I am exhilarated! The apps, services, content and products will boost the economy, create jobs, and make us safer, connected, entertained, educated and informed. With some 20,000 products introduced by 2,700 companies, CES innovations captured the world's attention.
Exciting announcements filled each day of the week. For me, though, Friday was the highlight. Consider my day:
8:30 a.m.: I am interviewed live on Fox to describe the world's most exciting tech event.
9 a.m.: I moderate a panel on innovation of the CEOs from Cisco, GE and Xerox. The brilliance, energy and vision of these leaders captivated the audience. They agreed that our nation has great universities -- but needs quick and sharp improvement on K-12 schooling. To keep the United States an innovation leader and jobs creator, they urged changes in tax policy, a focus on free trade, and changes that would welcome the best and brightest from around the world.
11 a.m.: I am driven out on stage in a Ford Focus Electric to introduce CEO Alan Mulally. He kisses the hood of the car and introduces Ford's first electric vehicle -- not at an auto show, but at International CES, underscoring the role of consumer electronics in automobiles today. It charges in just three hours and has some amazing features! The audience is awed!
1:30 p.m.: To a standing-room-only crowd, I introduce Federal Communications Commission (FCC) Chairman Julius Genachowski. He describes his 2011 priority as freeing up large swathes of spectrum needed to allow wireless broadband to grow and how he recognizes that wireless video is overwhelming our airwaves. I am thrilled that he cares enough to focus on the long term and plan for our innovation future. Chairman Genachowski called 2011 International CES "the largest book launch party in history," referring to my new book.
3:00 p.m.: I sign copies of my new book, The Comeback: How Innovation will Restore the American Dream, at the Barnes & Noble booth. They are selling Nooks pre-loaded with my book, and the Nook Color later receives the People's Choice Award in the "Last Gadget Standing" competition at the show.
8 p.m.: I award all five FCC commissioners our highest award for their bipartisan work creating a national broadband plan -- it is possible for appointees from both parties to work together to agree on the need and process for ensuring Americans have a choice in broadband providers!
9 p.m.: I introduce Huffington Post's own Arianna Huffington who interviews Netflix CEO Reed Hasting on stage. She masterfully brings out his soft side and desire to make money to improve our nation's schools. He also urges that the government keep a light but vigilant touch to keep the Internet open to everyone.
What a day! We have long known that more business deals get done at International CES than at any other place on earth. And I'm pleased to report, from the front lines of the show, that innovation is alive -- and the United States has business and government leaders who care about our future and can focus on results before politics!
Popular in the Community