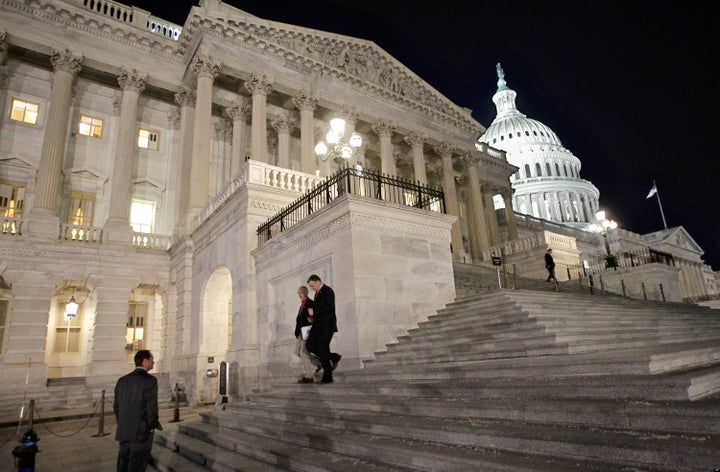 WASHINGTON -- High-stakes negotiations over a short-term stopgap to keep the government from shutting down stalled on Wednesday, as neither Republicans nor Democrats said they were willing to budge from their preferred levels of spending.
House GOP leadership presented Senate Majority Harry Reid's (D-Nev.) office with a proposal that would keep the government funded for two more weeks at a level that would produce roughly $4 billion in spending cuts. The proposal was a prorated version of the continuing resolution that Republicans passed to keep the government running through the next fiscal year, and in assessing the offer, Senate Democrats were nonplussed.
Behind the scenes, aides say, talks have taken on an even more ominous tone. According to sources familiar with the discussions, Republican negotiators have said that the only way they could build support within their own party for reducing the size of the cuts -- even in the stopgap measure -- would be to let the government actually shut down.
Such a scenario, a Democratic aide paraphrased a Republican counterpart as saying, would "be what it takes to convince the [party's] conservative members that they pulled out all the stops." A second Democratic Senate aide, briefed on the talks, confirmed this account.
The floating of a government shut down as form of political persuasion is new phrase in negotiating tactics, one that bolsters the Democrats' argument that GOP leadership is being led by its Tea Party faction. And when asked to respond to this account, it was telling that Speaker John Boehner's office offered a swift, on record, denial.
"That is not true," said Michael Steel, the speaker's spokesman. "Republican staff told Sen. Reid's staff that we will move a short-term CR that cuts spending, and that it's up to Sen. Reid to tell Americans what - if anything - he's willing to cut. At this point, the House has done its work by passing a CR, and the Senate has done nothing."
Whether or not the line was said, a government shut down does appear to be creeping closer to fruition. The opening bid by House Republican negotiators was, in essence, to not negotiate at all. The $4 billion in cuts for the two-week stopgap measure is a pared-down version of the $100 billion in cuts (off of Obama's 2011 budget) that the caucus passed for a continuing resolution that would last through September.
Reid's office has proposed a continuing resolution that would shave $40 billion off of Obama's 2011 budget. And in a statement late on Wednesday afternoon, the Nevada Democrat's top spokesman, Jon Summers, called the GOP proposal a non-starter.
"The Republicans' so-called compromise is nothing more than the same extreme package the House already handed the Senate, just with a different bow," Reid spokesman Jon Summers said. "This isn't a compromise, it's a hardening of their original position."
This is, of course, a fairly common opening act in high-stakes negotiation. Congress is, if anything, infamous for putting off tough issues until the 11th hour. As one of the aforementioned Senate Democratic aides noted, the "lines of communications are still open," but neither side is "willing to budge."

Calling all HuffPost superfans!
Sign up for membership to become a founding member and help shape HuffPost's next chapter