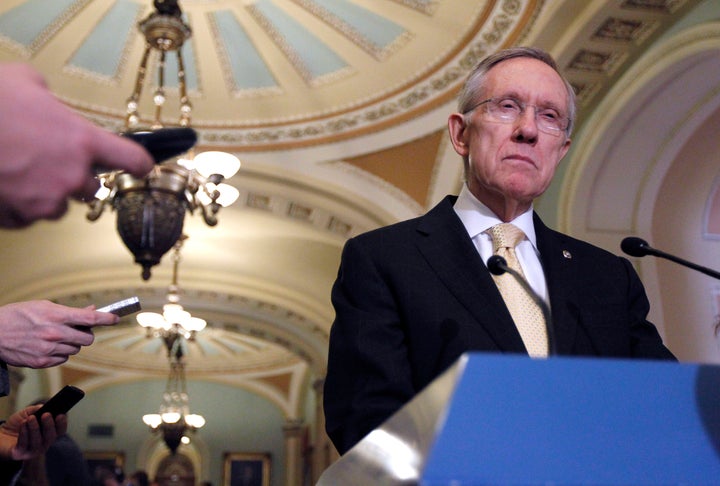 Negotiations over a resolution to keep the government funded until the fall have devolved into recriminations, with Senate Democrats arguing that House Republicans moved the goal posts, party operatives criticizing the White House's negotiating tactics, and GOP leadership calling congressional Democratic demands unreasonable.
The spirit of the discussions has grown so foul that no formal talks have occurred in nearly a week and what once seemed like a possible path for compromise has been replaced with a growing fear that a government shutdown may, in fact, take place.
The possibility still exists that negotiations can be restarted. For that reason, no source -- whether on the Hill, in the administration or outside of public office -- would agree to talk on the record. But the story of how the parties ended up at this stage still provides a telling reflection of how divergent theories regarding cuts and spending remain.
According to multiple Democratic sources, "quietly productive" talks over a continuing resolution to keep the government funded through the end of September were progressing as recently as last Tuesday. Weeks prior, the Senate held two ceremonial votes -- one on the Republican's preferred package (H.R. 1), which contains roughly $60 billion in cuts relative to the current spending levels, and the other on the Democrat's preferred approach, which keeps spending levels where they are. Both failed.
After those votes, members of House Speaker John Boehner's office, alongside Senate Majority Leader Harry Reid and officials with the Office of Management and Budget, held "productive" conversations, yielding a series of stopgap measures -- totaling approximately $10 billion worth of cuts -- to give negotiators more time to work on a long-term CR.
At this point, the stories diverge. Democrats say that all parties agreed that a baseline for a final agreement should be the current levels of spending. In that regard, the White House and Senate Democrats had already agreed to $10 billion in cuts (the cost of the stopgaps) while the Republicans had offered $60 billion. It was understood, though not explicitly stated, that the two parties would meet somewhere in the middle.
A top Republican aide called this bunk. "We sure as shit never agreed to negotiate off the current spending levels," the aide said, implying that House Republicans wanted to use H.R. 1 as the baseline, forcing Democrats to articulate the cuts they could live with and those they couldn't.
That, however, was a nonstarter for Democrats. "It would be like us demanding that we negotiate off of President Obama's 2012 budget," said one party official. "They're projections, not law."
Democratic leadership took the first step toward the middle, putting out an initial proposal that would reduce spending levels by $11 billion, bringing total reductions, when adding the stopgap measures, to about $21 billion. That proposal included $7.5 billion in discretionary spending cuts and $3.5 billion in mandatory spending cuts (things like subsidies for Medicare). "That's real," said a top Senate Democratic aide, "not a gimmick."
Republicans said the number wasn't sufficient, leaving the Democratic faction at the negotiating table split. Echoing others in the caucus, Sen. Dick Durbin (D-Ill.) had already said that any additional discretionary spending cuts would be unacceptable. The prospect of major defections should the party cut even further was obvious.
According to another Senate Democratic aide, the White House was willing to roll those dice.
Before House Republicans had settled on H.R. 1, Rep. Paul Ryan (R-Wis.), the chair of the budget committee, had put together a continuing resolution that called for $32 billion in cuts for the rest of the fiscal year. Under Tea Party pressure, Ryan upped that total to $60 billion.
White House Chief of Staff Bill Daley, the Senate aide said, "indicated to the Speaker's office that [going back to Ryan's original cuts] was a reasonable level that we would strive to meet." The aide declined to say whether or not other Democrats were comfortable with Daley's decision, the counter-argument being that the party could have held out longer, and secured more in return, before signing off on $32 billion.
A party operative, plugged into the discussions, made it clear that there were disagreements over the chief of staff's negotiating tactics.
"He is choosing to appease Republicans over fighting for Democratic principles," the operative said, pointing to a post put together by the Obama-allied Center for American Progress, arguing that $32 billion in cuts is "not much of a compromise if we end up with what the House Republican leadership wanted in the first place."
An administration official, offered a chance to correct the narrative, said that he "can't and won't comment on details" pertaining to the budget talks.
While the numerical details of Daley's offer were first reported in the Wall Street Journal this Monday, the aforementioned top Senate Democratic aide said the proposal was discussed more than a week ago. They were not, however, part of the discussion during last Tuesday's stormy meeting. As first reported by Politico's David Rogers, talks basically disintegrated after the staff director of the House Appropriations Committee, Bill Inglee, insisted that the party would not consider current spending levels as the baseline for negotiations.
"There hasn't been a formal meeting of the three parties since that meeting," the Senate aide told The Huffington Post. "We are still at work ... [Daley's] offer has been prepared for the better part of a week but it hasn't been offered yet because we don't know, according to Hal Roger's guy, that Paul Ryan's level is where they would accept a deal anymore."
REAL LIFE. REAL NEWS. REAL VOICES.
Help us tell more of the stories that matter from voices that too often remain unheard.