WASHINGTON -- At least Democrats will have eggnog to wash down the poison pills they swallowed on Thursday as the House narrowly passed a government funding bill that will let Congress go home early for Christmas, and give Wall Street a fresh gift.
The House barely passed the inelegantly named "cromnibus" appropriations bill after President Barack Obama and House Speaker John Boehner (R-Ohio) were forced into an unlikely alliance against rebellions from both parties, primarily led by the "Elizabeth Warren wing" and House Democrats.
The bill, which passed 219 to 206, will keep the government running until next September. But only 57 Democrats voted for the bill, and 67 Republicans broke ranks with their party to oppose it.
Some Republicans didn't think the measure was conservative enough. House Minority Leader Nancy Pelosi (D-Calif.) and most of her colleagues, meanwhile, were bitterly opposed to two attached riders that would whittle away at campaign finance rules and roll back provisions in the Dodd Frank Wall Street reform act designed to curb the risky trading at the heart of the 2008 financial crisis.
Pelosi nearly torpedoed the $1.1 trillion measure during a procedural vote Thursday morning, when all her members and 17 Republicans opposed a rule that set the terms of debate on the measure. A similar coalition balked later at final passage, which was supposed to occur around 2 p.m., forcing House Speaker John Boehner (R-Ohio) to delay a final vote until after 9 p.m.
Pelosi marshaled her caucus against the bill even after the White House urged support. The administration said the bill "provides certainty," even though it did not like the Wall Street gift.
But Pelosi savaged it is a scathing floor speech. "This is ransom, this is blackmail," Pelosi said. "We don't get a bill unless Wall Street gets its taxpayer-funded coverage."
The controversial provision lets taxpayer-insured banks conduct the sort of derivatives trading that Dodd-Frank barred them from engaging in after the 2008 financial meltdown. Compliance has repeatedly been delayed, however, and was not set to kick in until next summer. The other provision that sparked Democrats' ire was a change to campaign finance rules that lets wealthy donors dramatically boost contributions to party committees.
White House spokesman Josh Earnest argued that the bill does more good than bad, and that it represented compromise for the GOP, which initially wanted to gut the Affordable Care Act and Obama's executive actions on immigration.
"This is the kind of compromise that the president's been seeking from Republicans for years now," Earnest said in an appearance on MSNBC.
But to Democrats, it looked like the GOP had crafted a bill to let Wall Streeters rake in more cash with risky, taxpayer-backed trading, while at the same time clearing them to donate more money to their GOP benefactors.
"This is exquisitely reckless -- a special provision for Wall Street in exchange for money from Wall Street," Rep. Peter Welch (D-Vt.) told HuffPost.
"Once again, here in the holiday season, it's all about stuffing the silk stocking," said Rep. Lloyd Doggett (D-Texas).
A worried White House -- from Obama on down -- was forced to aggressively lobby lawmakers on the Hill. The president dispatched chief of staff Denis McDonough to sell Democrats on the deal in a closed-door meeting, prompting several members of the caucus to say they were "blindsided" by his attendance.
"Mr. McDonough did make the case that he believes that the economy needs the certainty and the consistency of a one-year budget versus a three-year CR," Rep. Steve Israel (D-N.Y.) told reporters as he left the gathering. Supporters also pointed to increased funding for some Wall Street regulators, and cash for some other Democratic priorities like Head Start, as well as items the GOP didn't get, including more cuts at the Affordable Care Act or immigration policy.
The fact that the vote was so close was a significant surprise, since 70 Democrats had voted with Republicans to pass the same Dodd-Frank provision a year ago.
Few Democrats leaving their meeting said they bought McDonough's argument. But in the end, enough Democrats and Republicans relented.
House Minority Whip Steny Hoyer (D-Md.) was perhaps the most influential member to side with the White House in a rare break from Pelosi.
"I think that my colleagues were correct in that the provisions that were included ... should not have been supported," Hoyer told reporters, adding that "in a world of alternatives" passing the omnibus was necessary.
The Senate will now have to take up and pass the measure, which was expected to happen by this weekend. The House and Senate quickly passed a two-day spending measure to prevent a short shutdown before then.
This article has been updated to include additional comments.

Before You Go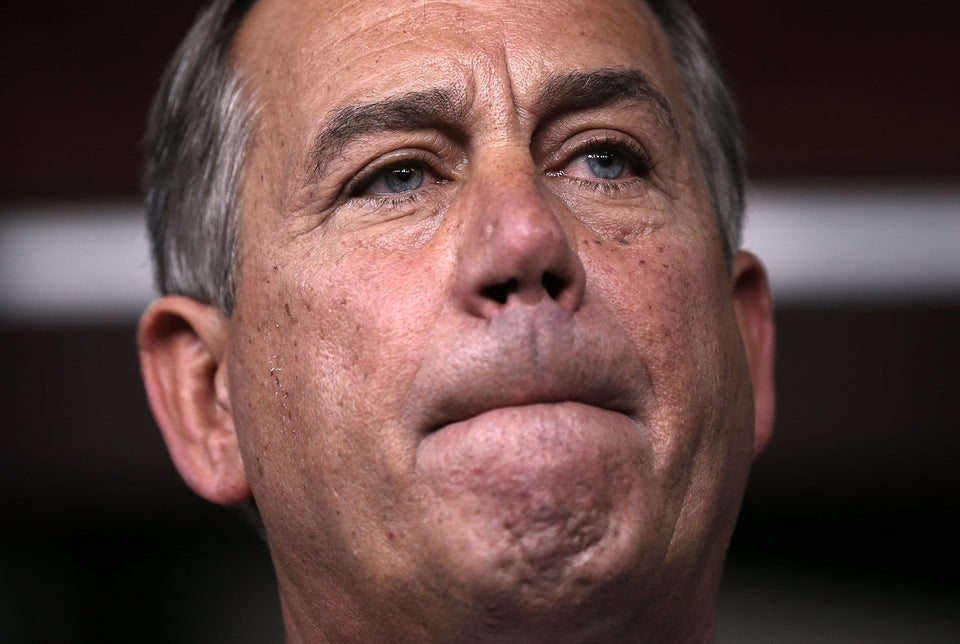 John Boehner's Lips Are Sealed
Popular in the Community