WASHINGTON -- If and when the federal government reopens for business, congressional lawmakers will have to decide whether or not to retroactively pay federal workers for the time they were out of work. So far, Republicans appear split on the question of back pay for furloughed civil servants -- even though members of Congress are guaranteed to get paid regardless.
Sen. Susan Collins (R-Maine) said she would support such a measure. "They're being furloughed for no fault of their own, and this is very poor policy," she said.
Sen. John McCain (R-Ariz.) agreed. "Oh, of course," he said when asked by HuffPost if he would support back pay legislation. "Why penalize these good people for our malfeasance?"
The Arizona Republican even predicted that it wouldn't be too difficult to get a bill retroactively paying federal workers through Congress.

But some of McCain's colleagues weren't so sure federal workers should be made whole for their lost time.
"I think it's way too early to even consider that, but again we're $7 trillion more in the hole now than we were [in 1995-1996]," said Sen. Richard Burr (R-N.C.). "It makes it that much more difficult."
Sen. Chuck Grassley (R-Iowa) also raised the issue of the national debt, signaling what might prevent many Republicans from getting on board.
"I think there would be less chance of that now considering the great big budget deficit we have now," Grassley said. "We're in a much worse situation."
So how would he vote if a measure were brought to floor to back pay federal employees?
"I would not make a judgment at this point," Grassley responded.
Sens. Jeff Flake (R-Ariz.), John Barrasso (R-Wyo.) and Tim Scott (R-S.C.) also said it was too early for them to make a determination, while Sen. Orrin Hatch (R-Utah) said he "probably" would support the move.
Back pay for furlough days requires an act of Congress once a shutdown ends. During the last shutdown, in 1995 and 1996, lawmakers decided to pay workers after the fact. But with a Congress that's focused on deficit reduction -- and that's already furloughed many workers this year through the automatic budget cuts known as sequestration -- plenty of federal employees are bracing themselves for a rebuff from lawmakers.
Declining to grant workers back pay may seem callous -- particularly for a Congress that's immune to furlough -- but the federal workforce seems to have few vocal backers on Capitol Hill these days. In addition to the furlough days created by sequestration, lawmakers have imposed a 3-year freeze on cost-of-living raises for federal workers, arguing that everyone needs to tighten their belts.
While it's unclear just how many Senate Republicans would be willing to grant back pay to employees, the upper chamber has shown more willingness to coalesce around some major pieces of legislation. The real obstacle could lie in the GOP-controlled House, where a combative right flank has rejected many bills over the issue of spending. House Speaker John Boehner (R-Ohio) had to rely on Democrats to pass a relief package for Hurricane Sandy earlier this year, and a traditionally bipartisan farm bill collapsed in July because conservatives opposed the amount spent on food stamps.
On Tuesday, nine Democrats and three Republicans in the House proposed a bill that would pay federal workers retroactively. Not surprisingly, all of the bi-partisan sponsors hailed from D.C., Maryland and Virginia, where many constituents are federal employees who stand to lose their paychecks. Rep. John Delaney (D-Md.), one of the lead sponsors of the Federal Employee Retroactive Pay Fairness Act, said in a statement that "hard-working civil servants shouldn't be collateral damage in an ideological battle."
Notably, the House Republicans who've signed on as sponsors appear far more uncomfortable with the shutdown than their tea party colleagues, since they represent districts heavy with federal workers and defense contractors who've already been hit by sequestration. These representatives might have a hard time convincing colleagues further to their right to support paying federal workers for time they weren't on the job.
One of them, Rep. Scott Rigell (R-Va.), even called Tuesday for House leadership to throw in the towel and vote on a clean continuing resolution to fund the government in order to end the shutdown -- something most of his colleagues have so far been unwilling to do.
"Republicans fought the good fight," Rigell said in a statement. "The time has come to pass a clean [continuing resolution] to reopen the government."
Before You Go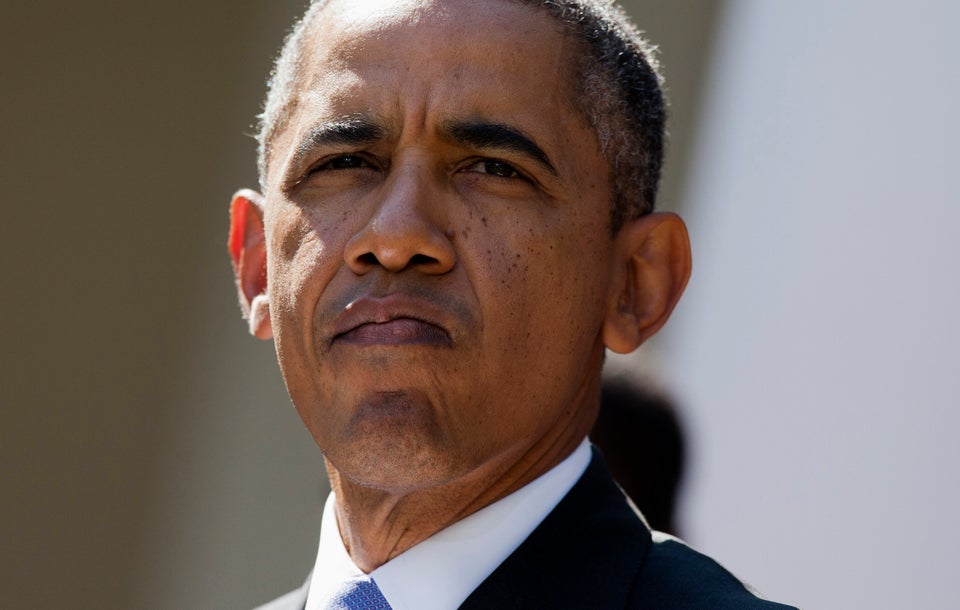 2013 Government Shutdown
Popular in the Community