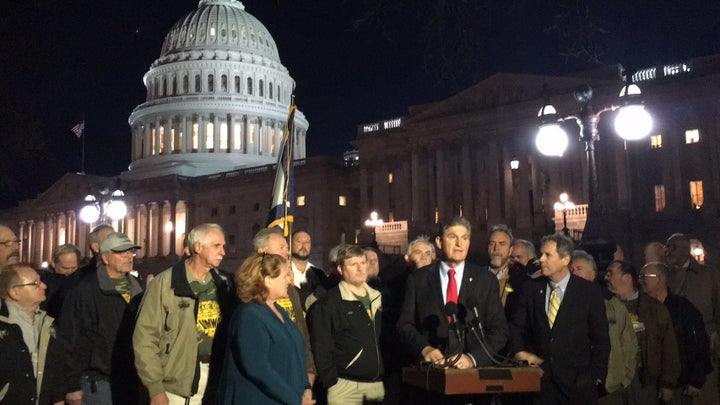 The Senate voted Friday night to fund the government until April 28 ― averting a shutdown less than an hour before the deadline. The funding bill, which passed 63-36, will now be sent to President Barack Obama.
Sen. Joe Manchin (D-W.Va.), who led the push for a one-year extension of health care benefits for miners, railed against House members Friday evening for leaving town without committing to provide a better solution for miners next year. Manchin said he would vote against a continuing resolution later Friday to keep the government open, but didn't threaten to hold up the vote on the year-end spending bill ― effectively caving on the threat to shut down the government.
"I rise today fighting for the working men and women that we all use in our commercials," Manchin said on the floor. "Every one of us goes out and basically tries to attract working men and women to vote for us because we say we're coming here to fight for you, we're going to stand up for you, no one's going to walk over you, no one's going to push you aside, no one's going to forget about you. Every one of us have done those ads ― every one of our 435 [House] members, who had to go home yesterday because it was time for Christmas." 
Manchin and a bipartisan coalition of senators have pressured Senate Majority Mitch McConnell (R-Ky.) for more than a year to pass legislation that would protect the health and pension benefits for unionized miners. McConnell wouldn't budge until this week, when he insisted that House Speaker Paul Ryan (R-Wis.) include a four-month extension of miners' health benefits ― set to expire for nearly 17,000 at the end of the month.
But Manchin and other coal-state Democrats wanted a one-year commitment of funds, arguing that just four additional months of benefits would cause whiplash for miners and their widows relying on the health insurance.
"We wouldn't be standing here today ― and the superpower of the world ― without the coal that's been mined by the coal miners through generation after generation ... but I don't think we're going to get to the 41 as of tonight," Manchin told reporters, referring to the number needed to block the continuing resolution. "We have support to take this fight on to have a commitment."
Manchin said he planned to talk with President-elect Donald Trump on Monday.
"I'm very hopeful that he will engage when he's sworn in as president because I can tell you, he won the coal fields overwhelmingly ― he won every coal area in America," Manchin said. "I'm very hopeful for his support; it would help us to find that pathway to the permanent fix that must be done. A temporary fix ― kicking the can down the road ― is not the way you run this government, and what were asking for is him to help us."
One after another, coal-state Democrats appeared on the Senate floor Friday to join Manchin in his outrage over the four-month extension. Each said they would vote against the continuing resolution, but nevertheless expected a vote to be held on Friday.
"We are not going away, so anyone who thinks that tonight is the end of the chapter, we're just getting warmed up," Sen. Bob Casey (D-Pa.) said, promising that Democrats would return to the issue next year.
Senators also are scheduled to vote on a water resources bill Friday night that authorizes money to help Flint, Michigan, deal with its water crisis. Senators are rushing to consider legislation before they leave town for the year. 
Sen. Sherrod Brown (D-Ohio), one of the Democrats fighting alongside Manchin, said Thursday night that a four-month extension provides no certainty for the miners, whose pensions also are in jeopardy.
"Who wants to live that way? Who should have to live that way?" Brown said outside the Capitol with United Mine Workers representatives and five Senate colleagues. "You're going to have insurance, but it's going to run out, and then maybe we'll renew it but maybe we won't."
McConnell on Friday morning mocked Democrats for picking a fight over the health benefits when House Democrats voted for the four-month extension in large numbers a day earlier. McConnell pledged that lawmakers would work on a longer extension in April and said "it's highly unlikely that we'll take it away."
"Lets just be honest about the real reason these people are hurting because President Obama has been standing on their neck for eight years," Sen. John Barrasso (R-Wyo.) said Friday. 
Sen. Elizabeth Warren (D-Mass.) pushed back when she came to the Senate floor to support Manchin's effort. She said the coal industry's decline has been forced by changes in the energy market. 
"Today, coal generates only about 30 percent of our power," Warren said. "Coal prices plummeted and other sources of energy like natural gas have become more prevalent."
A lapse in health coverage for miners, she said, could be a matter of life or death after years of back-breaking, dangerous work.
"Losing health insurance is tough for anyone, but for coal miners it is a killer, literally," Warren said. "Coal miners face far higher rates of cardio-pulmonary disease, cancer, black lung and other injuries than most other Americans."
This article has been updated to include the Senate vote.
REAL LIFE. REAL NEWS. REAL VOICES.
Help us tell more of the stories that matter from voices that too often remain unheard.