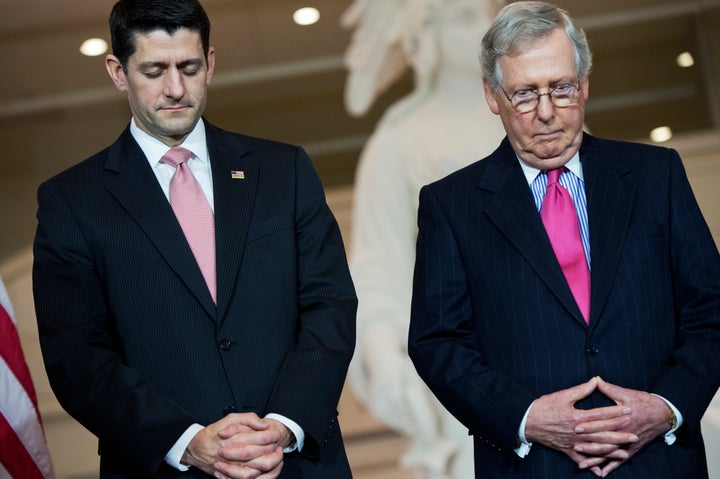 WASHINGTON ― With the government set to run out of money in three days, the Senate failed to pass a government funding bill that Democrats oppose because it does nothing to help the residents still dealing with lead-poisoned water in Flint, Michigan.
The Senate didn't approve a procedural vote, 45-55, for the continuing resolution Tuesday. Several Republicans also objected to the bill that would fund the government only until Dec. 9, and 13 voted against moving the bill ― including Senate Majority Leader Mitch McConnell (R-Ky.), which allows him the option to bring up the measure for another vote.
The largest sticking point, however, appeared to be Republicans' failure to deal with Flint's lead crisis, even as they rushed to help flood victims in other states, especially Louisiana.
"Would it be asking too much for the speaker of the House, the leader of the Senate, the Republican leader of the Senate, to stand and say, 'We're going to get that thing done, we're going to pass it, we're going to make sure that the bill that passed overwhelmingly in the Senate is going to become law?" asked Senate Minority Leader Harry Reid (D-Nev.), referring to a separate bill, the Water Resources Development Act, that includes funding for Flint and other lead mitigation efforts. "But they ignore that. They ignore the people of Flint."
McConnell countered that Republicans in the Senate are committed to passing the Flint bill after the elections, and accused Reid and Democrats of manufacturing a crisis by insisting on helping Flint.
"The White House said yesterday that the WRDA bill is an appropriate vehicle for the Flint funding," McConnell said. "It's almost as if a few Democratic leaders decided long ago that bringing our country to the brink would make for good election-year politics. And then they've just made up the rationale as they go along."
But Reid and Sen. Barbara Boxer (D-Calif.) argued the House had a chance to deal with the Flint problem starting Monday night, when it drew up the rules to pass its own version of the water resources bill. That's when Republicans explicitly barred an amendment to address Flint.
Republicans haven't given Democrats much reason to trust that Flint funding will get put into the WRDA later, when the two chambers eventually get together in a conference committee to align their differing versions of the legislation.
"It isn't promised that it will be in there. It's promised that it will be considered," House Minority Leader Nancy Pelosi (D-Calif.) told reporters Tuesday.
Pelosi said the bottom line for Democrats is that Flint funding needs to end up in one of the two bills by week's end, and it doesn't necessarily matter which one.
"We're hoping to leverage it one way or another," she said. "Our minority caucuses do not want to vote for a bill that does not have Flint in it."
At issue is roughly $220 million that is partially directed toward Flint. The Senate WRDA bill included $100 million for subsidized loans for water infrastructure improvement, but any state that receives a federal emergency declaration could eventually get part of that money. (Currently, only Michigan would be eligible.) The Senate legislation also includes $70 million for financing costs associated with loans for water infrastructure around the country, as well as $50 million for national health programs associated with lead poisoning.
When pressed on why Republicans wouldn't put the Flint aid in the continuing resolution, Senate Majority Whip John Cornyn (R-Texas) shifted blame onto the House. 
"The Senate's already solved it," Cornyn said, referring to its support of the Flint package. "The challenges in the House are adding additional things on the CR which may jeopardize their ability to pass it there. We can't ignore that."
Speaker Paul Ryan (R-Wis.) said last week that he sees Flint as "more of a local government issue," and he wasn't much more reassuring Tuesday, telling reporters that he isn't going to negotiate Flint through the press.
He told reporters Flint funding is "not germane in WRDA itself," but noted the Senate version of the bill did include Flint.
"That means we're going to conference," Ryan said, adding that he wasn't "going to get into the particulars about negotiations."
But if Republicans aren't willing to give Democrats real assurances that Flint will be in a final bill, why would Democrats give up their leverage on the stopgap funding bill? And if Republicans are so sure Flint will be dealt with eventually, why not give Democrats the Flint funding now?
House Appropriations Chairman Hal Rogers (R-Ky.) was asked that question Tuesday, and his answer again cast doubt that congressional Republicans believe they have a responsibility to deal with Flint.
"As I've said, this is a local issue. Or state," Rogers said. "Every city in the country, every town in the country, has a degree of the same problem, and that's corroding old pipes. That's traditionally something local communities deal with, or state, like the WRDA bill would allow them to do."
Pressed that it sounded as if he didn't want to handle Flint in federal legislation, Rogers agreed. "Sure," he said.
With House Republicans sounding so sketchy on including Flint funding in the WRDA, Democrats seem to have taken a firm line. "Put it in the CR, put it in the WRDA bill that's in the House now ― not some promise that, 'Oh well, we'll pass the WRDA bill and maybe it will be in conference,'" House Minority Whip Steny Hoyer (D-Md.) told reporters.
Sen. Barbara Boxer (D-Calif.) was also skeptical of Ryan's promises. "Why isn't he making it happen? Why isn't he helping us? We can't trust the House," she said in a Senate floor speech.
As much as Democrats want to get Flint funding in the government funding bill, some seem willing to accept a solid commitment from GOP leaders that it will end up in the final version of the WRDA bill. Two Senate Democratic leadership aides told The Huffington Post that Democrats could probably accept a promise that Flint ends up in the WRDA bill after conference.
Whether that would be forthcoming, however, remained unclear. Asked whether Ryan was willing to commit to making sure Flint funding ends up in the final version of the WRDA bill, Ryan's chief communications adviser, Brendan Buck, said he had nothing to offer at this point.
Without that commitment, and without Flint money in the government funding bill or the WRDA, Democrats don't appear willing to budge.
"Why don't they just do it now?" Pelosi asked, snapping her fingers. "Like that, the speaker could put it in the WRDA bill right now."
Laura Barron-Lopez contributed reporting.
REAL LIFE. REAL NEWS. REAL VOICES.
Help us tell more of the stories that matter from voices that too often remain unheard.