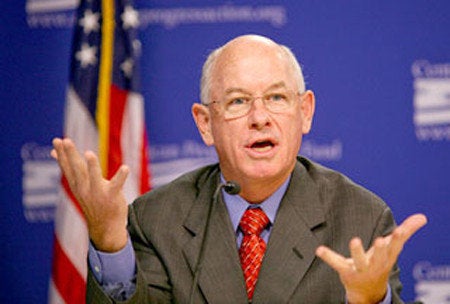 The Middle East sits at a precarious pivot point, a transformational moment that rivals the fall of the Berlin Wall. Country by country, whether they remain autocratic, become democratic or fall somewhere in between, the Middle East will not be the same.
From the individual street vendor who lit the spark in Tunisia to the massive protests in Tahrir Square to the current standoff with Muammar Gaddafi, none of this has been scripted and ultimate outcomes are far from certain. Eastern Europe benefited from the centripetal pull of NATO and the EU, and received immediate and sustained assistance from the United States and the West to order to achieve today's remarkable regional stability and integration.
The United States has less leverage to shape development in the Middle East going forward than we did in Eastern Europe. But we can certainly influence if not dictate favorable outcomes -- provided we are as fully engaged as we were during the 1990s and have adequate and timely resources available to help the region advance.
Countries in the Middle East will certainly need a lot of help to achieve the genuine political, economic and social reform that the region desperately needs, change that certainly benefits the United States.
Some support will continue to be needed right now -- humanitarian assistance to help refugees displaced by violence or religious or ethnic minorities who are victimized by unrest; technical assistance to help countries build political parties, rewrite constitutions or organize internationally monitored free and fair elections; security assistance to professionalize military and police forces to protect rather than suppress civilians; and economic assistance to create genuine free markets and create jobs, one of the primary frustration that fueled the youth-led unrest in the first place.
While military support may be selectively employed, as with Libya, the primary focus of our efforts will be civilian, making strategic investments to encourage change from Algeria to Yemen.
But where decisive and timely action can be critical in such a fluid and unpredictable period, the federal government, solely responsible for execution of the foreign policy of the United States, may shut down because of the FY2011 budget impasse. Even if paralysis is somehow averted, the needed resources may not be available if the final budget resolution resembles the framework advanced by the House of Representatives under HR-1.
A government shutdown would essentially halt our ability to direct resources to meet compelling needs as we have done multiple times over the past four months -- none of it planned -- all of it important. For days or weeks, programs considered mission essential will continue to operate, but at reduced levels; a fraction of the workforce will be on the job, and not paid; money already out the door can be spent; but no new commitments can be made until there is a budget.
A budget deal that includes steep reductions in operating funds or assistance that support our global diplomacy and development efforts risks gutting several programs that are relevant to the on-going crisis in the Middle East -- right now. HR-1 calls for severe cuts in humanitarian and economic support funding, for example, the very programs that have already proven their importance in Egypt and Libya.
Budget hawks and Tea Partiers want to push to budget levels back to 2008. But the problem is, we live in 2011. The world has changed.
In North Africa, beyond Libya, Southern Sudan will emerge as a new country in less than four months. It will need a lot of help for a long time. Even though the Middle East peace process is barely alive, institution building in the Palestinian territories and Lebanon remain vital to achieving comprehensive Middle East peace. There are expanding civilian requirements in Iraq, Afghanistan and Pakistan that are fundamentally different than 2008. The same kind of sustained focus we required to remove Gaddafi from power is needed in the Ivory Coast, where another stubborn dictator refuses to step aside even as the humanitarian situation in and around the country worsens.
The bottom line: at a crucial moment in history, the world's only superpower, the most influential country in this region vital to our national security will play with one if not both hands tied behinds its back. Until there is a budget agreement, there is no new money to commit. Depending on the level of cuts in the eventual budget agreement, when decisive action may be needed the most, there may not be enough funding in critical accounts to make a meaningful difference, and little flexibility to reprogram money from other sources.
The transfer of responsibility to NATO this week for the no-fly and no-drive zones that have leveled the playing field in Libya is serendipitous. At least NATO will continue to operate even as its most important member threatens to drive off a political cliff.
Can you be a superpower without a functioning government? Unfortunately, we may be about to find out.

P.J. Crowley is a former Assistant Secretary and Spokesman for the Department of State.

Popular in the Community