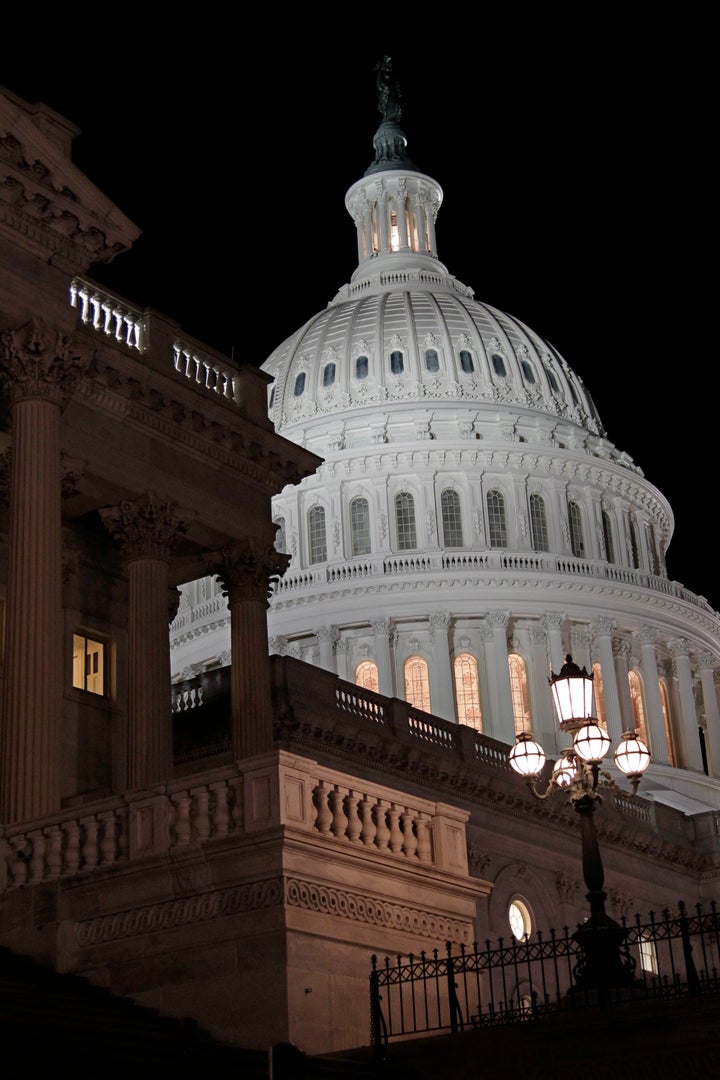 WASHINGTON -- The House on Wednesday failed to pass legislation to keep the government funded past next week, a major defeat for Speaker John Boehner (R-Ohio), who was banking on having the votes for a package that tied emergency disaster aid to spending cuts.
The bill went down in a vote of 195 to 230. A whopping 48 Republicans sided with nearly all Democrats in opposing the measure aimed at keeping the government funded past Sept. 30, when current funding runs out, and through Nov. 18.
Just six Democrats voted to pass the bill: Reps. Jason Altmire (Pa.), Tim Holden (Pa.), Larry Kissell (N.C.), Carolyn McCarthy (N.Y.), Michael Michaud (Maine) and Peter Welch (Vt.).
The failed vote was not only an embarrassment for Republican leaders, who ended up nowhere near the 218 votes they needed to pass the bill, but it also eats into the small window of time left to avert a government shutdown. The House and Senate are scheduled to leave town on Friday for a week-long recess; unless that changes, they only have two days left to figure out a way forward.
Two factions of Republicans had problems with the bill as they headed into the vote: Conservatives wanted more spending cuts, and some GOP lawmakers affected by natural disasters were unhappy with the bill conditioning $1.5 billion in emergency disaster aid on matching cuts to a fuel-efficiency loan program.
A House GOP leadership aide conceded later that Republican leaders were expecting more Democratic support for the bill.
Rep. Jeff Flake (R-Ariz.), the lead author on a letter signed by 51 Republicans that urges GOP leaders to make more cuts, said he voted "no" because party leaders need to include more spending cuts in their starting bid on the bill, which still has to clear the Senate.
"I just think we shouldn't give away what we can get after negotiations with the Senate," Flake told reporters. During last month's debt ceiling fight, Republican leaders "agreed to the ceiling, not the floor," he said.
Freshman Rep. Mo Brooks (R-Ala.) voted "yes," but said he might switch his vote the next time around if all $3.65 billion in disaster aid isn't offset. The current resolution offsets $1.5 billion; the rest is not offset and would be rolled into annual spending bills still being negotiated by the House and Senate.
"I might go from a 'yes' to a 'no' if we're not going to pay for these additional expenditures," Brooks said of the disaster aid.
Rep. Gary Peters (D-Mich.) speculated that Republican leaders underestimated how much opposition there would be in both parties to taking money away from the clean car program.
"They targeted a program that created jobs," Peters told The Huffington Post. The fact that Democrats were unified in opposing cuts to the program "shows Republicans can't govern from the extreme; they're going to need to compromise."
The leadership aide said Republican leaders are huddling Wednesday evening to figure out their next steps, with no votes likely until at least Thursday. Options still on the table include pulling offsets for disaster aid from a different program or possibly eliminating offsets altogether, the latter of which is less likely, the aide said.
During debate on the bill, Democrats railed against Republican leaders for tying disaster aid to spending cuts. They argued that the move is unprecedented since emergency aid is typically not paid for, and said Republicans were hurting the economy by seeking to take money from the Department of Energy's Advanced Technology Vehicle Manufacturing Loan Program, which is aimed at helping the auto industry expand and create jobs.
"This CR is a bunch of smoke and mirrors," said Rep. Sheila Jackson Lee (D-Texas). "'If I can find a dime to pay for your misery, I will find a dime.' That is not the American way."
"This is the most stingy, short-sighted, poorest form of representative government I've ever seen," said Rep. Keith Ellison (D-Minn.). "You know who's not a job creator? Anyone who votes yes on this bill."
Republicans countered that they are changing business as usual in Congress by trying to pay for what they spend. They emphasized that the $3.65 billion they provide in disaster aid is far more than what President Barack Obama requested.
"Our bill provides twice what the president requested," said Rep. Rob Woodall (R-Ga.). "I am proud that we're trying to grapple with these issues," he said.
It didn't take long for the spin wars to begin after the vote.
Brad Dayspring, a spokesman for House Majority Leader Eric Cantor (R-Va.), tried to frame the bill's defeat as a negative for Democrats.
"95 Democrats supported BCA deal. 6 Democrats supported CR. 89 Democrats flipped and voted for a government shutdown," Dayspring tweeted. The BCA deal refers to the Budget Control Act, or the debt deal, that passed Congress with bipartisan support last month.
House Minority Leader Nancy Pelosi (D-Calif.) issued a statement hailing the "bipartisan rejection" of the measure.
"Instead of creating jobs, the number one priority of the American people, this Republican bill would have cost good-paying jobs; that is why Democrats rejected it tonight," Pelosi said. "House Democrats will work tirelessly to create jobs, and Democrats will always provide Americans struggling in the aftermath of a disaster what they need to rebuild."
Across the Capitol, Senate Democrats had a suggestion for Boehner on the best way to expedite the resolution through Congress: strip out the House language on disaster relief and put in Senate language that would provide $6.9 billion in aid, without offsets.
"I think [Boehner] would find, potentially, more members of the House willing to support the CR if the disaster relief portion of that were made more robust," said Sen. Mary Landrieu (D-La.).
Landrieu emphasized that while the government can keep running until Sept. 30, the Federal Emergency Management Administration is in worse shape.
FEMA officials "told me today they potentially could run out of money by Tuesday," she said, adding that "that burn rate is so hot right now" that the numbers need to be updated daily.
Sen. Chuck Schumer (D-N.Y.) said the easiest way to remedy the situation would be to take disaster aid completely out of the continuing resolution and pass the Senate's standalone aid bill. But one option that remains unacceptable to Democrats would be to cut funding levels for disaster aid to appease conservative Republicans, especially since those funding levels had already been agreed upon during debt talks this summer.
"We're not going to negotiate something in July and then let people renege in September and say never mind," Schumer added. "Absolutely not."
Mike McAuliff, Elise Foley and Tyler Kingkade contributed to this report.

Popular in the Community