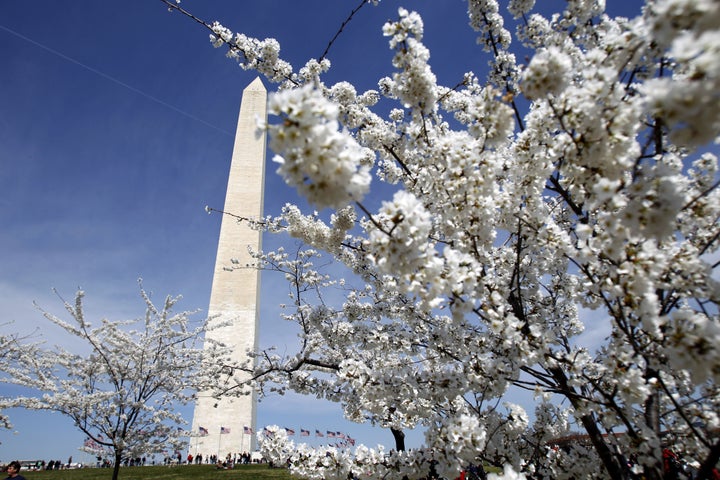 WASHINGTON - The Senate on Friday rejected a House-passed measure to keep the government funded past Sept. 30, signaling that Senate Democrats are ready for an eleventh-hour fight with House Republicans over billions of dollars in disaster aid in the bill.
By a vote of 59 to 36, the Senate tabled the $1.043 trillion resolution to funding the government from Oct. 1 through Nov. 18. Congress has to send some kind of temporary funding measure to the president's desk by Sept. 30 or the government will shut down.
Senate Majority Leader Harry Reid (D-Nev.) had been vowing to block the House bill, which passed at 1 a.m. on Friday, because of its language on disaster relief. House Republicans want to cut $1.5 billion from an Energy Department clean car fund to pay for disaster aid. But the Senate has already passed its own $6.9 billion disaster relief package, without offsets, and Democrats have balked at the idea of having to match emergency aid with cuts -- especially cuts from a program they like.
Immediately after the vote to block the funding bill, Reid set up a new vote for Monday at 5:30 p.m. to begin debate on a modified version of the House bill that Senate Democrats would support. It would make one key change: No offsets for disaster aid.
Reid's move means the House and Senate don't get to go into recess next week as planned -- something the House was hoping to avoid as they were racing to leave town Friday.
Senate Minority Leader Mitch McConnell (R-Ky.) pressed Reid to hold the vote Friday and not "squander the next few days on an agreement we know we have to reach."
But Reid declined, saying he wanted House and Senate party leaders to huddle over the weekend and reach a bipartisan way forward.
"Everyone once in a while needs a little cooling off period," Reid said.
Just before the vote, House Republican leaders railed against Senate Democrats for planning to reject their bill, saying it would be Democrats' fault if the Federal Emergency Management Administration runs out of disaster relief funds, which could happen as soon as Monday.
"We passed a responsible bill," Speaker John Boehner (R-Ohio) said during a Capitol Hill press conference. "It's time for the Senate to move the House passed bill."
He also said the Senate was breaking its word by killing the House version of the legislation.
"This bill was put together in a bipartisan way with House and Senate leaders, and just because someone decided to change their mind and walk away from an understanding about how we're going to proceed certainly does not make it right," Boehner said.
Reid's office did not immediately respond to Boehner's charge.
Boehner and House Majority Leader Eric Cantor (R-Va.) repeatedly accused Senate Democrats of playing political games at the expense of disaster victims, even though the Senate has already passed a much larger $6.9 billion disaster package.
It will "be on Harry Reid's shoulders" if FEMA doesn't get its disaster aid next week, Cantor said.
But the House bill faces bipartisan opposition in the Senate. Several Senate Republicans unhappy with the House bill's disaster aid language voted with Democrats to table the measure: Sens. Jim DeMint (S.C.), Ron Johnson (Wis.), Mike Lee (Utah), Rand Paul (Ky.), Jim Risch (Idaho), Marco Rubio (Fla.) and Pat Toomey (Pa.).
Only one Senate Democrat supported the House bill: Sen. Ben Nelson (D-Neb.).
Despite having no path forward, both Boehner and Reid reiterated that there will be no government shutdown next week.
"The government is not shutting down," Reid said. "FEMA is not out of money. We'll come here Monday, more reasonable heads will prevail and I would hope over the weekend that the four leaders can lead their troops in the right direction."
During a press conference with House and Senate Democratic leaders after the vote, House Minority Whip Steny Hoyer (D-Md.) said he thinks the House has enough votes to pass the Senate-amended bill, possibly by voice vote if members are home next week on recess.
"I think if that's the bill that comes to the House, and I hope it will, it wouldn't even necessitate, in my view, calling the House back, we could pass it by unanimous consent," Hoyer said.
For now, though, House Republican leaders are advising their members that no votes are expected in the House until early October.
"Members are advised there are no votes expected in House for the week. Furthermore there are no votes scheduled until Oct 3," a spokeswoman from the House Majority Whip's office tweeted Friday.
Elise Foley contributed reporting.
This story has been updated to include comment from House Minority Whip Steny Hoyer and a tweet from the House Majority Whip's office.