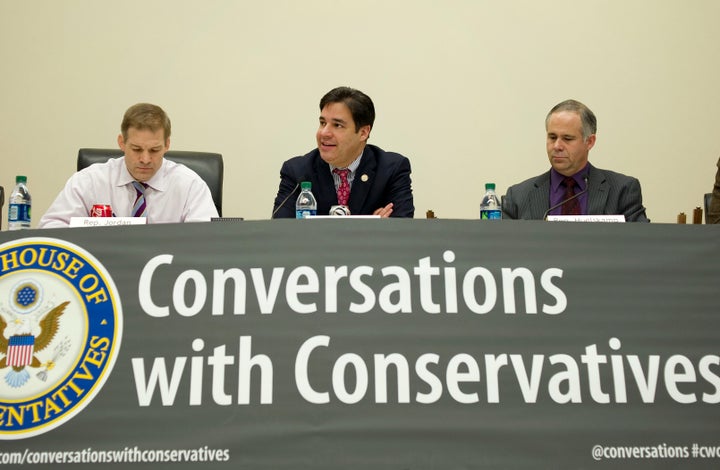 WASHINGTON -- An effort to block any funding measure that contains money for Planned Parenthood is gaining steam among the House conservative caucus.
On Thursday, the House Freedom Caucus, which includes some 40 Republican members, announced a unified position on the looming spending fight as the Sept. 30 government funding deadline nears.
"Given the appalling revelations surrounding Planned Parenthood, we cannot in good moral conscience vote to send taxpayer money to this organization while still fulfilling our duty to represent our constituents," the members said in a statement. "We must therefore oppose any spending measure that contains funding for Planned Parenthood."
The House has launched three investigations into Planned Parenthood after anti-abortion activists last month released heavily edited undercover videos that accused the provider of selling fetal tissue after abortions. The conservative wing of House Republicans says more investigations are necessary, and wants party leadership to act.
The offensive complicates House Speaker John Boehner's (R-Ohio) job of passing a continuing resolution to fund the government by month's end. On Thursday, Boehner wouldn't explicitly rule out a government shutdown -- as has his counterpart, Senate Majority Leader Mitch McConnell (R-Ky.) -- but insisted it wasn't the aim of the House.
"The goal here is not to shut down the government," Boehner told reporters. "The goal is to stop these horrific practices of organizations selling baby parts."
Boehner noted that "no decision has been made" on the details of a continuing resolution among Republicans.
A GOP aide, who later was asked if Boehner would be open to attaching a measure defunding Planned Parenthood to a continuing resolution, said the speaker has "not ruled anything out."
"He has been clear that he does not want to take any action that will damage the pro-life cause," the aide added.
During a conference meeting this week, a number of Republican members said they'd prefer to target the family planning provider by moving legislation separate from the continuing resolution to fund the government, according to a source in the room.
Those same members argued a shutdown would "hurt the pro-life cause."
Boehner told his members that even if the House were able to defund Planned Parenthood tomorrow, "it wouldn't stop their grotesque behavior ... and he noted that a shutdown won't stop Planned Parenthood from receiving its funding," according to the source.
But the rising anger within Boehner's conservative caucus was felt during a sit-down with reporters on Wednesday. Rep. Mick Mulvaney (R-S.C.) said he didn't like what he heard from leadership during their weekly conference meeting. Mulvaney disagreed with leadership's advice that a clean bill to defund Planned Parenthood -- one not tied to the spending fight -- would probably be the best option.
Planned Parenthood currently receives roughly $500 million in government funding annually, which it uses to subsidize services like birth control, cancer screenings and more for low-income patients. Federal law prohibits the use of taxpayer dollars to pay for abortions.
Mulvaney said another standalone bill to strip Planned Parenthood of its federal funds means Republicans are "setting up for surrender."
"Leadership is going to have to choose: Do they want it to be a talking point, or do they want to actually do something about it? I think we will find out in the next 10 days," he said.
Rep. Raul Labrador (R-Idaho) added that Republicans can't "telegraph" to the other side that they are "unwilling to have that battle," because if they do, they've "already capitulated."
Labrador and other members in the meeting admitted they didn't know if what Planned Parenthood did was illegal.
"What they did is immoral and I am not willing to give my money to fund the immorality of what is happening in Planned Parenthood," Labrador said.
Planned Parenthood defended its practices, arguing it donates the fetal tissue, which in fact is legal under current law.
Members of the Freedom Caucus dismissed questions about whether they were worried they might be blamed for a shutdown by pushing the Planned Parenthood fight forward.
"The dollar amount is going to be exactly the same. Instead of going to an organization caught on video engaging in what looks like illegal activity, it will go to other organizations that provide the same services that weren't involved in criminal activity or what looks like criminal activity," said Rep. Jim Jordan (R-Ohio), chairman of the Freedom Caucus. "Why would you veto that? That is common sense. And yet you all are all saying Republicans are crazy."
It's widely known, however, that Democrats would vote against any funding measure that strips the family planning provider of its federal money, and McConnell admitted over the summer recess that the upper chamber didn't have the votes to defund the organization.
While the conservative members were agitated with Democrats over the issue, they became more heated when discussing McConnell.
Rep. Jeff Duncan (R-S.C.) countered that the Senate would have the votes to overcome a filibuster if McConnell changed the rules and invoked the nuclear option.
Piling on, Mulvaney charged that McConnell needs to "figure out" that there are "more important things than 40-year-old Senate rules."
McConnell vowed to return the Senate to regular order when taking over as majority leader, and to allow an open amendment process, which draws out debate and makes it harder for the controlling party to funnel through legislation they favor.
"Until Mitch wakes up and realizes that he's no different than [Senate Minority Leader] Harry Reid right now, it's going to be a real rugged couple of months," Mulvaney said.
While McConnell was the main target of the Freedom Caucus members during the Wednesday meeting with press, Boehner didn't escape unscathed. Many of the members in attendance threatened to keep a watchful eye on the coming weeks, saying the speaker's decisions on how to handle the Iran deal, the spending fight and Planned Parenthood would be key in whether conservatives would mount another coup to oust him.
Popular in the Community