WASHINGTON -- A press event held Wednesday by Senate Democrats to escalate pressure on Republicans over the government shutdown was overshadowed by a rally to restore funding to the District of Columbia, led by Mayor Vincent Gray.
Nearly every Senate Democrat had gathered on the steps of the U.S. Capitol as part of their latest push to end the government shutdown, which is in its second week. Senate Majority Leader Harry Reid (D-Nev.) kicked off the event and said Democrats will "negotiate over anything" with Republicans on the condition they reopen the government and raise the debt ceiling with no strings attached.
Some 200 feet away, Gray and Del. Eleanor Holmes Norton (D) were joined by several hundred people at a protest over the funding of D.C.'s budget. Gray has been pressing congressional lawmakers to exempt the city's budget from the shutdown, and has even demanded meetings with President Barack Obama and leaders in the House and Senate.
As the rally ended, Gray walked over to the Democratic press conference, pushed his way through a swarm of reporters and stood next to Reid. The two men spoke among themselves, as senators were taking turns at the podium to highlight the impacts of the federal government's shuttered operations.
Within moments, the crowd Gray had left behind began loud chants of "Free D.C." that drowned out Democrats who continued with their remarks unfazed. The chants died down for a few minutes, only to start up again even louder. Attendees also brandished signs that read, "Congress, pass our budget. Stop playing with people's lives," "Democracy is not for $ale" and "Protect our democracy."
The crowd became such a disruption that Norton had to quiet down attendees. "We should take this somewhere else," she said. "If you drown them out, they might not help you."
When an attendee asked how they were supposed to make their message heard, Norton suggested they pay a visit to individual Senate offices.
The Democratic event ended soon after, and Reid was overheard telling Gray, "I'm on your side. Don't screw this up." The mayor confirmed the exchange but said, "I don't know what that means."
A spokesman for Reid had no comment.
House Republicans have passed bills, with support from some Democrats, to reopen select parts of the government. Among them was a bill approved by a voice vote to restore funding to D.C., a move which currently requires budgetary approval from Congress even though D.C. doesn't rely on appropriations and raises its own money.
Senate Democrats and the White House have rejected any piecemeal approach to ending the shutdown. Reid and Obama have repeatedly emphasized that House Speaker John Boehner (R-Ohio) has the votes to reopen the entire government but refuses to bring the Senate-passed clean funding bill to the floor.
Reid declined to get into specifics when asked about the D.C. budget. "Don't talk to us, talk to Republicans," he said. "They're the ones objecting to it."
As lawmakers left the area, Sen. Barbara Boxer (D-Calif.) approached Gray and said Democrats were focused on ending the shutdown. "You should support reopening the entire government," she said.
A visibly angry Gray later disputed the Democratic position, pointing out that D.C. is a city that is simply asking to spend its own money.
"It's not the park services federal budget that we're talking about. It's not the Veteran Affairs federal budget," he told reporters after Democrats had left. "We're talking about the money of the people of the District of Columbia that shouldn't be held hostage in the first place."
"We're not a department of the federal government. We're simply asking for their respect," he added. "Our taxpayers raise $6 billion a year from income taxes that we pay, property taxes that we pay, sales taxes that we pay just like every other jurisdiction in America. Set us free to do like other Americans. If this is another democracy, now is a chance to show it."
The D.C. Council approved emergency legislation last week authorizing the city government to tap its contingency fund to keep roughly 32,000 municipal workers on the job and collecting pay during the shutdown. The special reserve fund is unlikely to sustain city government functions beyond Oct. 15. As the deadline approaches, Gray has penned a letter to Obama, Reid and Boehner in which he urged them to take action and warned of "severely negative consequences" once the funds are depleted.
This is a developing post and has been updated.
Before You Go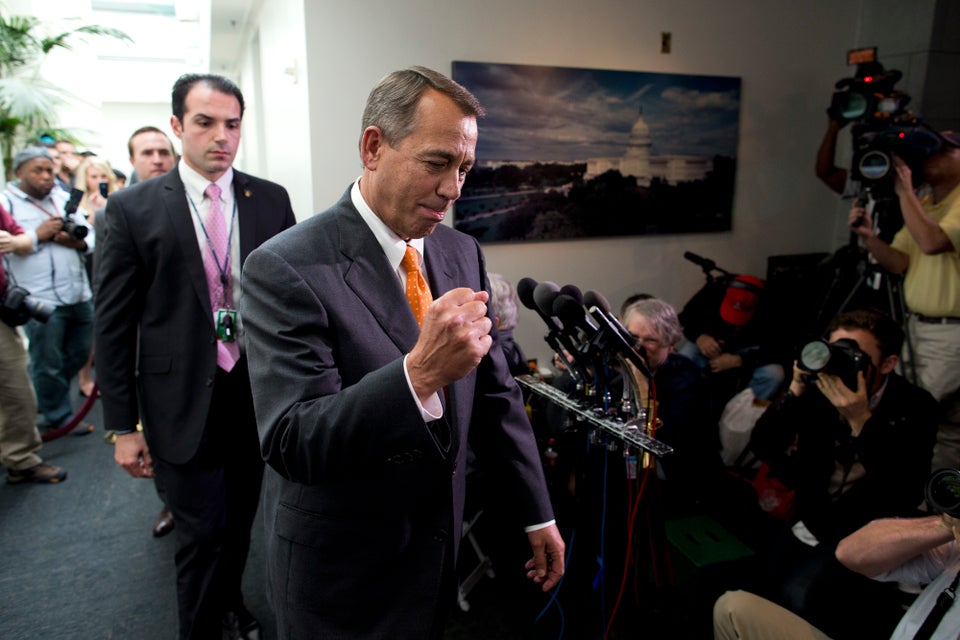 2013 Government Shutdown
Popular in the Community