 The government shutdown is underway, as a dispute about President Obama's Affordable Care Act led to a partisan stalemate over a funding bill. The ACA will go forward, with health exchanges opening today, but that doesn't mean the shutdown won't have an impact on the health of Americans.
Here are nine ways the shutdown could affect your health, a reminder of just how crucial government resources can be in protecting and improving our health and well-being.
Medical research won't move forward
The National Institutes of Health will not add new patients to life-saving clinical trials during the shutdown, reports NBC. And that could delay crucial new trials.
Francis Collins, director of the NIH, told the Wall Street Journal that about 200 patients, 30 of them children, who would have otherwise been admitted to the NIH Clinical Center this week will be turned away. He noted that most of the kids are cancer patients.
Nutritional support for women and children will be suspended While most government "safety net" programs, like retirement and welfare, won't be shut down, that's not the case for a program that ensures nutrition, counseling and food benefits to low-income pregnant women and new mothers. The USDA's Special Supplemental Nutrition Program for Women, Infants and Children (WIC) will not stay in operation, HuffPost reported on Saturday.
"States can probably shelter families receiving WIC from the effects of a shutdown for a short period, but it could be a real problem if it lasts more than a few days," policy analyst Elizabeth Lower-Basch of the Center for Law and Social Policy told HuffPost's Arthur Delaney.
Environmental health protection will be compromised
The good news is that Environmental Protection Agency employees who focus on public health and safety (including use of food, drugs and hazardous materials) will be allowed to come to work. The bad news? Those who work toward the long-term safety of human health will not. In other words, as HuffPost's Kate Sheppard reported, only employees whose work relates to an "imminent threat" to public health will be allowed to continue. Not included in this category? People who are working to clean up 505 Superfund sites in 47 states.
Food safety could be at risk The Food and Drug Administration will put half its employees on furlough. While a skeleton staff will handle high-risk recalls, regular food inspections will be suspended, reports NBC.
Obamacare will be marginalized
The Affordable Care Act has been implemented, uninterrupted, despite the shutdown, but that doesn't mean things will be seamless, reports BuzzFeed's Evan McMorris-Santoro:
Health policy observers say that by blowing the opening of health care exchanges off the front page and making it more difficult to correct glitches in the online registration system -- the means by which most young people will interact with Obamacare -- a shutdown has the potential to significantly impact the health care law, at least in the near term.
You might not be able to go for that run In light of some of the more dire consequences for vulnerable sections of the population, this might seem trivial. But closure of federally-funded recreational areas like bike and running paths and public parks could have a negative effect on public well-being. Many who are unable to afford gym memberships rely on public areas to get regular exercise. And research shows that availability of public parks is associated with overall public health, disproportionally benefitting under-served populations.
"Public parks are critical resources for physical activity in minority communities. Because residential proximity is strongly associated with physical activity and park use, the number and location of parks are currently insufficient to serve local populations well," wrote researchers of a survey on park use, published in the American Journal of Public Health.
Neither will new drug approvals
What's more, the FDA will be unable to continue its review and approval process of new drugs. Here are five drugs that were scheduled for October reviews and that may now face delays under a government shutdown. They include a new osteoporosis drug for postmenopausal women and a new approval for the cancer drug methotrexate to treat rheumatoid arthritis.
Workers are no longer safe Federal occupational safety inspectors are part of the 800,000 furloughed federal employees, meaning that inspections in the workplace -- at construction sites and other potentially hazardous environments -- will come to a stop, reports CBS.
The flu (and other diseases) may spread
HuffPost's Adam Goldberg reported that the U.S. Centers for Disease Control and Prevention will have to stop their seasonal influenza program, which has been critical in tracking and preventing the spread of flu in previous years.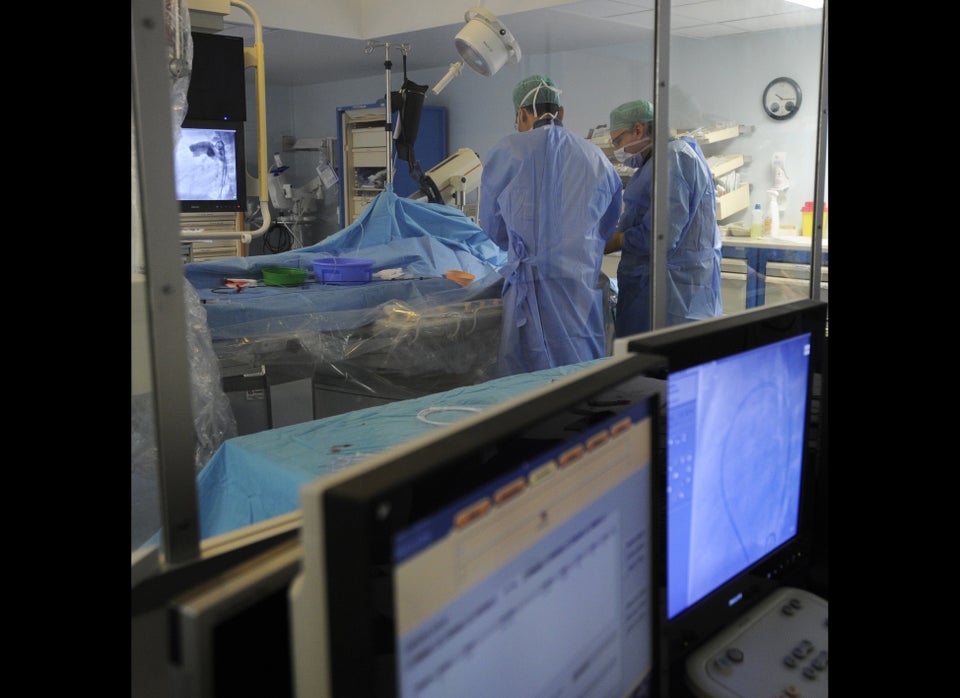 Lies And Distortions Of The Health Care Debate