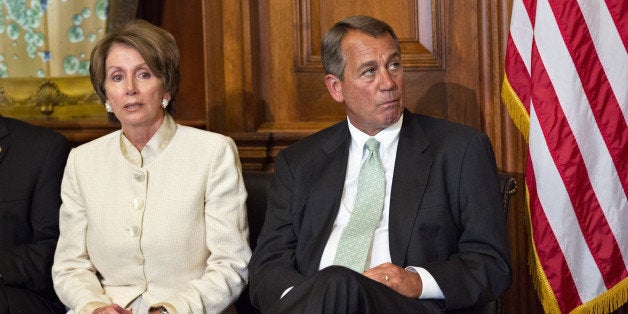 WASHINGTON -- One casualty of the House budget talks to avert a government shutdown may be a proposed rule requiring investment advisers to act in the best interests of their clients, according to multiple House Democratic sources.
Labor activists and financial reform experts have heralded the rule as a critical step toward enhancing retirement security. The policy would impose a "fiduciary duty" on financial professionals who oversee retirement accounts, barring them from considering the potential profits of their own firm when choosing investments. Instead, investment managers would have to pick stocks, bonds and other assets based only on what was in the best interest of retirees.
The rule was first introduced by the Department of Labor in 2010, but was tabled in 2011 after massive pushback from the financial industry. Consumer advocates have been pressing the Labor Department to implement the rule. But according to House Democratic staffers, top negotiators in the latest budget talks are considering a plan that would effectively gut it.
Republicans are pushing a budget rider that would require the Labor Department to mediate its rule with the more corporate-friendly Securities and Exchange Commission, which financial reform experts said they believe would render the proposal toothless, if it ever made it out of the bureaucratic negotiations at all. The GOP-led House has voted to block the Labor Department from moving forward with the rule in the past.
As defined-benefit pensions gradually disappear from the U.S. workplace, workers are increasingly relying on 401(k) plans for retirement security. Backers of the fiduciary rule say it would give workers some basic protection by discouraging 401(k) brokers from pushing plans based on the fees going to those brokers' firms -- fees that, over the course of a worker's career, can significantly eat into a retirement plan's potential growth.
"That's why it's needed -- to have some consumer protection," said Robert Hiltonsmith, an expert on retirement security at Demos, a left-leaning think tank. "Now, unless they voluntarily become a fiduciary ... they are not legally required to act in your best interests at all. They work in their firms' best interest, which is not yours."
By subjecting the Labor Department rule to SEC consideration, opponents of the rule would be able to vote to hamstring it without formally casting a vote to terminate a straightforward retirement security provision.
Opponents of rules targeting Wall Street derivatives -- the complex financial products at the heart of the 2008 banking meltdown -- have pushed several bills that would have required the SEC to sign off on new regulations required by the 2010 Dodd-Frank financial reform law.
House leadership is taking the plan seriously, however, in talks over the so-called CROmnibus -- a budget package that would fund parts of the government through the end of next year, and other parts for only a few weeks.
While most of the talk over the funding bill has revolved around Republican retribution for President Barack Obama's executive order shielding millions of undocumented immigrants from deportation, Wall Street lobbyists have been advocating for their own relief. Banks are also pressing Congress to curb one reform to the derivatives market that were passed under Dodd-Frank. That bill had banned banks from trading some derivatives from subsidiaries that receive taxpayer insurance, a provision that lawmakers are considering delaying or rolling back.
"We cannot allow Wall Street banks to add any provisions to the year-end spending bill that would continue to leave taxpayers on the hook and undermine the ability of regulators to prevent future bailouts," Sen. Sherrod Brown (D-Ohio) said Friday in a statement.
It was unclear whether either the fiduciary duty law or the derivatives language will make the final House budget bill, or whether the Senate would include either in its own legislation. A House proposal is expected by Monday evening. If Congress does not vote to fund the government for at least a short period by Thursday, the government will shut down.
Before You Go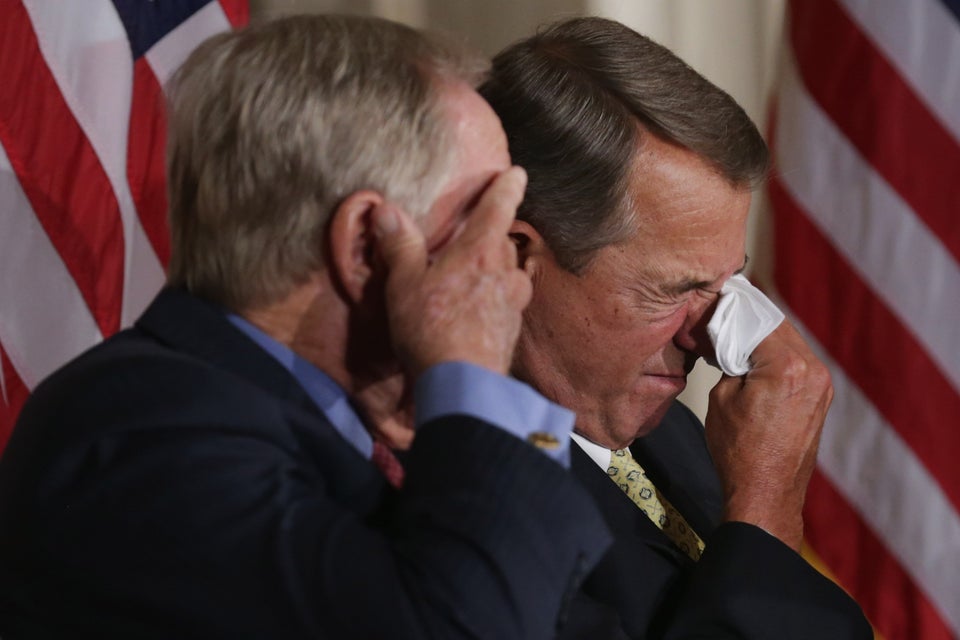 John Boehner Cries
Popular in the Community