WASHINGTON -- Stalled by tea party-inspired delays, the Senate voted Friday afternoon on a short-term measure to keep the government running with just over three days left before the money runs out.
The Senate revised a House-passed bill that would have kept Uncle Sam at work until Dec. 15, as long as the upper chamber and President Barack Obama agreed to kill Obamacare. The Senate stripped the health care provision -- by an earlier 54-44 vote -- and changed the end date to Nov. 15. Democrats had insisted they would not negotiate over Obamacare in a continuing resolution to keep the federal government open.
The Senate bill passed 54 to 44.
Democrats were hoping that the House would then pass the Senate bill as is, ensuring the gears of the nation don't grind to a halt after midnight on Tuesday morning.
But House Republicans showed no signs of doing so, having gone home for the day after voting to name three buildings.
The lower chamber is set to come back in Saturday and Sunday to begin work on the Senate bill. Several House Republicans essentially said they did not stick around to take up the measure immediately because they don't know what to do with it. That uncertainty reflected the growing divide within the party that was so vividly on display with this week's 21-hour talkathon by Sen. Ted Cruz (R-Texas) and several allies, who refused to expedite the legislative process despite the wishes of GOP leaders.
Cruz and Sen. Mike Lee (R-Utah) highlighted that split again on Friday, saying that allowing the vote to happen was tantamount to supporting Obamacare.
Two senators were absent for Friday's votes. Sen. Orrin Hatch (R-Utah) was attending his granddaughter's wedding, while Sen. Jeff Flake (R-Ariz.) was at his son's wedding, their offices confirmed.
The Senate had to meet a 60-vote threshold to end debate before it could vote the government funding bill up or down by a simple majority. But that "cloture" vote succeeded 79 to 19, with many Republicans joining Democrats to let the process move ahead. If they had not, the government shutdown was a certainty. It still remains likely.
Senate Minority Leader Mitch McConnell (R-Ky.) voted to proceed and perhaps avert the shutdown, saying it was more important to keep pressure on Democrats to chip away at the health care law.
"That's the goal of every member on this side. We're united on the need to repeal Obamacare," McConnell said.
"The problem here is that we can't get that done unless some of our friends on the other side are prepared to step up and work with us on this issue," he said. "That doesn't mean we'll give up the fight if they don't. We won't. There are a lot of other things we can do in the meantime."
Sen. John McCain (R-Ariz.) said there was still room to make changes to Obamacare in the continuing resolution and advised House Republicans to amend the Senate bill to include language proposed by Sen. David Vitter (R-La.) requiring that lawmakers, the president and administration appointees no longer receive federal subsidies for their health insurance under the Affordable Care Act.
"If I were them, I would send back a clean CR with the Vitter language, but I'm not them," McCain told reporters ahead of the vote. "It's hard not to accept the Vitter language ... politically, of course. The American people don't think that Congress and their staffs should have different treatment than they have."
In order for the government to remain open, some sort of legislation -- either the measure passed Friday or some very short-term stopgap -- must pass within three days.
But in the House, the politics are, if anything, even more complicated. House Republicans said Friday morning that there was no way they would send a "clean" bill back to the Senate, and while they did not know precisely what riders they would attach, any alterations require the Senate to go through its much-slower legislative process all over again, unless all senators agree to the riders. So far, that has not happened in this funding fight.
Conservative hardliners in the House Republican conference continued to hold out hope that Obamacare could be derailed in the continuing resolution and called on the leadership to attach a one-year delay of the individual mandate to the Senate bill. Others wanted to repeal various taxes that fund the law.
But aides have said GOP leaders are unlikely to try to tamper with the health care law again in a stopgap bill to keep the government open.
That stance has not gone over well with members of the tea party.
Rep. Steve King (R-Iowa) said by shifting focus to the looming fight over raising the debt ceiling, House Republican leaders were all but conceding that the battle over the continuing resolution was lost.
"We didn't need to be discussing the debt ceiling while we're discussing the CR. From a tactical standpoint, when you bring a debt ceiling in, it starts to imply that this fight's over and now we're onto a new one," King said. "That shouldn't be the case. We need to focus on a one-year delay in the CR."
Before You Go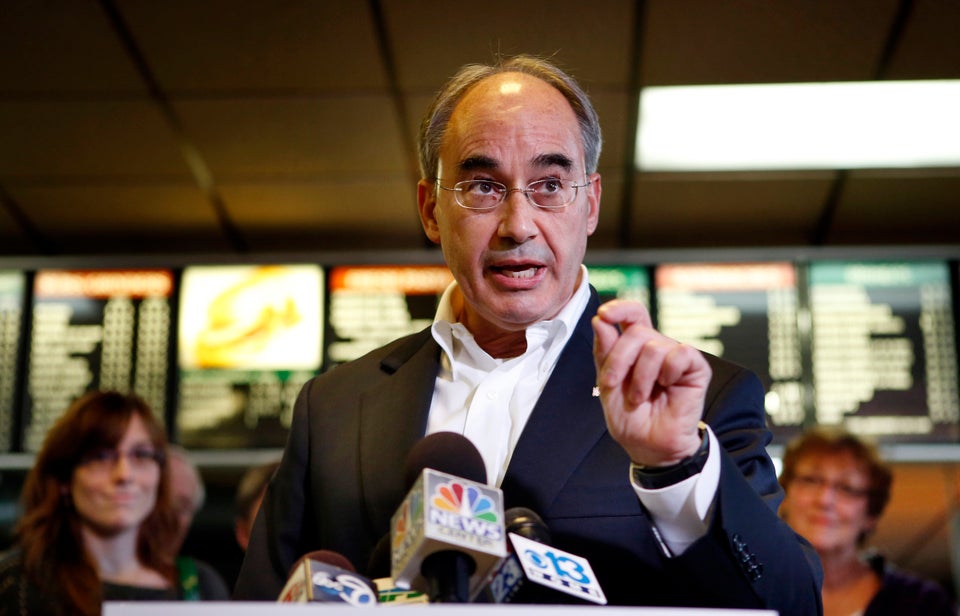 Great Political Names
Popular in the Community