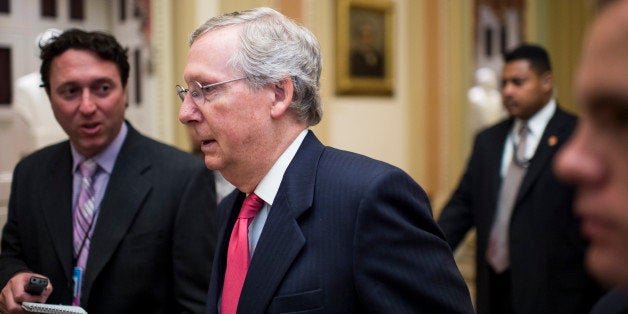 WASHINGTON -- The White House and congressional Democrats are exploring the idea of a deal with moderate Senate Republicans that would resolve both funding of the government and increasing the debt ceiling in one fell swoop.
Talks of such an arrangement emerged Thursday afternoon after House Republican leaders announced they would push a six-week increase in the debt ceiling, while leaving the government unfunded. President Barack Obama opened the door to a broader deal later in the day when, after a meeting with House Republicans, he insisted that any proposal address government funding as well. Those Republicans headed back to Capitol Hill pledging to work through the night, with hopes of crafting a new bill that includes reopening the government.
Given past fits and starts, many observers said they were skeptical about prospects for White House-House GOP negotiations. And in the search for an alternate path, eyes are turning to the Senate.
"Senate Democrats and Republicans are quietly talking about potential agreements," a senior Democratic aide told The Huffington Post. "The only thing that's clear right now is that there is little appetite for a deal on the debt limit that leaves the government shuttered."
One top Republican Senate aide, meanwhile, said members in that chamber were increasingly ready to end the standoff. "Obviously, there is a strong desire here to resolve this thing," the aide said.
The extent to which party leaders are involved in these conversations wasn't clear. A Senate aide said Minority Leader Mitch McConnell (R-Ky.) told frustrated members on Wednesday that he understood their concerns about damage to the GOP brand. The aide said McConnell gave his blessing to them exploring a deal, though Don Stewart, a spokesman for McConnell, declined to confirm or deny that account.
A top Democratic aide, meanwhile, said party leaders were subtly encouraging moderate Republicans to explore what they can put together. Those same Republicans, the aide noted, "have approached party leadership with various ideas about how to resolve this."
The aides said they didn't want to be named for fear of getting ahead of votes and party strategies. But even in public, the wariness among the Republican moderate wing was palpable on Thursday.
"I don't think that we should just address the debt limit and not address the shutdown," Sen. Kelly Ayotte (R-N.H.) told Roll Call. Sen. Jeff Flake (R-Ariz.) echoed similar concerns in the same report. "We've got to deal with a CR [continuing resolution] as well. I'd like to do both," he said. "I don't think we're serving any policy or political goals by keeping the government shut down."
Even some in Republican leadership signaled they preferred to tackle the two issues at once. Megan Mitchell, a spokeswoman for Senate Republican Whip John Cornyn (Texas), said her boss believes Congress has to "deal with both problems," though she demurred when pressed on whether he'll push for a concurrent fix.
"We are happy to take a look at whatever the House sends over, but ultimately Reid will decide to take it up or attach something," Mitchell told HuffPost.
The details of what type of bill the Senate might be able to produce were sparse. Several news outlets reported that the outlines included a one-year extension of government funding levels at $988 billion, along with a short-term increase in the debt limit and an end to Obamacare's medical device tax. Those, however, were likely to change as talks proceeded, several aides said.
More significant was the potential of an emergent alliance between moderate Senate Republicans and Democratic leadership. Behind the scenes, top aides have considered the possibility of this alliance as one way to break through the impasse of a budget or debt limit agreement. The logic being, as one leadership aide put it, was: "Forget the House. Do our own deal. Ram it into the House."
But senior Obama administration officials, in a briefing last week, poured cold water on the strategy, noting that the same plan didn't work when it came to passing comprehensive immigration reform. With anger building among the GOP's moderate wing with the direction the party has taken, however, the chance to revive the strategy seemed ripe.
Hitting the right note will be difficult. Democrats would have real problems agreeing to sequestration funding levels, especially if drawn out over a year. And while the repeal of the medical device tax is popular among both parties, it is a change to the president's health care law -- something that Obama is loathe to do. But the Senate aides suggested that Reid would be willing to give Republican members, led by Sen. John McCain (R-Ariz.) a bit of leash to explore language that might work.
McCain has been the most vocal proponent of ending the repeated standoffs. And in conversations with his Republican colleagues (including the tea party faction) on the floor Wednesday, he brought up Gallup polling numbers showing the GOP favorability rating at an all-time low. By Thursday afternoon, he was saying publicly that the endgame would be a bipartisan deal struck between the Senate and Obama.
"The real action is probably going to be between Harry Reid, Mitch McConnell and some of us who have been engaged in this issue for a long period of time," McCain said during a CNBC interview. "If there is a proposal that's agreed to here in the Senate by Republicans and Democrats, then the president probably would be hard-pressed to disagree with that if ... the majority of members of both parties agreed to it."
REAL LIFE. REAL NEWS. REAL VOICES.
Help us tell more of the stories that matter from voices that too often remain unheard.
BEFORE YOU GO
PHOTO GALLERY
Obama's Government Shutdown Stares