WASHINGTON -- Sen. Ted Cruz (R-Texas) stuck by a plan Tuesday that would bring Congress to within one day of a government shutdown, taking to the Senate floor for a symbolic filibuster, over the objections of many of his colleagues.
"I rise today in opposition to Obamacare," Cruz said, launching what promised to be a lengthy speech even as his own party leaders criticized his approach just steps away from the chamber. "I intend to speak in support of defunding Obamacare until I am no longer able to stand."
Cruz, who started speaking soon after 2 p.m., was attempting to block a procedural vote on a bill that would keep the government running after Sept. 30, as long as Democrats agree to defund President Barack Obama's signature health care law.
Along with Sen. Mike Lee (R-Utah) and others, Cruz spent the summer trying to pass just such a measure, but he now opposes the Senate's action on it because Senate Democrats have the power to strip the Obamacare provisions.
So he is attempting to stop the vote, known as cloture -- with its 60-vote threshold to proceed with or end debate on a bill -- arguing that to support it would be the same as voting for Obamacare. If the bill passes cloture, Senate Majority Leader Harry Reid (D-Nev.) could then amend the bill, and cut the amendment to defund Obamacare, with a simple majority vote.
"I'm going to let you in on a dirty little secret," Cruz said. "When that happens, every Republican, if we get to that point, will vote against [the modified bill], and every Republican will then go home to his or her state and say, 'Look, I voted against Obamacare.'"
"That's actually the preferred outcome: to have a vote, but yet to have the result be business as usual," he added. "It's a little bit like the World Wrestling Federation ... it's all rigged, the outcome is predetermined. They know who's going to win and who's going to lose, and it's all for show."
In addition to Lee, Cruz was joined on Tuesday by just a handful of his Republican colleagues: Sens. David Vitter (La.), Rand Paul (Ky.), Pat Roberts (Kansas), Jeff Sessions (Ala.) and Marco Rubio (Fla.).
Most of the Senate Republican leadership came out against Cruz's plan, with many senior members of the party noting that Republicans don't have enough votes (they have 45 out of 100 in the Senate) to win the battle. And if Cruz insists on slowing down each procedural step, the Senate cannot pass a government funding bill until Sunday, one day before the federal government would have to start shutting down.
Cruz and his allies would have to yield back time to give the House a chance to pass a new measure or agree to the Senate's changes.
"I don't think that's going to happen," said Sen. Saxby Chambliss (R-Ga.) after Republicans met for some two hours in the Capitol trying to talk Cruz out of his effort. "I don't think there's going to be any agreement, on both sides."
Republican leaders also found odd the idea of blocking a bill that they had asked for from the House in the first place.
"Invoking cloture on a bill that defunds Obamacare, doesn't raise taxes and respects the Budget Control Act strikes me as a no-brainer," said Senate Minority Leader Mitch McConnell (R-Ky.). "And so I'm not reluctant to explain voting for things that I'm for. That's the way I see it."
GOP leaders were at least willing to speed matters along.
"If the majority leader were to ask us to shorten the process, I would not object," McConnell said. "I don't know who else in the conference may feel differently, but I do know if the House doesn't get what we send over there until Monday, they're in a pretty tough spot."
Cruz's stance is mostly symbolic; he can only keep speaking until Wednesday, when the Senate is scheduled to vote to open debate on the bill under an agreement cut prior to his intervention in the process.
"There will be no filibuster today," Reid said earlier on Tuesday. "Filibusters stop people from voting, and we are going to vote tomorrow. Under the rules, no one can stop that."
Reid said he would be willing to pass a bill that funds the government only until Nov. 15, but said he would not concede to the Republicans who have staked out a hard-line anti-Obamacare position.
Democrats mocked Cruz's display of resistance as a "faux filibuster," but there is no technical definition of the term, and Cruz's speech had some of the hallmarks of the classic delaying tactic. He made several odd statements stemming from the need to fill time, among them a claim that his father invented green eggs and ham and the idea that cherry blossoms were to blame for Washington's inability to listen to constituents.
He also admitted that he was wearing black tennis shoes for his standing speech, saying he had given up on his standard black ostrich leather boots on the advice of Paul, who himself mounted a 13-hour filibuster earlier this year.
Another Texan, Democratic State Sen. Wendy Davis, also led a filibuster while wearing tennis shoes earlier this year, talking for 11 hours to stall an anti-abortion bill in Cruz's home state.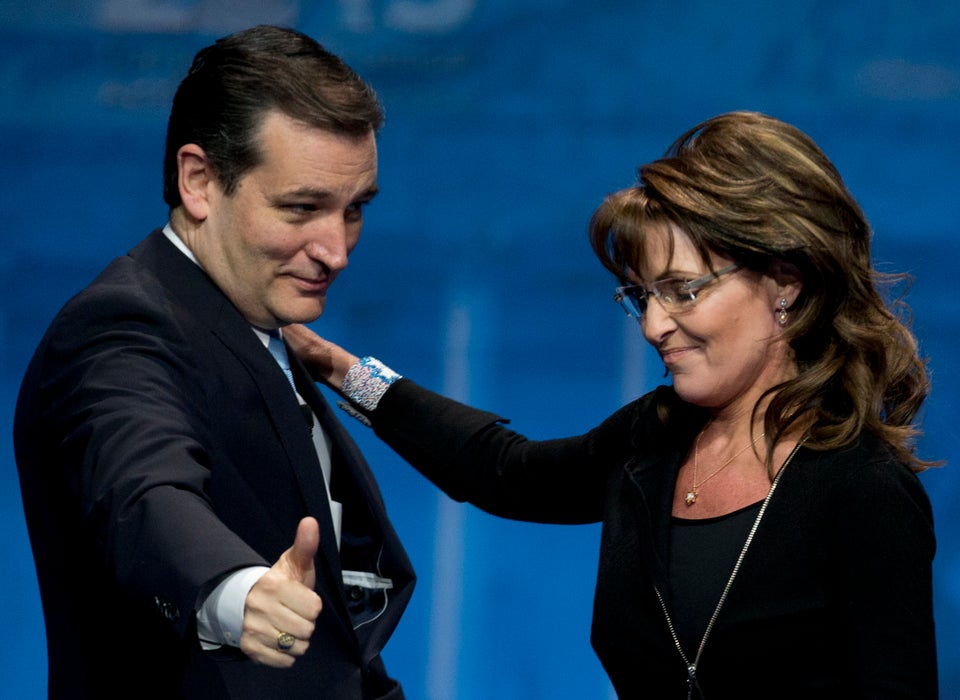 Sen. Ted Cruz
Popular in the Community