WASHINGTON -- House Speaker John Boehner (R-Ohio) announced Thursday that Republicans would seek a deal to raise the country's borrowing limit for six weeks. While potentially a breakthrough for stalled budget negotiations, the proposal wouldn't reopen the government, raising fears the shutdown could drag on for weeks.
The longer the shutdown persists, the worse it'll get. Hundreds of thousands of furloughed workers will miss paydays and some government safety net programs will unravel.
Candace Holmes worries her phone will get shut off soon. Holmes, 65, is a furloughed employee at the Environmental Protection Agency. Since the furlough, she's filed for unemployment and started shopping at the dollar store for her food.
"When are they going to recall us to work?" Holmes said. "You know, something I can tell my landlord. My phone company don't want to hear it -- they want their payments. It's been really bad."
Holmes said her landlord understands and won't throw her out right away next month, but November could bring bad news for folks relying on some government safety net programs. While the biggest ones -- Social Security, Medicare and Medicaid -- will continue on autopilot, states may be unable to continue to shield smaller programs.
"States have thus far managed to avoid closing or suspending most programs and services by using carryover funds or, in some cases, by using state spending to fill in for missing federal dollars," the leaders of the National Governors Association wrote Washington lawmakers on Thursday. "However, states are not in a position to be the bank for the federal government."
Safety-net experts warn that things will get worse. "A shutdown that lasts for a couple days does cause immediate problems, but the problems really mount as the shutdown continues," Sharon Parrott of the Center on Budget and Policy Priorities said in an interview.
The Supplemental Nutrition Assistance Program, commonly referred to as food stamps, is the biggest program that might be in trouble. On the eve of the shutdown, the U.S. Department of Agriculture released contingency plans that only said "eligible households will still receive monthly benefits for October," thanks partly to contingency funds. What happens in November remains unclear; a spokesman for the agency declined to say. More than 47 million Americans receive SNAP benefits, which average $130 per month.
Most states have been able to maintain the Special Supplemental Nutrition Program for Women, Infants and Children, but North Carolina said this week it had already run out of money to keep issuing benefits.
"Should a lapse extend through late October, federal WIC funding may not be sufficient to cover benefits," the USDA said in its contingency plan. Nationally, the program assists 9 million poor women and children by helping families buy formula and other nutritious food.
The Temporary Assistance for Needy Families program, commonly called welfare, will also be in a shaky spot if the shutdown continues in November. Since the shutdown started, states have had to use their own funds to sustain the program, which provides benefits to 4 million Americans. What happens next for individual enrollees depends on which state they live in.
"We've got less than a month's worth of funding to support that program," Michigan budget director John Nixon said of TANF.
The national Head Start Program, which serves 1 million low-income children and their families, will see local offices close. "If the government does not reopen by November 1, additional Head Start programs serving more than 86,000 children in 41 states and one U.S. Territory stand to lose access to Head Start funding," the National Head Start Association, a nonprofit advocacy group, said on its website.
Candace Holmes, the furloughed EPA worker, came all the way from Philadelphia Thursday to attend an event in front of the Capitol with members of the Congressional Progressive Caucus and demand an end to the shutdown. She carried a sign in the rain that said: "This is not a paid vacation."
HuffPost asked how she'd been coping with the uncertainty.
"I'm just hoping," Holmes said. "Hoping and praying. Praying and hoping that they'll let us come back to work before the end of the month."
Before You Go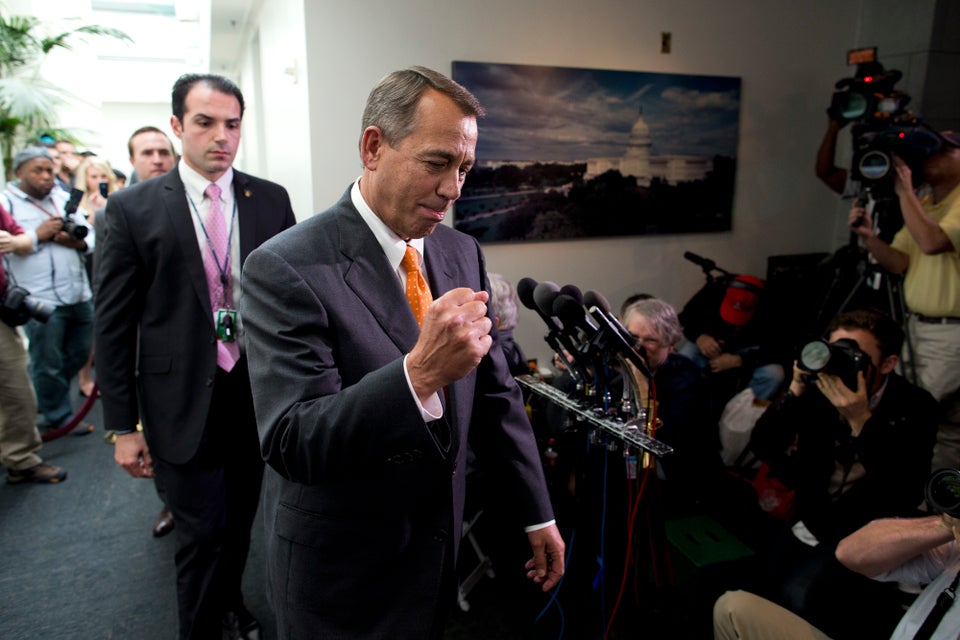 2013 Government Shutdown
Popular in the Community