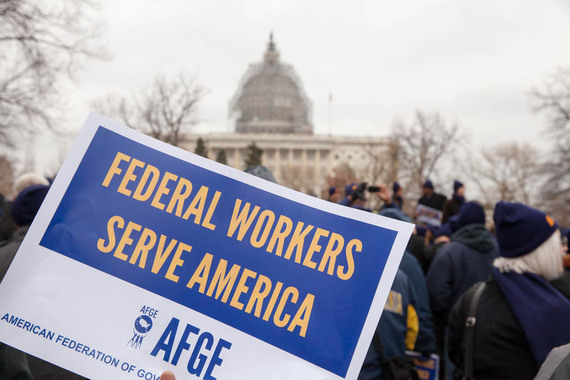 When I hear folks rail against government as a lumbering, out-of-touch monolith, I shake my head in disbelief every time.
Sure, the political system in Washington can certainly be described as dysfunctional -- and that's putting it kindly. But lumping together self-interested politicians with dedicated public sector employees is just plain wrong. These are two very different groups with two very different attitudes, and we cannot let the persistent shortcomings of the former undermine the vital mission of the latter.
Public sector employees are doing their best under difficult circumstances to carry out programs and policies that Americans depend on every day. Public employees deliver your mail, care for veterans, defend our border, inspect our food, and more. Frankly, some politicians are just busy working for themselves.
More than 65 million Americans depend on federal employees at the Social Security Administration to ensure they receive their Social Security or Supplemental Security Income checks on time each month. SSA employees serve more than 40 million visitors at more than 1,200 field offices in communities across the country, helping residents apply for benefits, process hearing and appeal requests, and apply for a Social Security number.
The more than 45,000 transportation security officers (TSOs) at our nation's airports do a remarkable job ensuring the safety and security of the traveling public. TSOs come in direct contact with about 1.8 million airline passengers every day, preventing thousands of deadly weapons from making their way onto airplanes each year. In 2014 alone, TSA officers discovered 2,212 firearms in carry-on bags, a 22 percent increase from the previous year. Of those, 83 percent were loaded.
Doctors, nurses and support staff throughout the Department of Veterans Affairs provide world-class care to nearly nine million veterans who are enrolled in the VA health care system, which consists of 150 hospitals, 300 vet centers, and 819 community-based outpatient clinics. Veterans strongly endorse the health care they receive from the VA, with 84 percent saying they're satisfied with the inpatient care they receive and 82 percent reporting satisfaction with their outpatient care.
A different kind of care takes place at our federal prisons, where in addition to keeping criminals off our streets, Bureau of Prisons staff have been providing drug abuse treatment to inmates for more than three decades. Inmates who participate in the drug treatment program are 16 percent less likely to be rearrested, have their supervision revoked, or return to prison than inmates who do not undergo drug abuse treatment.
Federal employees also ensure the safety of our communities through rigorous monitoring of our natural resources, medicine, and food.
More than 9,600 employees at the U.S. Department of Agriculture's Food Safety and Inspection Service inspect more than 3 billion pounds of imported meat, poultry, and processed egg products every year, perform food safety inspections at more than 6,000 processing plants across the United States, and conduct about 190,000 scientific analyses every year to prevent the spread of foodborne illnesses.
Each year, the National Institutes of Health provides more than $750 million in grants to small U.S.-based companies to help them conduct early stage innovative biomedical research that can lead to commercially available prescription drugs and medical treatments. And thanks to employees at the Environmental Protection Agency, residents can review the safety of their local drinking water through a website that tracks compliance with the federal Safe Drinking Water Act.
And the list goes on. These are just a few examples of the countless, profound ways that government employees benefit our everyday lives. If we continue to lose sight of this fact, the services we count on will continue to fall victim to senseless political gamesmanship.
The first week of May is Public Service Recognition Week, a seven-day celebration of the wonderful work public employees do for our nation every day, but for which they are scarcely acknowledged. This week we ask that you do more than just recognize employees, but help us change the conversation on why public servants deserve to be recognized in the first place. Government works, even when Washington doesn't.
J. David Cox Sr. is national president of the American Federation of Government Employees, which represents more than 670,000 federal and D.C. government employees nationwide.

Popular in the Community