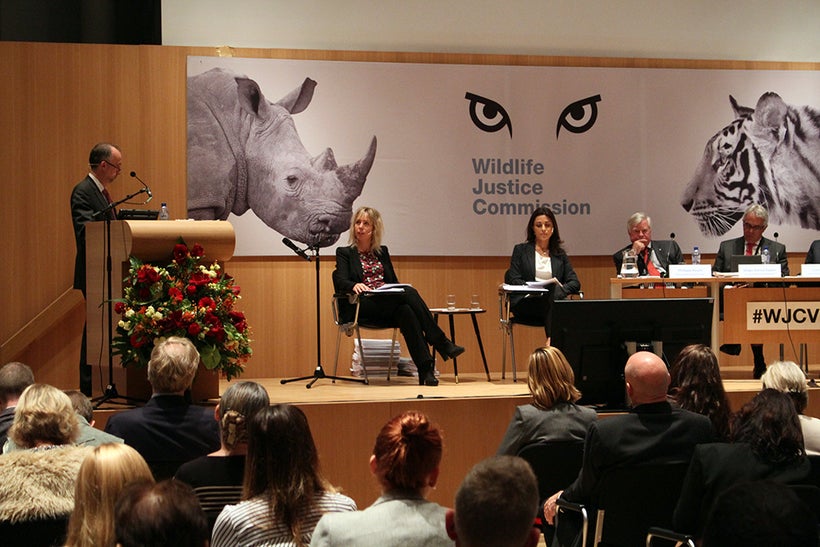 Last week, on 17 and 18 November 2016, the government of Viet Nam hosted the international Hanoi Conference on Illegal Wildlife Trade. Governments attending the conference adopted the 'Hanoi Statement on Illegal Wildlife Trade', in which they committed to expand their efforts to tackle the poaching crisis and illegal wildlife trade. However, conferences like these and the statements resulting from them are meaningless if they are not followed up by real action to tackle transnational organised wildlife crime.
Just prior to the Hanoi conference, on 14 and 15 November 2016 an independent panel of highly esteemed international criminal lawyers and corruption experts reviewed damning evidence of a wildlife trafficking network in the village of Nhi Khe, Viet Nam. The evidence, gathered by the Wildlife Justice Commission over a year-long period, was heard at a two-day Public Hearing in The Hague.
Twenty kilometres from Hanoi and near the border with China, a wildlife trafficking network centered in Nhi Khe and nearby locations openly trades parts and products of rhinos, elephants, tigers and other protected wildlife species in shops and via social media. Investigators documented the identity of 51 traffickers, widespread illegal trade (an estimated $53.1 million in ivory, rhino horn and tiger parts observed for sale in 1 year), smuggling operations to China and bank accounts used to receive payments from Chinese buyers.
It is important that the government of Viet Nam and other governments who committed to taking urgent collective action to end poaching and wildlife trafficking in the Hanoi Statement on Illegal Wildlife Trade take into account the Panel's findings and recommendations.
Just a week before the Public Hearing Vietnamese police have reportedly arrested several individuals operating in Nhi Khe, two of whom have been identified in the Wildlife Justice Commission's investigation. That is a welcome development, however much more is required to take this criminal network out of business. The key players in the network are still operating and have yet to be brought to justice. Importantly, arrests need to be followed up by prosecutions and meaningful sentences.
As the Vietnamese NGO Education for Nature Viet Nam notes in their blog on 15 November 2016 "A review of prosecutions for major cases from 2010 - 2016 shows that not a single senior figure in a major criminal network has been arrested or prosecuted over the past six years." This needs to change if the government of Viet Nam is serious about tackling wildlife crime within its borders.
Last week the World Bank announced that since 2010 over 1.3 billion US dollars were spent to tackle illegal wildlife trade. Yet poaching and trafficking will continue unabated if the criminals driving this business continue to enjoy impunity in countries like Viet Nam. The time has come for the international community to demand accountability for failure to crack down on the transnational organised wildlife crime that is pushing elephants, rhino, tigers and countless less iconic species to extinction.
Governments who attended the Hanoi conference should urge and support Viet Nam to implement the Panel's recommendations.
Calling all HuffPost superfans!
Sign up for membership to become a founding member and help shape HuffPost's next chapter
This post was published on the now-closed HuffPost Contributor platform. Contributors control their own work and posted freely to our site. If you need to flag this entry as abusive,
send us an email
.