Five days into a special session, Gov. Neil Abercrombie does not yet have a same-sex marriage bill to sign. But he's not worried.
Asked about the hours and hours of testimony being heard on Senate Bill 1, the governor said: "Democracy is taking place."
"The measure of our democracy is our commitment to it, and if that involves a great length of time, that means a lot of people want to participate," Abercrombie said at a press conference Friday. "So, that to me is a very positive sign."
Five floors below Abercrombie, in the basement where the Capitol Auditorium is located, hundreds of people waited in line to testify before the House Judiciary and Finance committees.
The committees, which recessed at 12:30 a.m. Friday after 14 hours of testimony, started back up again eight hours later. Following another recess for a House floor session at 10 a.m., as of 3 p.m. the committee appeared to be roughly halfway through the 5,181 people who signed up to testify before Thursday's midnight deadline.
(To make the process flow as orderly as possible, testifiers are grouped into blocks of 25 and given cards showing their order in line.)
Representatives, many looking very much in need of some sleep, were doing their best to plow through the testimony list. That included allowing neighbor island folks who flew over to testify to speak out of order so that they could catch scheduled flights back home.
Some of the testimony was charming, as when three sisters from Molokai sang in unison their testimony in opposition to SB 1. Some of it was threatening, as when one young man told legislators that he lived in Sen. Clayton Hee's district and planned to vote him out of office because of Hee's support for SB 1. And some of it was helpful, including from Stephen Levinson, the retired Hawaii Supreme Court justice who authored the opinion that started the gay-marriage movement in 1993.
When it would all end, no one could say for sure. To supporters of SB 1, opponents of same-sex marriage have effectively mounted a House filibuster in an attempt to talk the bill to death.
Civil Beat spoke to several people in Democratic leadership and in the administration who said it was possible the House hearing could continue into the weekend. The hope is to get the bill, likely amended to expand religious exemptions, back to the state Senate early next week. Conference committee between the House and Senate would follow to hammer out a bill both chambers can accept.
No one publicly will guarantee that timeline. The governor, however, remained optimistic that the process would sort itself out eventually.
"The Legislature is giving every effort to try not only to comprehend and understand what people's views are and positions are, but how they can translate that into legislation that will honor our constitutional obligations," he said.
Abercrombie said not everybody would be satisfied with the final result, but he believed lawmakers are doing the job that is expected of them.
"I think everybody will, by any objective standard, have to conclude that it was based on good faith and good motivation, and that whatever legislation appears will be respectful of everybody's rights," he said.
Support HuffPost
The Stakes Have Never Been Higher
Before You Go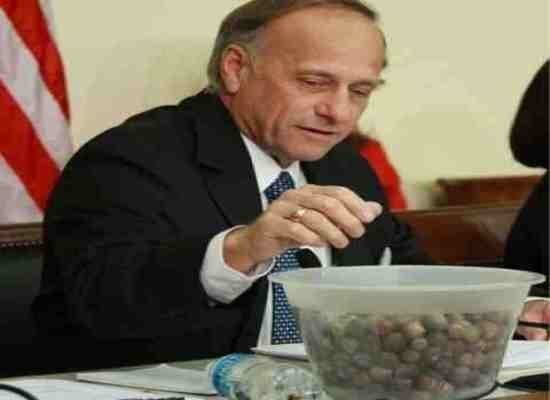 More Crazy Examples of Congressional Theatrics
Popular in the Community