Governor Jerry Brown has just two days left to respond to a legal petition filed by more than 150 California organizations demanding an emergency moratorium on fracking. The petition, filed on February 26 came after the shocking revelation that the oil industry has been illegally injecting highly toxic fracking wastewater in California aquifers meant for drinking and irrigation. More than 65,000 people have since signed the petition; on Thursday, March 26, Californians Against Fracking delivered the signatures to Gov. Brown's office in the State Capitol.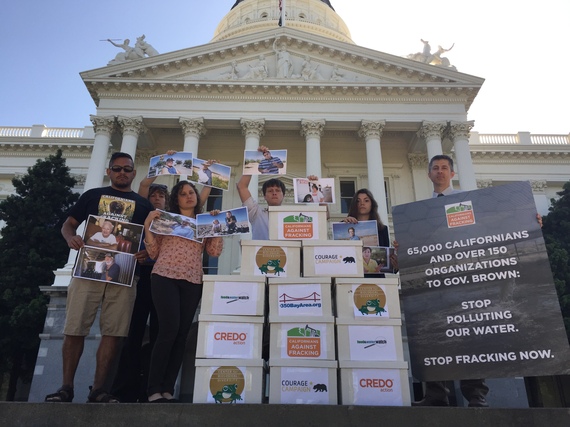 The law requires Governor Brown to respond to the legal petition within thirty days of the February 26/28 filing date, which gives him until Saturday. Given that the contaminated aquifers scandal broke just before news that California may have just one year of water left in its existing reservoirs, Gov. Brown's silence on the call for an emergency moratorium on fracking is especially alarming.
NASA's assessment earlier this month that California's groundwater supplies are at a critical low, threatening the nation's food supply, should have lit a fire in Sacramento to take any steps necessary to protect our state's water. Instead, Governor Brown and the California State Water Resources and Control Board proposes a $1 billion drought relief package last week that focuses on the wrong priorities, and also, set limits on lawn-watering and drinking water service in restaurants. The plan fails to address one industrial use, including the needless water pollution and waste to fracking and extreme oil extraction in California.
Meanwhile, documents released by state regulators last month prove that thousands of wastewater disposal wells in California are illegally dumping waste into state aquifers. We don't know yet how much water has been callously destroyed as a result. What's more, the oil industry destroys two million gallons of water in California each day to conduct fracking and other extreme drilling practices. At no time -- and certainly not during a drought crisis -- can California afford to forever remove even a single drop of clean water from the hydrologic cycle. Gov. Brown has an obligation to take emergency action to take immediate action to stop these practices in light of the state's water emergency.
Unfortunately, Brown has refused to do so. The Governor stated on Meet the Press last Sunday that, despite overwhelming evidence to the contrary, the drought is no reason to ban fracking.
Worse, while Gov. Brown called out Senator Mitch McConnell for advocating on behalf of coal development amid concerns about climate change and drought, Brown refuses to stand up to fossil fuel development in California in the face of irrefutable evidence that fracking wastes California's water. In so doing, Governor Brown sells out the needs of the people of California in order to serve the greed of the oil industry.
The consequences of Gov. Brown's failure to halt fracking and protect California's fragile water supply does not just represent a lack of political integrity, but bears dire consequences for California's future.
Related
Popular in the Community