I recently received a troubling message from Governor Andrew M. Cuomo. It landed in my email inbox and was all too revealing. Oh, there was no nudity, not so much as a selfie in taut boxer shorts with a strategically placed Empire State Building. There was nothing naked about it, except the all too apparent fact that our state's head honcho does not understand the basics of math. He is shaping educational policy based upon a faulty grasp of percentages. Even more problematically, he is shaping educational policy based upon a faulty understanding of our children's needs.
I should note that Governor Cuomo writes to me quite often. He writes to wish me a happy Lunar New Year, a happy Martin Luther King Day, a merry Christmas, and a happy Hanukkah, Columbus Day, and Father's and Mother's Days, too. He even once wrote to wish me a happy Earth Week. All of which proves to me that our Governor is an upbeat guy or else takes lots of Prozac.
Governor Cuomo also writes to me about policy matters. He clearly values my opinion or, at least, my vote. The math-challenged message came titled, "New York's Failing Schools." In it, the Governor was not his usual, happy self. Not wasting any space with pleasantries, he began, "There is a crisis of failing schools in New York State. In fact, more than 109,000 students are currently enrolled in New York's 178 failing schools." Further along, he explained, "A school is designated as 'failing' if it's in the bottom 5% of schools across the state based on combined English Language Arts [ELA] and math scores, if it's not showing progress in test performance, or if the school has a graduation rate below 60% for the last three years." Then, at the end of the message, my pal Andrew concluded, "The time is now for the State Legislature to act and do something about this problem so we no longer are condemning our children to failing schools."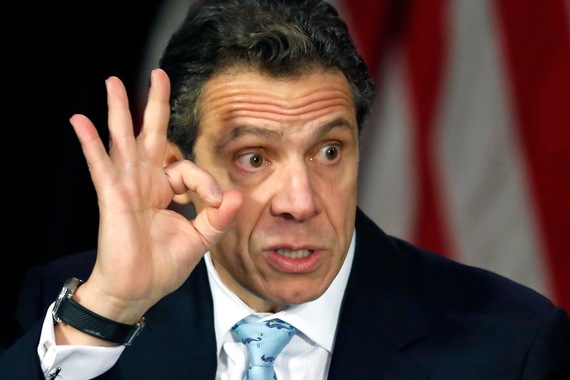 Therein lies the math problem. If a "school is designated as 'falling' if it's in the bottom 5% of schools across the state," then, by definition, Cuomo's goal of "no longer ... condemning our children to failing schools" is impossible. The children in the bottom 5% of NYS schools will always be in 'failing' schools. Math will be math. And that's just how percentages work.
It makes me think Cuomo would not perform very well on the mathematical word problems featured on the new Common Core tests that ask students to use their reasoning to solve real-world problems. The guidelines for New York sixth grade math standards, for example, specify that students should be able to use percents to "calculate tax, tip, mark-up and more." On the state's math standards website appears this practice problem: "Maya's bill for lunch at a restaurant was $48. She left a 15% tip. What was the amount of the tip?" What would the Governor, who last month endorsed a plan to raise wages for tipped workers, answer? (And why did Maya spend so much on lunch? Should we be modeling such profligacy for our state's sixth graders?)
As he made clear in his State of the State speech, Governor Cuomo would like students' scores on the Common Core state tests to count as 50% of teachers' annual performance evaluations. This would inevitably lead to even more class time spent teaching directly to the high-stakes ELA and math tests and an even greater de-emphasis on science, the arts, and other areas not assessed on these all-important tests. Likewise, it would place even greater pressure on New York State students to measure-up on test days, or else.
Clearly we need to improve the education received by all of "our" children. And unlike the Governor, I actually have two children in NYS public schools. The way to help my sons and other NYS students is to reduce class size; shift away from high stakes testing; offer a well-rounded curriculum rich in the sciences, technology, physical education, and the arts; and evaluate teachers in a way that takes into consideration the unique challenges of each of their classrooms. I once sat as a parent visitor in a classroom of thirty-plus sixth graders working through an ELA test prep workbook. And, sorry Andrew, it did not make me happy.
REAL LIFE. REAL NEWS. REAL VOICES.
Help us tell more of the stories that matter from voices that too often remain unheard.