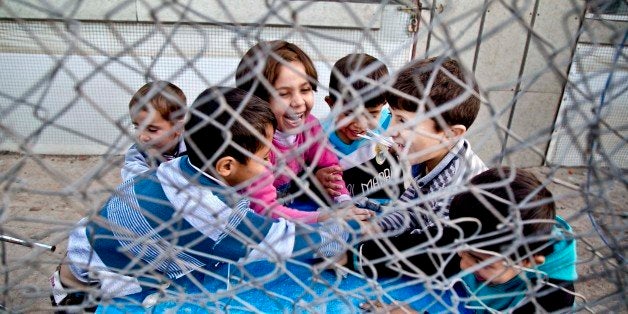 The Great Jewish Sage Hillel said "If I am not for myself, who is for me? And if I am only for myself, what am I? And if not now, when?"
We should be asking ourselves these same questions as we witness the surge of refugees fleeing Syria's devastating conditions.
Maryland Governor Larry Hogan must answer these questions as well. Yet to both his and our great state's shame, Governor Hogan has joined the blatantly xenophobic leaders of his political party in asking the federal government to cease resettlement of Syrian refugees in our state.
Unfortunately, the opponents of Syrian refugee resettlement seem to be motivated more by partisan politics than smart policy.
I saw this first hand at the State Department when I was its chief liaison to the House of Representatives. The Republican majority routinely attacked the Obama administration for being "soft" on terrorism and conducting an "apology tour" in the Middle East - despite evidence to the contrary, such as the president having directly ordered the operation that killed Osama bin Laden.
This same type of political opportunism - manipulating Americans' concerns about terrorism for partisan advantage - is at play right now regarding Syrian refugees. And we must reject it.
Americans are legitimately scared about the threat of terrorism. No one should live in fear of going to a shopping center or on the Metro or to a sporting event.
But terrorism doesn't just cause physical mayhem and destruction. At its core, it seeks to undermine the values of the societies that the terrorists attack. When values and security converge, the last thing that we need is for our political leaders to manipulate our legitimate fears for political gain.
Yet that's what is happening today in our politics, and it's giving the terrorists a win.
Like many Americans, I have a deep personal connection to this issue. My great-grandparents came to the United States from Russia and Romania at the turn of the last century to seek a better, safer life. And my wife's parents emigrated from Sri Lanka more than 40 years ago. Our family is a direct beneficiary of the open arms of this country and we are thriving as a result.
Maryland is thriving as well. From 2008 to 2012, over 5,500 refugees from 43 countries resettled in our state. The majority of them were resettled in Baltimore City, Montgomery County, and Prince George's County. These refugees actively contribute to our society and make our state stronger.
Importantly, more than 2,000 Syrian refugees have been resettled in the United States since 2011. Not one has been arrested or removed on terrorism charges.
These refugees are vetted through a rigorous and thorough multi-year process. President Obama's plan to accept 10,000 Syrian refugees over the next year requires that these refugees be subjected to the highest level of security checks of any category of visitor or immigrant to the United States. This process ensures that we can protect the security of Americans while welcoming refugees.
This is why the demagoguery about the Syrian refugees is so disturbing. Our leaders owe us honesty. But the talk coming out of the 27 Republican governors who wrote to the president asking him to "suspend all plans to resettle additional Syrian refugees" is not.
What these governors are implying is that they do not want any Syrian refugees to come here. Ever.
And some GOP presidential candidates are going even further, crossing the line into racist fear-mongering. Donald Trump suggested requiring American Muslims to register in a database or carry a special identification card. Dr. Ben Carson supports the plan, and has compared refugees to "a rabid dog running around in your neighborhood."
These are the "leaders" with whom Governor Hogan has aligned himself.
Opponents of the refugees try to cloak their fear-mongering in a national security argument. But their strategy would only lead to disaster. Those who want to force refugees to stay in harms way are not offering credible solutions to the problem. And they're making our fight against the terrorists harder.
We depend upon cooperation with allies - many of whom are Muslim - to defeat the Islamic State, or ISIS. And we look to the communities from where domestic threats may emanate for partnership in identifying a potential threat in order to stop it before it happens.
Offending those who we need to work with only strengthens the hand of those who are plotting to attack us. And it makes us less secure.
We are facing a clear choice in the Syria refugees debate. We can give in to fear and hatred. Or we can stand up for American values, protect the defenseless, and fight for our own national security.
Governor Hogan, for the sake of Maryland, you should think about Hillel's questions. And you should change your mind.
Joel Rubin is a former Deputy Assistant Secretary of State and now a Democratic candidate for Maryland's 8th Congressional District. He also teaches a graduate school seminar course on refugees at Carnegie Mellon University.
Popular in the Community