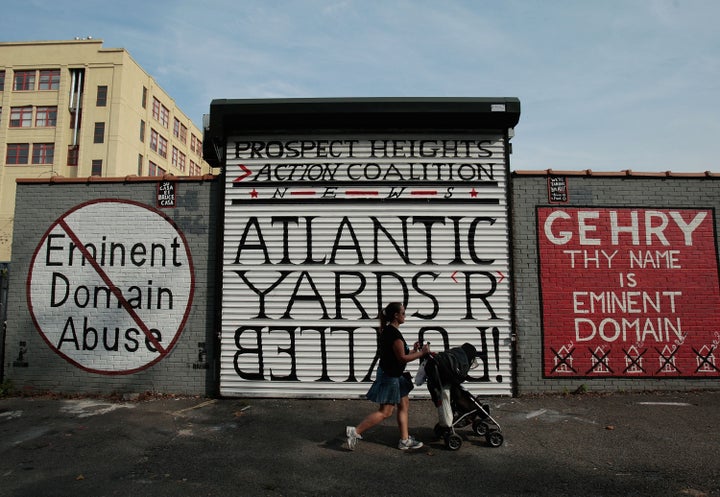 Senator Paterson Opposed Eminent Domain Abuse. Does Governor Paterson?
Does Governor David Paterson want Prospect Heights, Brooklyn to be his New London, Connecticut?
After last week's ruling by New York's high court—that the state could seize homes and businesses for Bruce Ratner's Atlantic Yards development proposal because there was a "reasonable" enough argument from unelected bureaucrats at the Empire State Development Corporation (ESDC) that the neighborhood Ratner coveted was plagued by what the majority called "mild blight"—Governor Paterson has some decision he must make.
It may be that the bar has now been set too low -- that what will now pass as "blight," as that expression has come to be understood and used by political appointees to public corporations relying upon studies paid for by developers, should not be permitted to constitute a predicate for the invasion of property rights and the razing of homes and businesses. But any such limitation upon the sovereign power of eminent domain as it has come to be defined in the urban renewal context is a matter for the Legislature, not the courts.
But New York's legislature had no say whatsoever in the Atlantic Yards eminent domain approval process. Neither did New York's City Council. And we all know how effective New York's legislature is.
Putting that disturbing fact aside, it is also up to the executive to see to it that the extreme power of eminent domain is not abused and misused. For a project that has indeed been rammed down the public's throat by executive fiat, it is clearly within the rights and the powers of Governor Paterson to demand that eminent domain not be exercised despite the Court's controversial ruling.
That's what Senator Paterson said he would have done.
In July 2005, in the wake of the Supreme Court's notorious Kelo eminent domain decision, State Senator David Paterson wanted a moratorium on eminent domain. It was reported by the now defunct (and missed) New York Sun:
At a rally on the steps of City Hall yesterday, a State Senate leader, David Paterson, a Democrat, along with a small gathering of Harlem civic leaders and three City Council members, called for a state-wide blanket moratorium on the use of eminent domain following the recent Supreme Court decision that is widely interpreted as expanding the law's reach.
Over four years and one deposed governor later, Senator Paterson is now Governor Paterson and Governor Paterson has never renewed his call for a moratorium on eminent domain. Instead his administration approved eminent domain for Columbia University's expansion (which he once opposed) and re-approved eminent domain for Atlantic Yards this past September.
In the wake of last week's Court of Appeals ruling his Administration, through the ESDC, is this close to seizing private properties for Ratner's project. (The plaintiffs will litigate the state's next steps to take title to their properties.)
The governor must be asked, and he must ask himself, what principle has changed since 2005 that would enable him to stomach property seizures when he has the power to stop them—power he did not have in 2005. There is no good answer.
Governor Paterson ought to pay close attention to the ugly eminent domain saga in New London, Connecticut. That so-called "economic development project," ten years after Pfizer instigated it, is now acres of vacant lots where homes once stood. The final insult to the residents who lost their homes, symbolized by Susette Kelo's pink house, occurred about two weeks ago when Pfizer announced it is leaving town and taking 1,500 jobs with it.
That is the type of destructive stagnation that will occur at the proposed Atlantic Yards site—an area encompassing some of the most valuable real estate in Brooklyn, which was gentrifying until Ratner and Pataki hung the heavy cloud of eminent domain over it in 2003— should New York State go forward and seize homes and businesses and hand 22-acres over to Ratner to do with as he pleases. There are no affordable housing guarantees, no office tower, no designs for the mythical 16 skyscrapers and little possibility for job creation.
The best-case scenario is a money-losing arena, a skyscraper or two and 16-18 acres of vacant lots and parking lots—true blight—where a neighborhood once stood.
Governor Paterson should understand that he won't thwart economic development if he sticks to his 2005 principles and prohibits the ESDC from exercising eminent domain for Atlantic Yards. To the contrary, if he sticks with Ratner's boondoggle, and eminent domain for the developer's benefit, his legacy will be a New London style mess and a financial sinkhole in the heart of Brooklyn.
But if he thwarts the theft of homes and businesses by New York State, the result will be the sound and feasible development of the 8-acre Vanderbilt Rail Yards and a populist, reformist and principled victory for the embattled governor.
You can raise these issues and other crucial matters with the Governor in Brooklyn Tuesday, December 1 at "A Community Conversation With Governor Paterson":
Tuesday, December 1, 2009
6:00pm -­ 8:00pm
At First A.M.E. Zion Church
54 MacDonough Street [Map]
Between Tompkins & Marcy Avenues
Next column: Who is minding the Atlantic Yards financing store for New York's taxpayers?
Popular in the Community