Eleven U.S. governors ― including four Republicans ― have canceled agreements on sending National Guard members and equipment to the nation's border with Mexico, rebukes intended to protest the Trump administration's policy of separating children from their parents when the families arrive at the southern boundary as undocumented immigrants.
Govs. John Hickenlooper (D-Colo.), Charlie Baker (R-Mass.) and Andrew Cuomo (D-N.Y.) issued orders Monday barring their respective states from sending resources to the border. On Tuesday, Govs. Gina Raimondo (D-R.I.), Larry Hogan (R-Md.), Chris Sununu (R-N.H.), John Carney (D-Del.), Ralph Northam (D-Va.), Roy Cooper (D-N.C.), Phil Scott (R-Vt.) and Dannel Malloy (D-Conn.) joined the growing protest.
"The Trump Administration's family separation policy is immoral, unjust and un-American," Raimondo said in a statement. "Children should be with their families, not trapped in cages, sobbing and calling out for their parents."
Prior to the cancellations, Massachusetts intended to send a UH-72 Lakota helicopter and flight crew to the border for duty through September, radio station WBUR reported. That accord was nixed over what Baker's communications director Lizzy Guyton characterized as the federal government's "inhumane treatment of children."
Maryland, which had a helicopter and four crew members already in service on the border in New Mexico, recalled the unit on Tuesday; Virginia did likewise with a similar deployment. North Carolina, which had three National Guard members deployed on the border, also recalled them on Tuesday.
Carney said Delaware was asked Tuesday to send National Guard troops to the border and he declined.
"Under normal circumstances, we wouldn't hesitate to answer the call," he said. "But given what we know about the policies currently in effect at the border, I can't in good conscience send Delawareans to help with that mission."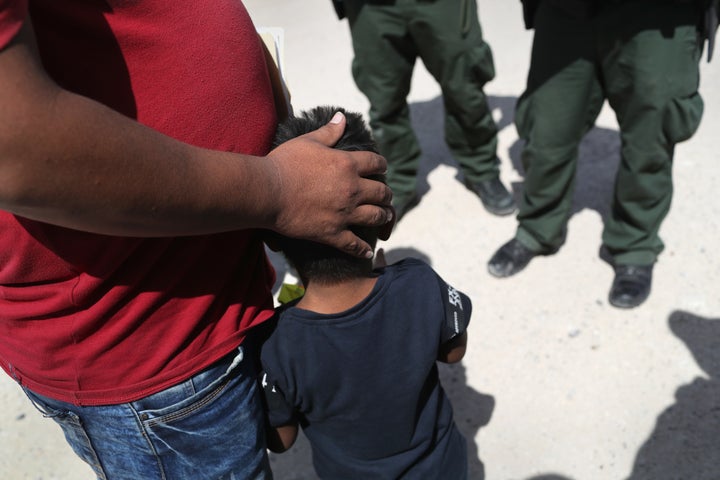 It's unclear what resources, if any, Colorado, New York, Rhode Island and New Hampshire had committed to the effort, meaning the governors' gesture is mostly symbolic at this point. Hickenlooper did previously say he'd consider sending troops to the border if the federal government asked for them.
At a Monday afternoon press conference, Hickenlooper said he wasn't aware of any state resources being used to separate immigrant families, but his executive order is a rebuke nonetheless.
"I think it's fair to say it's a rebuke," Hickenlooper said. "But it's also just saying: 'It's not going to happen in our backyard.' We are very clear that this is not something that is acceptable. It's hard for me to imagine that this is happening in the United States of America at the scale it is — at any scale."
In an emailed statement, Cuomo's office called the Trump administration's policies "a moral outrage and an affront to the values that built this state and this nation."
This article has been updated with the additions of Vermont and Connecticut.
Calling all HuffPost superfans!
Sign up for membership to become a founding member and help shape HuffPost's next chapter