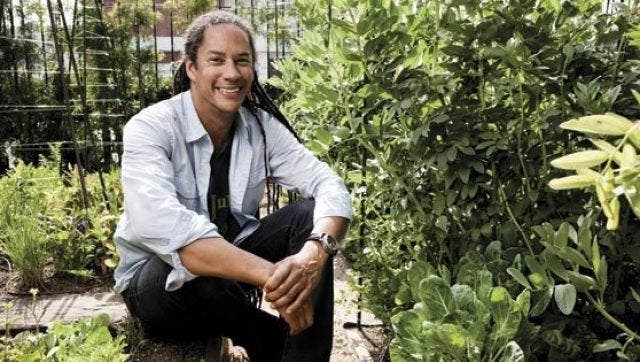 Govind Armstrong is at the epicenter of LA's contemporary restaurant scene. At 13 years old, he started off in the kitchen at Spago apprenticing with Chef Wolfgang Puck. Working for minimum-wage, he cut vegetables alongside LA's future restaurateurs like Mark Peel (of Campanile) and Nancy Silverton (who went on to found the La Brea Bakery and Mozza empires).
After three summers at Spago, he graduated high school and later worked for chefs Susan Feniger and Mary Sue Milliken at City, Peel and Silverton at Campanile and Joachim Splichal at Patina and Pinot Hollywood.
Now he's executive chef at Post & Beam in Baldwin Hills, a garden oasis in a community sorely in need of independent (read: not chain) restaurant options. He's also executive chef of the newly opened Republic of Laughter Cafe (or ROFL Cafe) near West Hollywood and is about to open an 8 oz. Burger Bar location at LAX Terminal 4.
Armstrong chatted with The Huffington Post about what it was like to return to Melrose Avenue, the peer pressure he gets from his customers at Post & Beam and what it felt like to impress Wolfgang Puck at just 13 years old.
You were 13 years old. How'd you get a gig with Wolfgang Puck? My mother used to entertain a lot, which is really what got me into the kitchen to begin with. I was ten or eleven at the time and I sort of took over for her, made all of the hors d'oeuvres and whatnot for her friends. Then at one of the parties that we had, the daughter of a friend of my mother's was wondering who the caterer was. She really enjoyed the food, and went and told Wolfgang. He was like "Yeah, whatever, I don't believe it. I want to meet this kid." His whole thing was that kids in the States didn't really get started at a young age as they did in Europe.
She picked me up and we went into Hollywood, and I took in this silly little book of recipes that I'd written and pictures I'd taken of food for my mom. I wore my best digs, church shoes and everything. And it was hysterical. From the moment I stepped foot in the kitchen through that back door, I'll never forget it.
I went and talked to Wolfgang up in the office for a while, and then eventually he's like, "I'd like to bring you on. I don't know if you're interested in doing an apprenticeship." Which was not at all what I was expecting. I literally just wanted to see what was going on. And that was kind of the beginning.
You didn't have a typical American chef's education, and you skipped culinary school. What's your advice for aspiring chefs? You're not making any huge salary at the beginning, and it definitely takes a while to get there. I really would advise people to get real true restaurant experience before they go to culinary school and commit that way.
A lot of students that come out of culinary school are patient and do want to learn and see what it's really truly like to be a chef and be in the working environment. Then there are the other ones that come out and want to go on Top Chef immediately, or they want that real celebrity status and don't really care or give a sh*t about learning the fastest way to do the simple stuff.
You're back on Melrose Avenue with ROFL Cafe after your beloved 8 oz. Burger Bar closed in 2011. How does it feel? It's just one of those locations that I've loved over the years. It's been all of ten years and three restaurants and the food is still great there -- even better now than before.
Yeah, it was kind of traumatic when I wasn't legally allowed to re-open it as an 8 oz. But the cafe is definitely more of a casual concept. I have a few burgers on the menu. The grilled cheese that originated there is back on the menu. Melrose is such a casual area, you can sort of create whatever experience you want. There's really nothing pretentious about it.
It took you a long time to put fried chicken, now one of Post & Beam's most popular items, on the menu. Why? This location used to house a Golden Bird fried chicken shack. They had a great product and it was really fun, and I figured it's like "Why? One thing I'm not going to do here is fried chicken." But [people from] every walk of life would ask, "When are you going to put fried chicken on?" And finally they broke me down.
You gotta give them what they want. And I'm really, really happy with it. It's a good bird, very lightly fried. We do a brine for 24 hours and we do a buttermilk bath for another 24 hours. Then we smoke it and then we lightly fry it. So it spends as little time in the fryer as possible.
So Angelenos are a pretty demanding bunch. But what are the best things about an LA foodie? I know for a fact Angelenos are a little more forgiving when they're trying new restaurants. They've been very supportive through the years. I am happy to see Angeleno foodies self-educating a bit more. I am happy that Angelenos are actually getting out and about more often and not being so opinionated the first time around.
Speaking of new restaurants, what are some of your favorites? Baco Mercat. [Josef Centeno] definitely has a different eye and approach. He's got his own style, a very solid following downtown. He's definitely one to watch and overall a good guy. I'm a huge fan.
Definitely Picca and Sotto. Obviously they're polar opposites of each other but the food at both those places is just very exciting. This is really lighting a fire under my ass to get back in there.
Love what Ray Garcia's doing for sure, over at Fig. He's a very intelligent chef, very methodical -- not just the preparation and execution, but the goal of it.
Vinny and Jonny [at Animal and Son of A Gun] -- we hired them as linecooks at Chadwick in 2001, and they've come a long way. It's great to see their success and I'm just very proud of them and couldn't be happier.
Interview edited for length
Photos of Chef Armstrong's dishes at Cafe ROFL and Post & Beam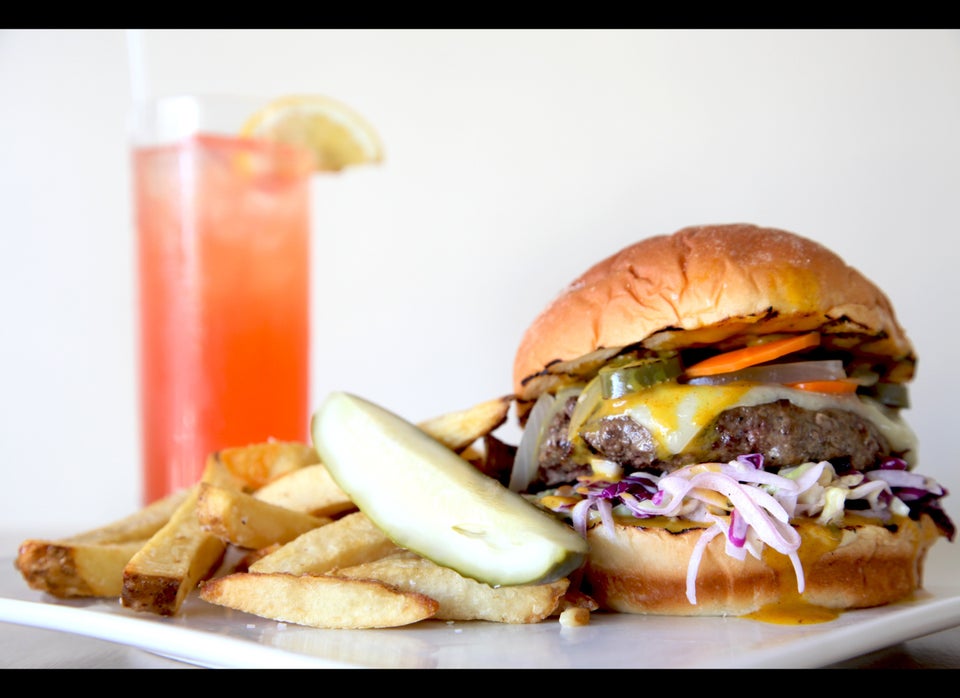 Govind Armstrong's Food
Popular in the Community