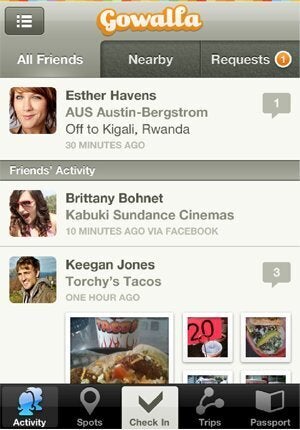 If you can't beat 'em, include 'em.
That seems to be the thinking behind Gowalla 3, the latest update to the location-based social networking service that has faced stiff competition from rivals Foursquare and Facebook. Gowalla 3 will allow users to see not only Gowalla check-ins, but any check-ins their friends have made using Foursquare, Facebook, and Tumblr. There are also plans to integrate geotagged tweets, although Gowalla CEO Josh Williams told The Huffington Post the challenge is to include Twitter updates without the Gowalla feed "getting too noisy."
Gowalla users will also be able to share their check-ins with Facebook, Foursquare, Twitter, and Tumblr. A Gowalla check-in sent to Foursquare will let you score points (and preserve that precious mayorship), but Gowalla users will not be able to take advantage of the deals offered via other location based services.
"The reality is that people want to keep up with friends on other services and there is a lot of fragmentation," Williams explained. "We're in a unique place to provide a solution to help people keep up with friends regardless of what service their friends are using."
The reality is also that location based services have yet to go mainstream: a Pew study found that just 4% of online adults are using such services. Gowalla is also hoping to catch up to Foursquare, which has nearly 5 million members to Gowalla's 600,000.
Gowalla 3 will include a host of other new features, including improved check-ins, "Notes," which lets you leave a digital message for a friend that she receives when check ing to a particular location, and a revamped Activity Feed that more prominently showcases photos. (Learn more from Gowalla)
Gowalla 3 is available on the iPhone and will be available on Android and BlackBerry devices by the end of December or early next year.
Popular in the Community