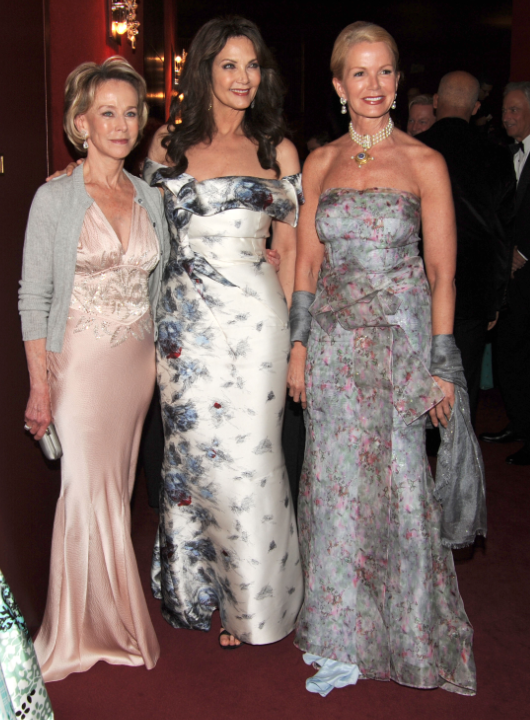 (Anne Bass, Linda Carter and Blaine Trump)
Monday night was a train wreck. Not in a bad way, people, it was a beautiful sight. For the American Ballet Theatre's spring gala, the trend of the evening was dresses with trains. Why, there was even a ballet titled Splendid Isolation III featuring Irina Dvorovenko dancing in a dress with a massive train.
My date was no exception, wearing a dress so tight and with such a train that three police officers had to help her out of her car. She couldn't even fit into a seat in the Met, so she stood watching the first part of the performances and for the second part, we reclined in the Belmont Room with champagne to watch part two on a lovely large flat screen. Totally lucullan.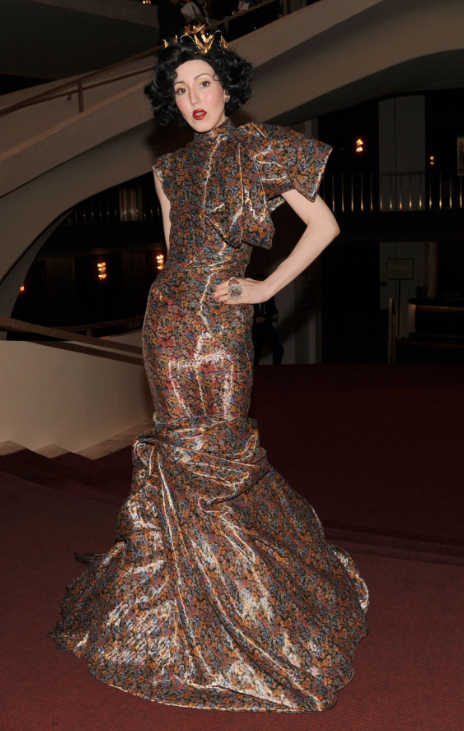 (My date Michelle Voily Harper)
After the ballet we took the elevator down to the ground floor and wound our way through the tented walkway to the festive Cuban-inspired dinner since the evening was a dazzling send-off for Jose Manuel Carreno, a principal dancer who is retiring this season. It was there that I met one of my 'wish list' celebs, Linda Carter. We actually bumped into each other since my date was stuck in her train and Linda was carrying hers through the damp, rainy walkway. I don't think I have met a more bubbly yet striking woman. And goddess Isis, is she a stunner! What brings Wonder Woman to the ballet? "The athleticism is astounding! We bring professional athletes to the ballet and they have no idea how exciting it is," she tells me.
Her favorite performance? "Irina in that dress. How did she not trip up?" It was the question of the night.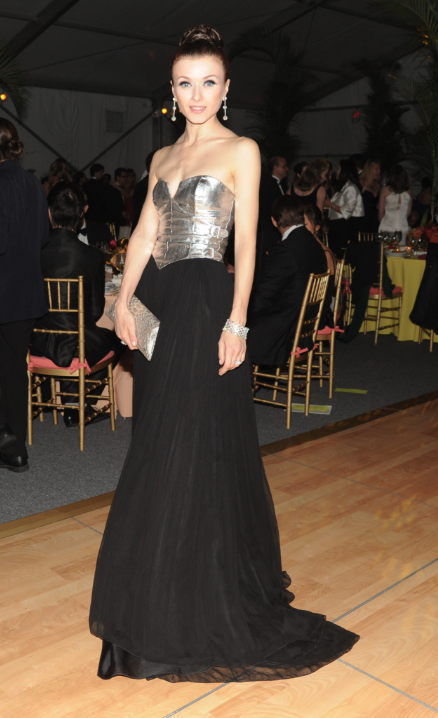 (Ballerina Irina Dvorovenko)
So much so that I tracked the elegant ballerina down to ask her how she twirled in such a train. "Darling that dress is like a third person in the ballet! It weighs seven pounds and is very complicated to deal with. But I have danced that number for three years now so I'm used to it," Irina told me with a wink.
Now can she wear a train anytime? "Oh honey when someone steps on my train (she strikes a severe ballet pose with hands on head, eyelashes fluttering) I wait for the release and then twirl darling, twirl!" she laughed.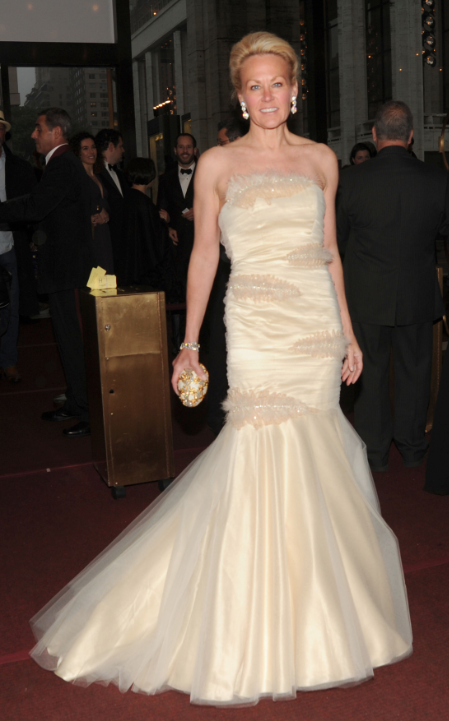 (Muffie Potter Aston pre-twirl)
Speaking of twirling, after dinner the society set and dancers alike hit the dance floor to all the 'wedding reception hits' that, after several glasses of wine, sound like the best songs in the world. There are Blaine Trump and Muffie Potter Aston gyrating away! Look, there is the de-lovely Ranjana Khan shimmying in Jaipur Pink. Dancer Zhongjing Fang dressed in a mantilla, in honor of her idol Jose, tantalized a bevy of boys with her Carmen-like moves.
Clearly the belles of the ballet were choreographing their own dances tonight, trains be damned.
Calling all HuffPost superfans!
Sign up for membership to become a founding member and help shape HuffPost's next chapter