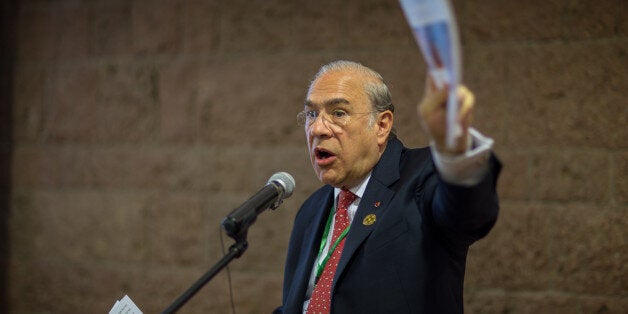 Extreme poverty can be eradicated, everywhere, within 15 years -- if we can achieve the new Sustainable Development Goals. That means we have 800 weeks to lift 800 million people out of extreme poverty. The breadth and ambition of the 2030 Agenda for Sustainable Development is vast -- so much so that many have questioned whether the 17 SDGs are actually attainable.
I firmly believe they are. Through their forerunners, the Millennium Development Goals, we have halved the proportion of those living in extreme poverty, and most people are now better educated and enjoying longer and healthier lives than ever before. We can certainly achieve more.
Yet, moving from the MDGs to the SDGs will mean doing things differently. We will not achieve these new, ambitious goals unless we make our development partnerships smarter and more equal. The role of private businesses, civil-society and philanthropic foundations will be crucial in meeting the new objectives, and governments will need to work much more closely with these non-state players if we are to achieve meaningful results.
What does working differently mean in practice? Among other things, it means that partnerships should not only pool resources and expertise, they must connect global strategies with local implementation, provide incentives for action and include mechanisms for mutual accountability.
The latest OECD's 2015 Development Co-operation Report documents what has worked well in development partnerships in the past, and why. It synthesizes the conclusions in 10 principles for good development partnerships, including strong leadership, country ownership and transparent governance. It cautions, however, that meeting the SDGs should not require creating a whole new set of partnerships and initiatives, with the proliferation of reporting requirements and additional burdens on developing countries that can bring. On the contrary, less is often more, and existing structures should be built on and improved. We hope our report can serve as a guide in this regard.
Click here to view a larger version of this infographic.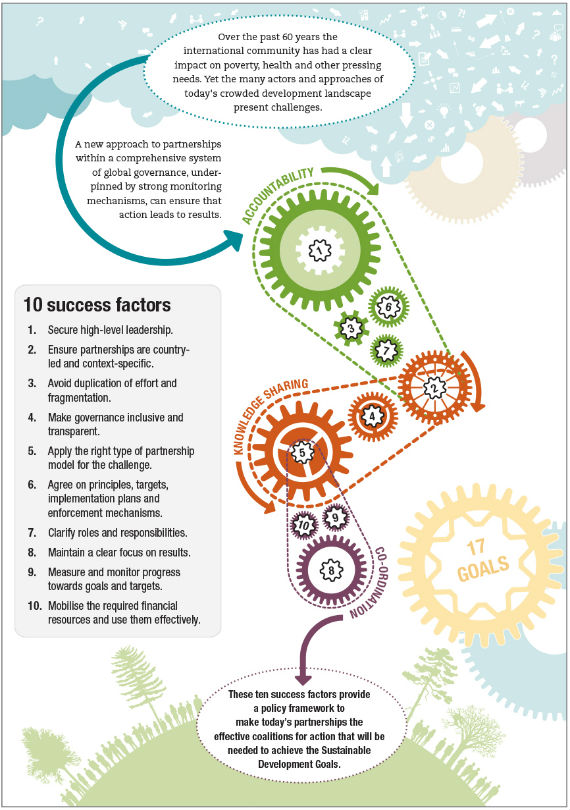 Two months ago, at the Third International Conference on Financing for Development in Addis Ababa, I was encouraged by the determination of governments, civil society, international organizations and business to flesh out an action plan to finance the SDGs. Money is certainly important, but our ability to achieve the SDGs will not depend only on it. Policy choices -- good policy choices-- will be equally critical.
The OECD was designed to be the world's policy bank, a "do tank." Thus, it is uniquely placed to provide a "GPS" for helping to guide progress toward the SDGs and keeping it on track. Our guidelines and research can help nations and organizations choose the best routes, and our peer reviews and partnership mechanisms can track progress and suggest corrective action when needed. Across most of the 17 Goals, the OECD has relevant data that can show countries where they stand, while helping them set meaningful targets for the future.
OECD work is already being adapted to be more useful to developing countries. Our Programme for International Student Assessment (PISA) helps more than 70 countries assess the quality of their education systems and design policies for better learning. Now, our PISA for Development initiative is using that model to help low-income countries improve school education, adapting it to their specific realities. Cambodia, Ecuador, Guatemala, Paraguay, Senegal and Zambia are participating in the first phase, which includes mentoring from PISA "veterans" such as Canada, Chile, Hong Kong, Korea, Peru and Uruguay.
The Taxes for Development program and the Tax Inspectors Without Borders initiative, in partnership with UNDP, will allow developing countries to benefit from our work on tax transparency (Automatic Exchange of Information) and avoiding tax-base erosion and profit shifting by multinationals (BEPS).
Another project we are proud of is the Partnership in Statistics for Development in the 21st Century (PARIS21). The OECD supports and hosts this partnership, established by five international agencies in order to create statistical capacity in countries that lack it, a vital pre-requisite for achieving any of the SDGs. With PARIS21's help, all but two of the 77 poorest countries eligible for the softest World Bank loans now have National Statistical Development Strategies or are developing them.
These are only three examples of how the OECD is partnering with developing countries to help them navigate toward the 2030 Agenda targets. Ban Ki-moon visited the OECD earlier this year, the first-ever visit of a serving UN Secretary-General to our Organization. His message was loud and clear: implementing a new set of development goals will require the full engagement of the OECD and its 34 member countries.
We will step up to this task. The OECD is ready to work with the United Nations and for the United Nations to seize this unique opportunity to inherit a better planet for the generations to come. The 2030 agenda is vast and ambitious, but to borrow the words of the late Nelson Mandela, "It always seems impossible until it's done."
This post is part of a series produced by The Huffington Post, "What's Working: Sustainable Development Goals," in conjunction with the United Nations' Sustainable Development Goals (SDGs). The proposed set of milestones will be the subject of discussion at the UN General Assembly meeting on Sept. 25-27, 2015 in New York. The goals, which will replace the UN's Millennium Development Goals (2000-2015), cover 17 key areas of development -- including poverty, hunger, health, education, and gender equality, among many others. As part of The Huffington Post's commitment to solutions-oriented journalism, this What's Working SDG blog series will focus on one goal every weekday in September. This post addresses Goal 17.
Popular in the Community