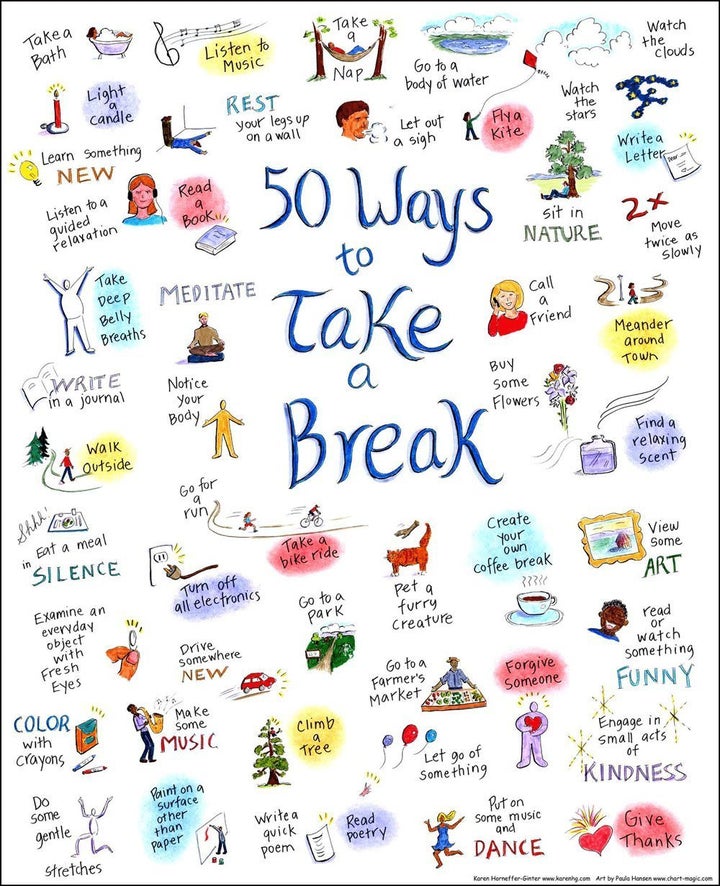 The stress and strains of our always-connected lives can sometimes take us off course. GPS For The Soul can help you find your way back to balance.
GPS Guides are our way of showing you what works for others in the hopes that you can find out what works for yourself. Whether it's photos that relax you or make you smile, songs that bring you back to your heart, quotes or poems that balance you or meditative exercises that help de-stress you, we all have tricks that we use when we get bent out of shape. We encourage you to look at the GPS Guide below, visit our other GPS Guides here, and share with us your own personal tips for finding peace, balance and harmony.
I gasped in recognition one afternoon as I was reading an Arnold Lobel's Frog and Toad story to my children. In the tale, Toad gets upset when his to do list blows away:
"Hurry!" says his friend, Frog. "We will run and catch it."

"No!" shouts Toad. "I cannot do that."

"Why not?" asks Frog.

"Because," wails Toad, "running after my list is not one of the things that I wrote on my list of things to do!"
My children giggled at the ridiculousness of Toad's behavior, but I found myself wanting to defend him: "Gosh, that would be horrible to lose a to do list and to be asked to do an activity not on the list..." I shuddered at the thought but had the good sense to stop myself before offering my commentary, realizing it would only confirm the degree to which I can get attached, almost Velcro-ed, to my lists and plans for the day.
I used to think there'd come a moment when my to do list would get done and then I could take a break. Of course, in time, I came to see that this open space seldom arrives on its own -- that life has a way of continually filling up unless I do something to make it otherwise. I also came to see that, often, when I'm most in need of a break -- when my thinking is fuzzy and I'm disconnected from my wisdom -- I forget that taking a break is an option.
I've felt inspired to change my toad-like ways by attempting to loosen my grip on my to do lists and sprinkle in some breaks from time to time. In experimenting with this, I've come to see that the time-cost of taking a break is almost always outweighed by the joyful reward of greater clarity and energy when returning to the tasks of the day.
I've also had to humbly remind myself of the obvious -- that the art of taking a break starts with remembering to take one. One strategy I've found helpful in this not-always-so-easy remembering is to identify activities that feel restorative and rejuvenating before the moment when I'm hoping to act on them. By doing this, I've found that the idea of taking a break is on my radar, and it feels easier to relax without having to first generate an idea about how to relax.
The sorts of break activities that work best are usually those that feel like the opposite of what we've been doing too much of: If we've been sitting inside at a computer, we need to get moving outside; if we've been doing physical labor, we need rest; and if we feel inundated with mundane details or the heaviness of life's suffering, we need to take in something inspiring and fresh.
The image below offers a visual stroll through 50 ways to take a break. Use this as an inspiration to create your own list of possibilities to slip into your day or week. You may want to carry this list along with your to do lists as a reminder of the possibility of taking a break... and if you're out on a windy day, we'll hope that only your todo list gets blown away.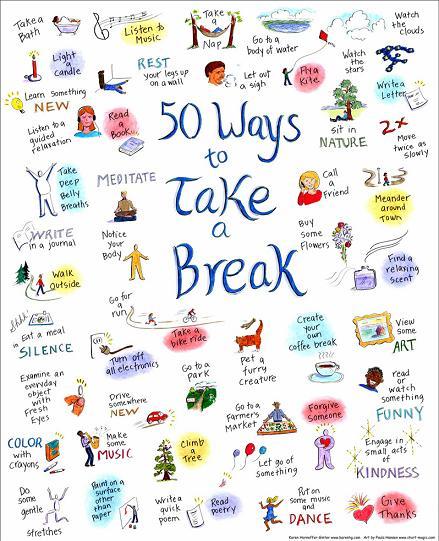 For more GPS guides, click here.
For more by Karen Horneffer-Ginter, Ph.D., click here.
Support HuffPost
A No-B.S. Guide To Life
Related
Popular in the Community