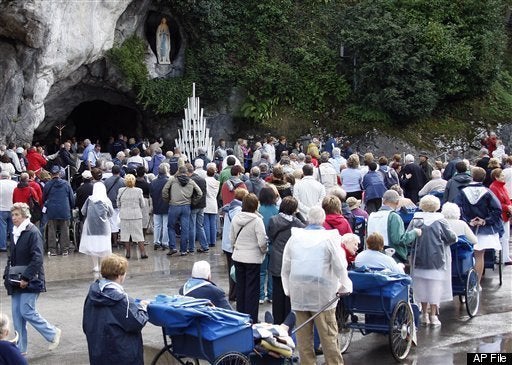 Lourde vs. Lourdes. That "s" changes everything. Catholic pilgrims, searching for the holy site of Lourdes, France, have found this out the hard way after their GPS' lead them to the former, according to the Guardian.
Just south of Toulouse lies Lourde, a town of 94 people. Some 55 miles west lies Lourdes, an international pilgrimage site for Catholics. Unlike its famous counterpart, Lourde has no hotels and shopping to speak of. The reason people end up there? They misspelled the town name in their GPS.
Lourde's mayor, Robert Amblard, told local newspaper La Dépêche. "One day, a hearse showed up. The driver stopped in front of the map [of the local area] I advised him to have a look in the 65 [Haute-Pyrenees departement] instead."
It's long been a common mix-up, residents say, but with the advent of GPS, more people are showing up than ever. "For two years now ...more and more people are getting it wrong. We have Spaniards, Dutch, Belgians and of course French people. It's proof that they cant use technology," a local told the Guardian.
Occasionally, it takes the errant pilgrims a while to notice they have taken a wrong turn, say the residents. Some pilgrims, villagers claim, confuse the town's statue of the Virgin Mary with Lourdes' more famous Statue of Our Lady at the Grotto of Massabielle.
Yet villagers refuse to change their name to help out pilgrims. "I don't see why we should change our name," a local told a radio station. "There is Bagnères de Luchon and Bagnères de Bigorre and people manage to get by. Even without an 's', we are still a nice village."