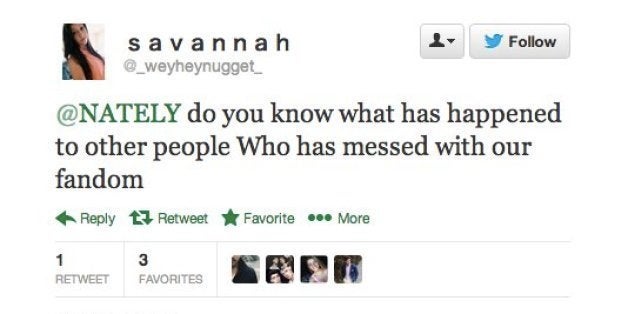 What happened next is the stuff of mindless thinkpieces about the efficiency and sometimes inaccurate nature of social media: Hundreds, if not handfuls of thousands of 1D fans (also known as Directioners) seized upon American GQ editors, tweeting their disappointment, and, more often, rage at the magazine for daring to hint at the 1D dudes' proclivity for women.
Many of those tweets landed in the mentions of Nate Erickson, GQ's social media editor. On Tuesday, Erickson retweeted an endless stream of vitriolic threats and attacks by Directioners (check out his twitter feed -- @Nately -- for a rundown). As editors who have had our own experiences with certain fan-bases (though they've been more of the Madonna, Lady Gaga and Beyonce variety), our hearts went out to Erickson and his GQ compatriots. We asked how he's doing.
How do you feel, after your day of retweeting enraged children?
I feel like Rick Ross's Instagram.
What was the funniest threat or reaction you received?
Someone called our whole staff "dumb potatoes." British rage is the best rage.
What was the mood in the office once everyone realized you were being dragged through the internet mud for a cover that your magazine didn't even make?
Somewhere between laughter and confusion. We made this blog post to help clear things up, but I think it only made the fanbase angrier.
I've been through it with Madonna fans and Beyonce fans, and I'd say Madonna fans are they scariest because they are grown, fully functioning men and women. If you had to rate, 1D, Madonna, Beyonce and Gaga fans, whom would you find most scariest when angered?
We caught a little from Madge fans when we published our "Least Influential" list, and we expected a much worse response when we called the Insane Clown Posse the worst rappers of all-time, but honestly, the reaction of 1D fans over the past 48 hours made Juggalos look like, well, One Direction.
Can you name five 1D songs off the top of your head? What's your favorite? And who's your favorite 1D member?
I can name the "That's What Makes You Beautiful" song. For obvious reasons. And favorite member? Harry? He's the one with all the groupies, right?
Popular in the Community