GQ has named Barack Obama one if its "Men of the Year" with a cover and article — penned by Senator Ted Kennedy — that went to press before Election Day.
Obama is joined by Michael Phelps, Leonardo DiCaprio, and Jon Hamm, each of whom grace one of GQ's four "Men of the Year" covers.
GQ named Obama "Game Changer of the Year," and an excerpt of Kennedy's piece appears below:
As I write this, Barack Obama and John McCain have just completed their final debate, and the country is a few short days away from a historic election. Of course, I'm doing all that I can for my candidate. But whether he wins or loses, Barack Obama has ushered in a new era of American politics with a limitless vision of a better future that will endure for many years to come. Through his candidacy, Obama has provided a glimpse of a stronger, better, fairer America, where change comes from the bottom up, where we all come together to meet the great challenges of our time. He has inspired millions of new voters of all ages, races, and incomes to lend their voices for real change. For in this man, Americans can see not just the audacity but the possibility of hope for the country that is yet to be....

That is what I saw when I enlisted in his campaign. I saw new hope for a way out of the economic wilderness and for a just and fair prosperity that rewards the many and not the few. New hope that this nation will at last lead the world to turn the tide of global warming and turn aside from an energy future that threatens the future itself. New hope that we will teach all our children well. New hope--and this is the cause of my life--that we will guarantee for every American quality affordable health care as a fundamental right and not as a privilege. New hope--and this is the great cause of America itself--that we shall overcome once and for all the setting of race against race, gender against gender, ethnic group against ethnic group, and straight against gay.

Win or lose, with the Obama candidacy the torch has been passed, and I hope I made a difference.
The cover shot, which appears below, was taken by Mark Seliger in Philadelphia on October 3. The photographer was only given 1 minute, 45 seconds for the entire shoot: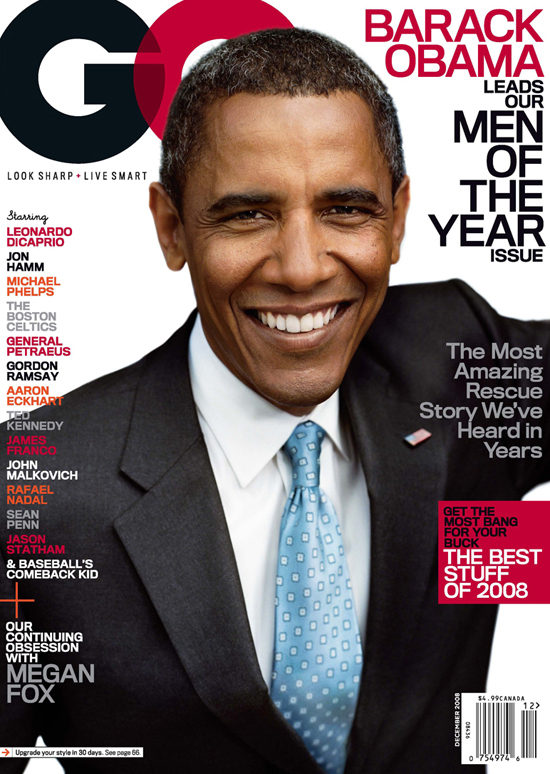 This inside black and white shot was taken by Seliger at a rally in Grand Rapids, Michigan on October 2: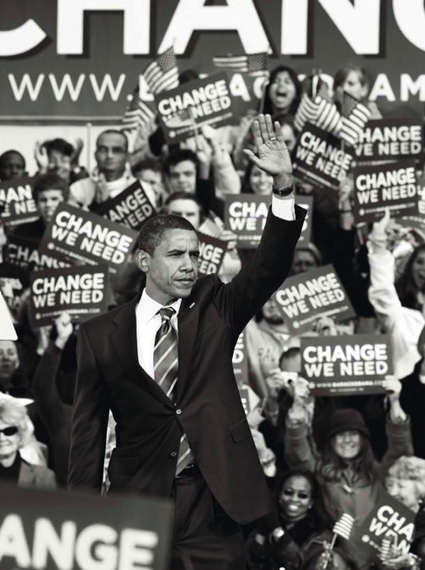 The issue also includes photographs of Ted Kennedy — declared a "Legend" by the magazine — at his home in Hyannisport, MA on October 14. One of the photos appears below: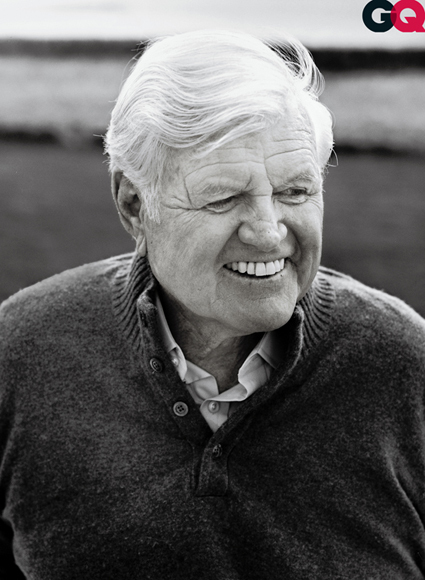 All photos: Mark Seliger/GQ
Watch GQ deputy editor Michael Hainey discuss the pick with Harry Smith on CBS's "Early Show" below:
Popular in the Community