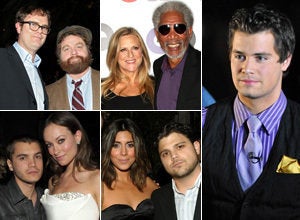 (SCROLL DOWN FOR DOZENS OF PHOTOS)

Levi Johnston flew first class to LA for the party and calls himself "Ricky Hollywood," but he was barely noticed by the dozens of actual Hollywood celebrities inside GQ's "Men of the Year" party at Chateau Marmont Wednesday night.
Levi, who had on a vest, yellow pocket square and what appeared to be pancake makeup, wandered around the party with both his manager Tank (wearing a diamond earring) and a second beefy gentleman (wearing an earpiece).
Levi was largely ignored by other guests as he wandered to get a soda (he's underage) and he checked his Blackberry while Tank hit up the buffet. An hour later, they were gone.
Meanwhile the other guests, like Clint Eastwood, Morgan Freeman, Sarah Silverman, Quentin Tarantino, Olivia Wilde, Rainn Wilson, January Jones, Kobe Bryant, Lindsay Lohan and dozens more stayed to party.