This Sicilian chicken soup tastes JUST like Mama Mandola's soup from Carrabba's Italian Grill. Even better, you can make it in your slow cooker!
We love eating at our local Carrabba's Italian Grill; however, having a crazy toddler means we always don't get to eat out. Most of the time we are doing curb-side carryout instead.
Last year, I decided to finally try my hand at making a copycat version of Mama Mandola's Chicken Soup. I have a copycat recipe for Carrabba's minestrone soup and I wanted to perfect the spicy Italian chicken soup recipe.
I opted to use my slow cooker for this recipe versus cooking on the stovetop. I've tried it both ways and I found that unless I'm planning to camp at home all day that the slow cooker is the best method for me. And it fills your home with the delicious smells of a slow simmering soup!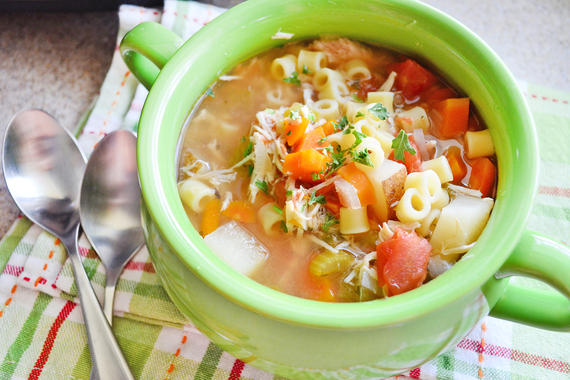 The most time consuming part of this entire soup is all the prep you need to do to get the vegetables ready for the soup. Lots of dicing and chopping, but totally worth it!
And the key to this soup is the green bell pepper followed by the white pepper. Not black pepper, but white pepper. It's a bit spicier and will give the same hint of heat you get when you eat this soup at the restaurant.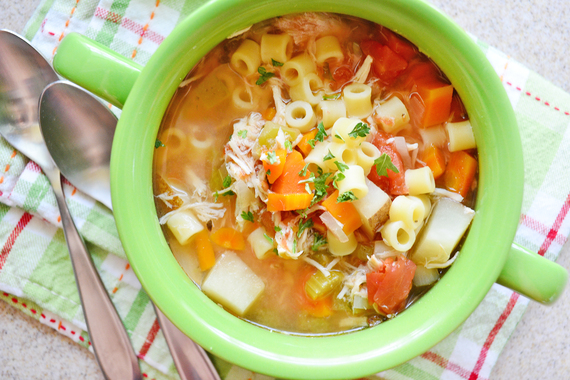 I also like to cook the ditalini pasta noodles separately and place a few spoonfuls into the bowl, then ladle the chicken and vegetables and broth. By not cooking the pasta in with the soup you maximize the broth. The noodles will suck up all the broth over time and will leave you with noodles, chicken, and vegetables and it will be more stew like than soup-like!
So take my advice and stretch your soup even further - take the extra step to cook your pasta separately! If you're craving a spicy chicken soup or maybe entertaining for a crowd and want to add a soup to your menu, definitely give my recipe for Sicilian chicken soup a shot!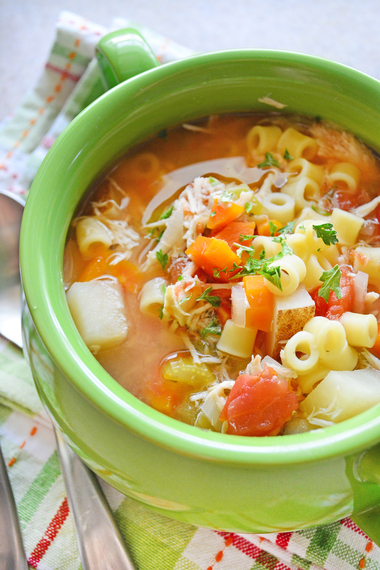 Katie is our resident
, but you'll find that she's passionate about every kind of food, from dinners to desserts, on her blog
.