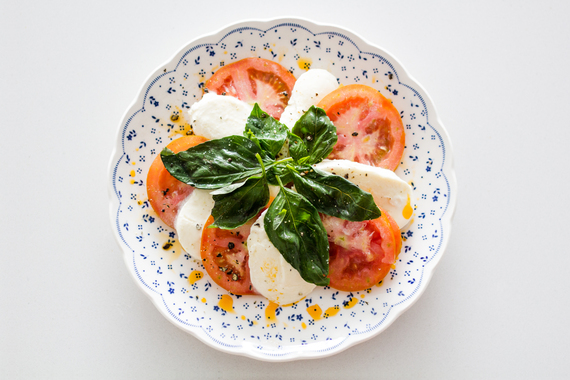 Last winter friends invited me to go on a bike trip in Puglia. I admit that until the moment I sent in my deposit, I had never even heard of Puglia. But it sounded like a wonderfully warm and fun adventure after a very long and snowy winter. Having traveled with Butterfield and Robinson before I looked forward to the mental break and re-charging of my batteries that comes from taking in the beautiful surroundings and letting their guides do all the work as you relax into the landscape. I knew they would live up to their slogan, "slow down to see the world" and that's precisely what I wanted to do. When I live in the present, incredible things happen. For example, what I learned in Puglia.
The Heartbeat of the Slow Food Movement
Puglia, considered the breadbasket of Italy, has been at the forefront of the "slow food" movement whose mission it is to reconnect people with food, so they are educated and empowered to make better decisions about their food choices. This discovery was made over lunch at a Masseria (farmhouse) where I learned that the husband of one of the three generations of female cooks that ran the restaurant was the President of the Slow Food Movement in Puglia. He also informed me that the "Slow Food" World Congress was being held in Puglia that coming June.
Each day we cycled between 50-100 kilometers riding along roads lined with stone walls, filled with olive groves, ranging from new seedlings to trees that were two thousand years old; this is where the bare natural beauty of Puglia won my heart. These trees are so well loved by their owners that many of them have taken on human qualities over the years. Gnarled and twisted by age and weather, the weight of their presence gave the earth a feeling of majestic grace more than any of the churches that we visited.
Being in these sacred spaces reminded me that preserving the environment and these trees is as important as any of our lives. These trees will live well past generations of their fiercely proud owners, who guard their trees and the land upon which they grow as if their life depended on it. These trees stood like soldiers guarding the evils of man, daring the progress that threatened their natural habitat. And yet sadly, we heard that while we were there, many acres of olive trees had to be cut down due to a worm that was threatening the entire population. In the days after the clearing, the neighboring Masserias were in mourning over the loss.
Olive Oil For Medicinal Purposes
Instead of a coffee break, one day we took an olive oil break at an artisanal olive oil maker who produces several award winning oils. That was when I discovered the olive oil I loved the most was the one that is filled with so many antioxidants that they will soon be distributing it in pharmacies for its medicinal purposes. The brand is San Basilio Olio, located near Lecce.
Preserving Without Chemicals
My very favorite lunch was at the Villa Ortoreale. Here I heard the story of a man who had returned to his family farm after a successful career to work with his daughter, Paola, to take their family's traditional methods of growing and preserving vegetables and turn it into an innovative and "patented" exclusive process, extending the shelf life of some vegetables up to thirty days without any harmful additives! Their family brand is called Frescopronti (www.frescopronti.it). Although I yearned to go down to their facilities, it was a sterile environment and I was not allowed. Who would have thought that cutting edge agricultural technology would be found in an ancient Italian farmhouse!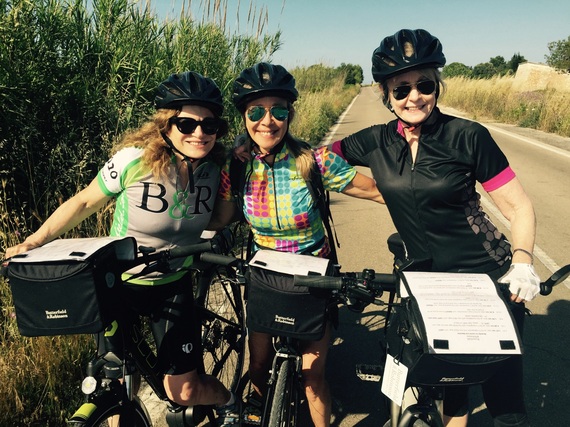 As my friends and I sweated, swore up and down the endless rolling hills and celebrated each day together, I was once again reminded that the most important things we have in our lives are our family, our friends and our health and the limited amount of time on this earth to enjoy them. Thank you Sonia, Lucca and Steffano for sharing your Puglia!
Calling all HuffPost superfans!
Sign up for membership to become a founding member and help shape HuffPost's next chapter