It's a very different pair of dames we meet when the second season of the Netflix comedy Grace and Frankie drops its 13 episodes Friday.
This year, for starters, Grace and Frankie like each other.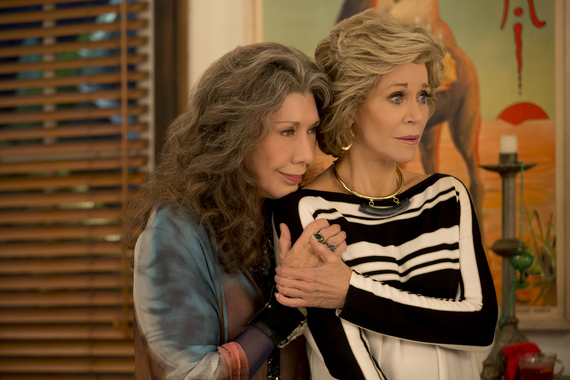 Grace (Jane Fonda) and Frankie (Lily Tomlin) spent the first season adjusting to an unexpected second act in their golden years.
Grace's husband Robert (Martin Sheen) and Frankie's husband Sol (Sam Waterston), long-time business partners, announced they also wanted to become life partners.
They were both gay. They were leaving their wives for each other.
It's the kind of announcement that will get your attention.
More to the point for the show, it drew Grace and Frankie together as sisters in shock, despite the fact that previously they could barely tolerate each other.
Awkward for them, good for viewers. They spent the first season reconciling Grace's compulsive need for tidiness, order and control with Frankie's latter-day flower child ethos.
Gradually, many laughs and more than a few poignant moments later, they realized that getting emotionally ripped in half gave them a commonality stronger than their stylistic differences.
As season two opens, they remain different people in every area from wardrobe to parenting philosophy.
They also now enjoy each other's company, and in many ways have become partners. They aren't bonded in exactly the same way as their ex-husbands, but there's a parallel sense of shared lives.
Add four quirky kids for seasoning and Grace and Frankie has become a show that's more than a series of setups for sitcom gags.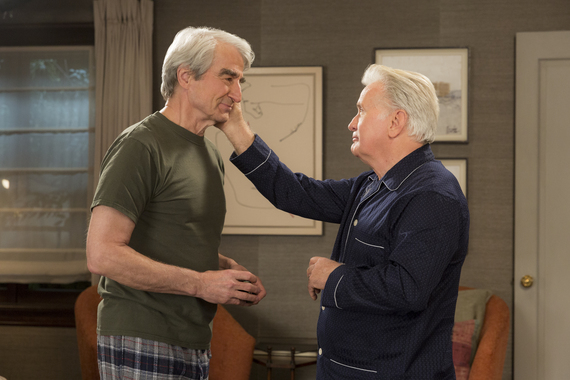 The fact it may have the most distinguished cast on television also helps ensure that we'll see characters rather than jokes, though the writing and storylines have to lie at the heart of it.
Season two starts with Sol and Frankie trying to figure out what to do about the fact that as season one coasted to a close, they slept together again.
While Frankie pretends she doesn't think it's a big deal, just "closure," Saul finds himself wracked with guilt that he has cheated on Robert.
The second season isn't content, however, with just resolving that odd cliffhanger. It immediately drops a new bombshell involving Robert, which in turn forces all the major characters to gather for what should be a contemplation of the meaning of life.
Grace and Frankie being what it is, almost everyone manages to dilute that contemplation with more self-absorbed and immediate concerns.
This gives airtime and joke time to Grace's daughters Brianna (June Diane Raphael) and Mallory (Brooklyn Decker), and also to Frankie's adopted sons Coyote (Ethan Embry) and Bud (Baron Vaughn).
Probably because so much of the show is focused on the main couples, the kids can come off as a little one-dimensional. Happily, they can also be funny.
In any case, it's Grace's and Frankie's show in the end, and they take turns being first among equals.
In the premiere, Tomlin gets a lot of the best lines, like blurting out to a Catholic priest that "this new Pope is really shaking s--- up."
On a more serious note, she later tells Grace that the way she got through a tough moment was that "I pushed my feelings down and built a stone wall around them - basically, I channeled you."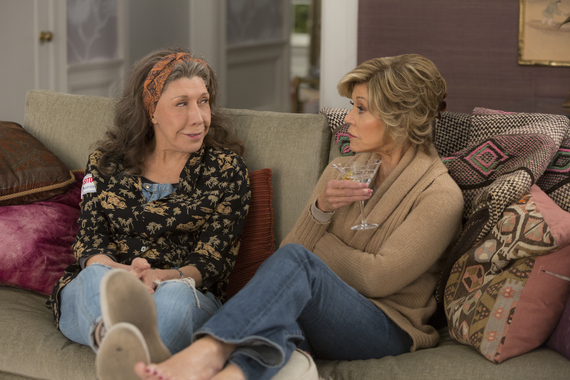 A year ago, those would have been fighting words. This year, Grace nods, because Frankie is right.
Personal growth. It's a beautiful thing.
As the season rolls along, the show manufactures some zany developments to maintain the comedy momentum, and that can eventually become problematic. Right now, though, Grace and Frankie is quite nicely finding the lighter side in a whole different kind of PTSD.
Calling all HuffPost superfans!
Sign up for membership to become a founding member and help shape HuffPost's next chapter